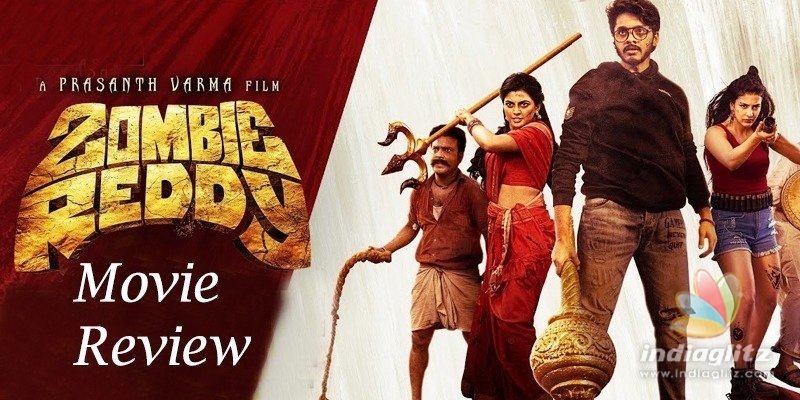 'Zombie Reddy', starring Teja Sajja and others, hit the screens today. Here is our review of the latest Tollywood title to arrive at the BO.
Story:
Game developer Mario (Teja Sajja) and his friends are running out of time because they have to get a bug fixed if their video game has to save its image. They dash to Kurnool to seek the help of a technical guru played by Mirchi Hemanth. Once there, they encounter a newer set of problems, with Mario discovering that the groom, who is his bestie, may be facing an existential crisis. Making matters scarily worse is that zombies are on a rampage.
Analysis:
First things first. Putting factionists and zombies in the same basket (read village) has to be one of the most novel ideas ever. It goes without saying that dollops of humour to such a tantalizing mix can be massive. 'Zombie Reddy' does just this with a topping: the threat of coronavirus. There is also an insane scientist (reminding us of the OTT film 'Bombhaat') stewing trouble for others. Can the broth get any sexier?
What does director Prashanth Varma (whose breakout film 'AWE' was both a commercial and critical success) achieve with this cocktail? Mixed results at best and inexplicably underwhelming output otherwise. 
This film scratches the surface even with respect to potentially hilarious ideas/tropes. For example, so much could have been spun from the material that Harshavardhan's character offers. There is a hilarious revelation about his backstory but the film doesn't milk it well. 
Zombies are shown to be irredeemable creatures by some movies. Here, they have redemption and how it is executed leaves much to be desired. You are not done until you are done with this film. New sub-genres keep kicking in. For example, there is the divine element reserved for the climax.
From Kireeti Damaraju to Mahesh Vitta and Hari Teja, they hardly evoke laughs. Get-Up Srinu and Prudhvi (of '30 Years Industry' fame) are impressive and carry several portions on their shoulders. 
While Daksha Nagarkar is portrayed as a dumb damsel, Anandhi gets a finely-etched character. The character arc of Anandhi's part reminds us of some mass masala entertainers. 
For a debutant, Teja Sajja gets one of the best possible launchpads, wherein he not only gets to do heroic stuff but also pays homage to Megastar Chiranjeevi (again, this is not a well-leveraged scene). His screen presence is decent. The actors who have played Bhooma Reddy and Veera Reddy are okayish. 
The zombie scenes could have been way better. Do the characters hear their grunts and groans in all scenes? Seemingly not. It's as if the audience are witness to one kind of zombie and the characters another kind. If you have watched zombie movies in Hollywood, you may find this movie quite simplistic. The director didn't want to trivialize zombies and it's understandable. But it is excruciating that the fabulous mix of sub-genres that this film concocts doesn't go into enriching the zombie genre in an imaginative way.
Mark K Robin's music is creative, especially the rap-like 'Go Corona' that unfolds during the titles. Anith's cinematography is good enough, so also Nagendra Thangala's production design. 
Verdict:
If you are looking for some time pass comedy, 'Zombie Reddy' may be for you. Don't expect novelty as far as the zombie segments go.
Rating: 2.5 / 5.0
Showcase your talent to millions!!
Write about topics that interest you - anything from movies to cricket, gadgets to startups.
SUBMIT ARTICLE