Music Review
IndiaGlitz [Monday, August 17, 2015 • தமிழ்] Comments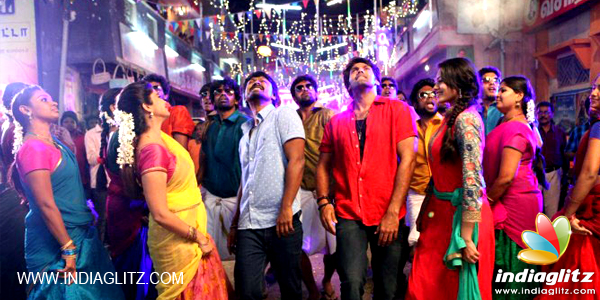 Yatchan is an upcoming action energetic entertainer which has Arya and Kreshna in the lead, directed by Vishnuvardhan, Yuvan has composed the music for this highly anticipated movie.
Parapara
Singers: Ranjith, Vijay Yesudas
Lyrics: Pa Vijay
Yuvan's trademark innovation is put to use with parapapara, a silent yet modernized way of composition is put to use here, and with the help of clinical vocals from Ranjith and Vijay yesudas the song's purpose is served. The song moves along in a conventional way to catch up with the current trend, a good number in all.
Konjalaai: Konjalaai
Singers: Tanvi Shah, Yuvan Shankar Raja
Lyrics: Pa Vijay
The song is an array of experimentation and the entry of Tanvi shah adds the cream to the falooda drenched tune. With trance like experience, the dubstep rhythm between the interludes and innovative instrumentation keeps the singers engaged with heartwarming vocals. Yuvan's signature is sprayed all over this number.
Kaakaponnu
Singers: Anthony Dassan, Priyadarshini, Yuvan Shankar Raja
Lyrics: Pa Vijay
Yuvan has tried his hand in marrying western classic elements as Hip-Hop and local folk attributes, the mention of these two instrumentation appears north pole south pole wise, but has interestingly composed in a convincing way. Shuttles between and induces electrical guitars, strings and an array of creativity, and to aid the folk part is Anthony das and Yuvan takes care of the western vocals. The addition of the chirpy Priyadarshini too helps in a big way.
Innum Enna
Singers: Yuvan Shankar Raja
Lyrics: Pa Vijay
If you were to hear this song on stage, a live performance you would probably go wonderstruck for the composition with subtle jazz and interesting bass segmentation keeps you hooked. The drumming and violin sections through the interludes clicks to strike a emotional bond, and who better than Yuvan can serve such a listening experience adding his vocals, the song is a sensation.
Champion
Singers: Rabbit Mac, Sheezay from Psycho Unit
Lyrics: Pa Vijay
A full on jump on song, springs like a gush of champagne and Yuvan makes up for the listeners by clubbing the rightful proportions of International rap and Hip-hop mixture. Psycho Unit is a regular to Yuvan's music and gives the composition a high octane feeling by bringing in rightful classic elements. The song is sure to go down well among die hard party lovers.
Verdict : Yuvan is back at his best
Rating : 3/5