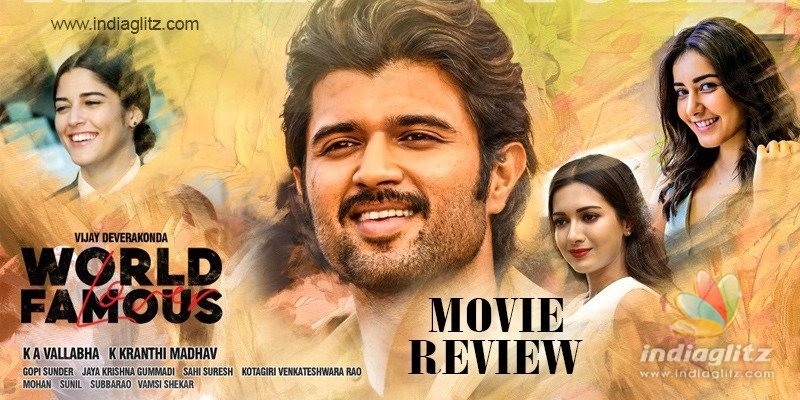 'World Famous Lover', starring Vijay Deverakonda in the lead, hit the screens today.  Here is our review.
Story:
Gowtham (Vijay Deverakonda) is an aspiring writer suffering from a creative block.  Yamini (Raashi Khanna), his girlfriend, his disenchanted with him because he is insensitive to her and lives in his own world.  She calls it quits, leaving Gowtham heart-broken.
This is when Gowtham puts himself in the shoes of Seenayya (Vijay, again), a coal mine worker from Yellandu in Telangana, and a high-end job holder (Vijay, again) in Paris.  Suvarna (Aishwarya Rajesh) and Iza (Izabelle) are part of these stories.
The rest of the film is about how the male lead evolves after this and whether Yamini comes back to him.
Analysis:
Written and directed by Kranthi Madhav, 'World Famous Lover' ostensibly lacks both consistency and a soul.  Gowtham is introduced as a deviant individual who is incorrigibly indifferent to the feelings of his girlfriend, so much so, he doesn't even realize that he is treating her as an object of sexual pleasure and nothing more.  In one of the early scenes, Yamini is crying and it's clear that she is going through an emotional upheaval. Gowtham looks disinterested about her, giving the impression that he wants to get rid of her.  Later on, we are told that he is actually mad about her.  And he was absolutely normal just a year ago.  He was hardly self-centered and indisciplined and non-conformist.  What went wrong in the last one year?  Maybe, he watched 'Aparichitudu' and got smitten by the Multiple Personality Disorder bug.  You will never know!  
For a film telling the cathartic story of a pained novelist, 'WFL' fails to come up with even a single decent line.  The dialogues are bland when they are not half-decent, and the hero seems to believe that using the F word is a sign of creativity.  He uses the F word so often that he should have called his first novel Word Fuc*ing Lover.  
If Gowtham smokes and screams too much, Yamini cries way too much.  After a point, their emotional outbursts look forced and melodramatic in a contrived way.  Does Raashi Khanna's character cry at the drop of a hat because her boyfriend is a novelist who can get inspired to write a tragedy if she keeps crying every day?  You will never know.  
If the Vijay-Raashi segment lacks emotional substance, the Vijay-Izabelle track is unintentionally funny.  The novelist Gowtham imagining himself as a techie who meets the world's sexiest pilot in Paris and makes her fall in love with him over one bloody weekend, is at the level of a college boy's wet dreams. (Sorry).  There is more to this story than this chap telling the hottest pilot that it's okay for some Indians to have pre-marital sex, but overall, it is downright ridiculous.
This film thinks that, even in 2020, the audience will forgive a mediocre novelist if he is an orphan. A bearded orphan, the film thinks, has the license to flaunt bouts of hopeless rage endlessly, and write a stupid book in which he paints himself as a good-natured victim of fate.  In a film full of flights of fantasy, the novel becomes India's best-seller.  
If there is anything that works in the movie, it has to be the Vijay-Aishwarya track.  As a character who speaks in the Telangana 'yasa' and shares an easy chemistry with his timid and doting wife, Vijay is spot-on.  His easy brashness, combined with Aishwarya's subtle and intelligent performance, is awesome.  The way this segment ends is quite heart-touching.  
Otherwise, the film doesn't really have noteworthy performances.  Catherine Tresa's dialogue delivery is a caricature.  Priyadarshi has an extended cameo.  Jayaprakash is that Tollywoodian rich dad who gives in at the right moment.  
Gopi Sundar's songs are reasonable and the background music adds to the yawn-inducing experience of the audience.  The cinematography is decent for a film that revels in subpar production values.
Verdict:
'World Famous Lover' fails to engage the audience with a soulful story.  Of the three segments, only one of them is decent.  The other two are drastically flawed and even stretched.
Rating: 2.5 / 5.0
Showcase your talent to millions!!
Write about topics that interest you - anything from movies to cricket, gadgets to startups.
SUBMIT ARTICLE
More
Telugu Movie Reviews
Calling Sahasra
Atharva
Animal
Kota Bommali P.S
Aadikeshava
Sound Party