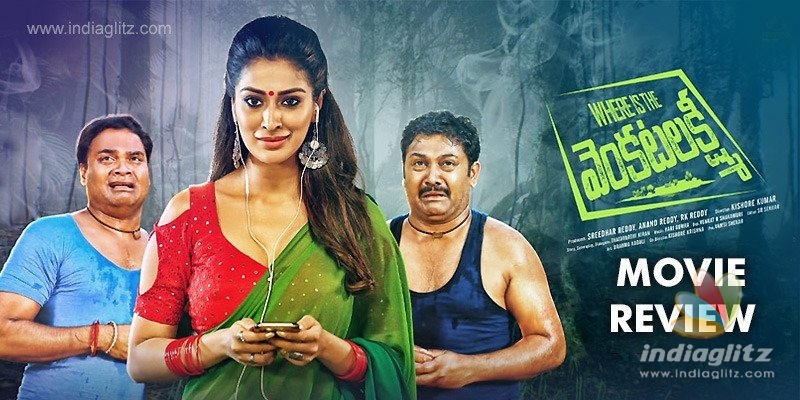 'Where Is The Venkatalakshmi', starring Raai Laxmi, Praveen and Madhunandhan, hit the screen this Friday.  Here is our review of the comedy.
Story:
Pandu and Chanti (Praveen and Madhunandhan) are good-for-nothing, mischievous guys in a village.  Sekhar (Ram Karthik), their friend, is the only person who gives them some respect.  
The duo chance upon a beautiful woman named Venkatalakshmi (Raai Laxmi), who arrives in the village as a school teacher.  They start wooing her but the big shock comes to them when they realize that the otherwise enticing teacher is actually a ghost.  
The rest of the film is about what are Venkatalakshmi's motives, how they are related to Sekhar and his girlfriend Gauri (Poojitha Ponnada), and the role of a feudal lord named Veera Reddy (Pankaj Kesari) in all this.  
Analysis:
The writers of this movie first wrote cheap scenes (like those moments where male comedians wear a saree and dance in front of libidinous goondas), congratulated themselves that more than half of their work was over and then moved on to other lousy things.  Lousy things like those moments where a woman flaunts her body in a bathroom before patiently proceeding to scare the guys as a ghost.  Because it is a must for a ghost to be a dutiful temptress first.  Because this is a Telugu film.
Praveen and his fellow actor Madhunandhan constantly go overboard with their mediocre reactions.  Their characters think of themselves as intelligent guys because they could replace a 'Baahubali-2' CD with a blue film and embarrass the one guy who is shown doing a job in the movie.  The way their shenanigans are portrayed in the movie, it is as if the director is glorifying their activities.  Remember those 1990s-era movies which relentlessly romanticized irresponsible heroes who occasionally also harassed the girls?  
Most of the characters written in the film have outlived their utility for Telugu cinema.  The audience are no longer in love with comedians storming into the bedroom of a newly-married couple and preventing them from consummating their marriage.  The audience see no entertainment value in that timid girl who is scared about the video clip of her sexual encounter with her boyfriend.
If the scenes involving the Praveen-Madhu duo become repetitious after a point, Raai Laxmi's character is conveniently forgotten for a good part of the second half.  Even her delayed entry is a flaw.  She claims to be running out of time and is visibly a ghost in distress but has all the creative endowments in her mind to shake a leg for 'Papa Neekedante Ishtam'.
Pankaj Kesari's character is reduced to a caricature after being shown as a ruthless one.  Once he is wasted, it becomes difficult for the audience to take the story seriously.  
The performances are okayish, but Praveen and Madhu become too much to bear with after a point.  Raai Laxmi dances gracefully in the pre-climax song, her screen presence is impressive and her expressions are apt.  The rest of the cast, mainly Pankaj Kesari and Poojitha, fit the bill.  Ram Karthik is OK.
Hari Gowra's music is underrated.  The songs sound good as part of the narrative.  It helps that director Kishore (Ladda) does a neat job with the execution of songs.  The cinematography passes muster.
Verdict:
The film lacks a strong story.  Riven with dated ideas and regressive characters, this one falls flat also because of its poorly-etched, preachy climax.  A wafer-thin flashback adds to the woes.
Rating: 2 / 5.0
Showcase your talent to millions!!
Write about topics that interest you - anything from movies to cricket, gadgets to startups.
SUBMIT ARTICLE
More
Telugu Movie Reviews
Most Eligible Bachelor
Maha Samudram
Konda Polam
Republic
Alanti Sitralu
Love Story