What'll happen if Kamal enters politics?- Bharathiraja's warning to politicians
Tuesday, March 14, 2017 • Tamil Comments

Listen to article
--:-- / --:--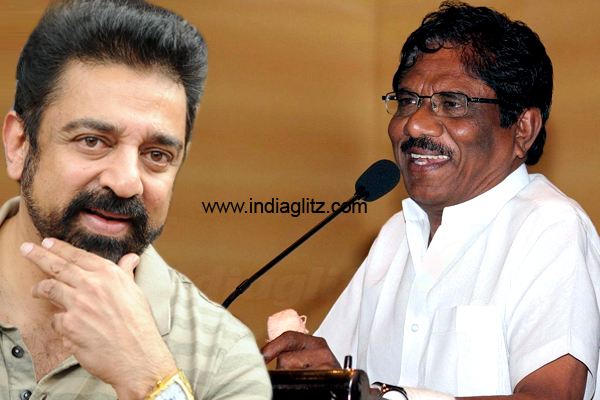 For the past few months, Ulaganayagan Kamal Haasan has been clearly and loudly vocal on various social and political issues. His most recent interview to a leading Tamil News channel has rocked the entire state and evoked harsh responses from the ruling party of the state.
The multi-talented star has however maintained that he will never enter into mainstream politics and he has been raising his concerns only in the capacity of a voter.
But what if he entered politics? How he will take on politicians on their turf? This prospect-despite being the most unlikely- has been projected by a film industry veteran not now but four years back,when his film 'Viswaroopam' was facing the height of political pressure.
Back in 2013, the Tamil Nadu State Government had banned the release of 'Viswarroopam' citing tough resistance and protests from some Islamic organisations claiming that the film portrays the religion in bad light. When the makers successfully lifted the ban with the intervention of the Madras High Court, the Government got a stay order from a higher bench and went ahead with the ban.
At this time veteran filmmaker Bharathiraja with whom Kamal has worked in classic films like '16 Vayathinile', 'Sigappu Rojakkal' and 'Tik Tik Tik', had warned the politicians to not mess up with Kamal.
In media reports of the past. the Iyakkunar Imayam has been quoted saying "If Kamal enters politics he would be very difficult to control. By the time he decides to do so, he would have learnt all the tricks and whatever it takes to be a good and successful politician."
Bharathiraja's assertion about Kamal does not come without a valid reasoning. It is said that when Iyakkunar Sigaram and Kamal Haasan's mentor K.Balachander wanted him to play Mridangam for a particular scene in 'Aboorva Ragangal', the actor who was in his early 20s at that time, learnt to play the instrument and had become a master in it before enacting the particular scene.
Even Kamal himsel has said in many of his interviews said that his mother Rajalakshmi wanted him to be the best in whatever he does and he follows his Mother's words as his Professional Mantra.
So what Bharathiraja said some years ago has stronger relevance to the present context where Kamal has been actively taking on the ruling party politicians. It is true that if he decides to enter politics he will strive to the best politician and will achieve that with his hard work and sincerity
Follow us on Google News and stay updated with the latest!
Follow
Actress Photos
Siya Gowtham
Rashi Khanna
Dhanshika
Chandini Chowdary