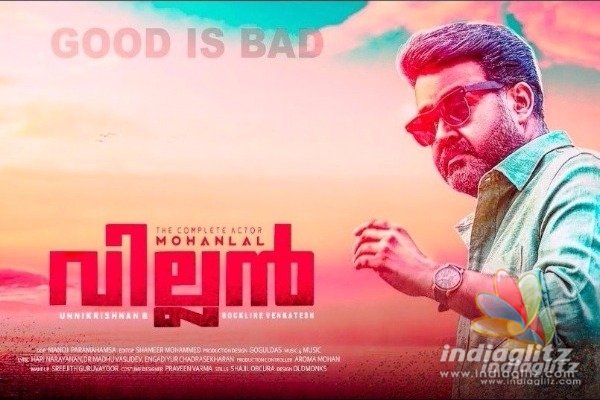 B.Unnikrishnan continues to tread the path he is familiar with. His latest movie 'Villain' feels very much familiar in terms of content yet manages to keep us guessing. The technically flawless making is the movie's strength. Comparisons with 'Memories' is bound to be there considering the similarities in characterisation and plot progression. 
The movie revolves around Mathew Manjrooan played by Mohanlal an able ADGP. A personal tragedy has him taking a 7 month off from service. His emotional balance is fragile and he wants to take voluntary retirement. He re-joins service for a day and this day turns out to be eventful as three murders happen and he has to investigate the case. If this sounds familiar, most of the movie would do too. However, the script I engaging enough to hold attention as the thriller unveils.
As with 'Memories', the emotional makeup of Mathew is fleshed out, maybe more intensely than the other movie. Manju Warrier appears in an extended cameo as Dr. Neelima, Mathew's wife. As the crime sequences unfold, the twists and turns lead us to an antagonist played effectively by Vishal. Once again the trope cop-badie instances are played out. Justice and counter justice is also brought in. In retrospect there isn't much to the movie in terms of its narrative pattern or scripting that is out of the ordinary. The familiarity is at once comforting as well as predictable. That said, neither is the movie a breeze. It does ask the viewers to make use of their grey cells. 
Mohanlal is at ease with his ADGP character  and its emotional complexities. He has shouldered the movie admirably. What makes Mathew admirable is his fine tuned senses and fleshing out his individuality. Vishal doesn't have much to talk but he sure packs a punch. Manju Warrier is good in her role. Hansika doesn't have much to do. Others in the cast are well placed. 
Script though clichéd is well written in terms of plot progression and tying up of events. The characterization is also good. Some heavy dialogues stand out too much. Direction by Unnikrishnan is along expected lines and us neat enough. The movie has a great technical team including camera, editing, stunts et al. The feel conveyed is spot on. The camera angles and crisp editing needs to be lauded for this. 
'Villain' is a well executed movie technically. This Mohanlal crime thriller also asks us to think which makes it an above average movie.
Rating: 2.5 / 5.0
Showcase your talent to millions!!
Write about topics that interest you - anything from movies to cricket, gadgets to startups.
SUBMIT ARTICLE
More
Malayalam Movie Reviews
Drishyam 2
Ayyappanum Koshiyum
Hey Jude
Aadhi
Vimaanam
Aadu 2