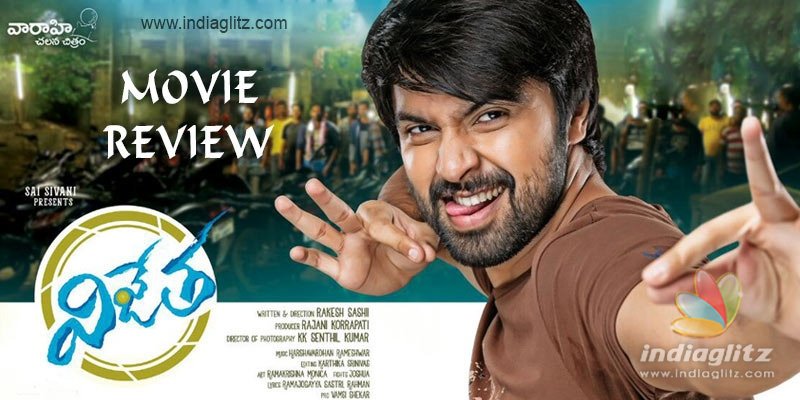 'Vijetha', starring Kalyaan Dhev in the lead, hit the screens this Thursday.  Here is our review of the family entertainer.
Story:
Ram (Kalyaan Dhev) is the pampered son of a factory employee (played by Murali Sharma).  Good for nothing at studies, he struggles to find a job after Engineering.  
Even as Ram tries his best to woo his neighbour (Malavika Nair as a bold and intelligent corporate employee), he is forced by circumstances to prove himself as time seems to run out for his father.  
Together with his friends (Sudarshan, Kireeti, Noel Seen, and Mahesh Vitta) and the heroine, Ram scripts a success story, in the process also giving the fantastic best his family deserves.  
Analysis:
Director Rakesh Sashi comes with a formula-driven story that uses familiar tropes without a care in the world.  One business idea and the hero's life sees a huge turnaround.  One impeccably good deed and he is the most-preferred 'Maryada Purushottama' of a millionaire family.  One money-minded groom disappoints, but so what?  The hero's sister gets the best guy out there as her husband (a Telugu film director is not worth his salt if his hero's sister doesn't get the best-est alliance).  One photography festival and the whole world takes note of a character's exceptional talent.
'Vijetha' is about the dream of a father to see his indifferent, reckless and dull son achieve something in life.  The son is a loafer, whiling away time doing inane things with a bunch of other loafers.  But then, he is a Telugu film hero.  At the end of the day, our heroes possess either exceptional physical attributes that bring loads of money or unexceptionable business ideas that bring loads of money, the best alliance for cute sister, and the most beautiful girl as the wife.
So, one Tollywood-esque day, our hero conceives an idea.  The heroine helps him with the best because she is a Tollywood-type angel.  The most conveniently sentimental family (complete with the over-emotional Rajeev Kanakala, happily-emotional Jayaprakash and readily-emotional Adarsh Balakrishnan) is out there, ready to help him become a 'vijetha' at the earliest.   The hero launches an App and before his father can draw his next salary, his business is a name to reckon with in the city.  Amen!
The hero messes up a couple of times but it's OK.  Our heroes mess up things for a noble end - the noble end of achieving the greatest things in the shortest time days/weeks/months later.  
There is nothing much left to be told in the last 30 minutes and this is why the audience are bombarded with comedians Sathyam Rajesh and Prudhvi.   The rom-com track is completely forgotten by the director, who seems to think that his film needs to compete for the eyeballs of aunts and uncles and not youngsters.  
Director Rakesh Sashi tells a few seemingly ordinary scenes in a gripping way.  The kidnap scene involving the hero and other characters would have gone terribly wrong had the director not been able.  Instead of going in for a simple-minded party scene where Adarsh Balakrishna is made to speak banalities in front of 300 guests, the director chooses a fairly good idea.  
Murali Sharma's track is emotional and relatable and it's one bright spot.  His act in the climax is a treat to watch and it wouldn't be wrong to say that Sharma is one of the best character artists in South Indian cinema.  As a concerned father, he shows brilliant nuance.  
Debutant Kalyaan Dhev needs to improve his expression for sure.  His voice bearing a resemblance to Manchu Vishnu's voice hardly helps.  Malavika Nair does an okayish job in an otherwise under-written role.  Four friends don't make much of an impact.  
Harshavardhan Rameshwar's 'Kodi' song has been overrated for sure.  He does a fine job with other numbers.  Senthil Kumar's cinematography is pleasant.  Other technical departments work well within budgetary constraints.
Verdict:
Vijetha's emotional appeal is overshadowed, at times, by its cinematic liberties.  If the failings of the hero are shown elaborately only with the intention of evoking laughter, his success is as instant as an instantaneous miracle.  Lazy screenplay does the film in, somewhat.
Rating: 2.75 / 5.0
Showcase your talent to millions!!
Write about topics that interest you - anything from movies to cricket, gadgets to startups.
SUBMIT ARTICLE
More
Telugu Movie Reviews
Peddha Kapu 1
Skanda
Chandramukhi 2
Sapta Sagaralu Dhaati
Changure Bangaru Raja
Mark Antony