When Ajith sparked a huge surprise to a dubbing artist
Saturday, October 22, 2016 • Tamil Comments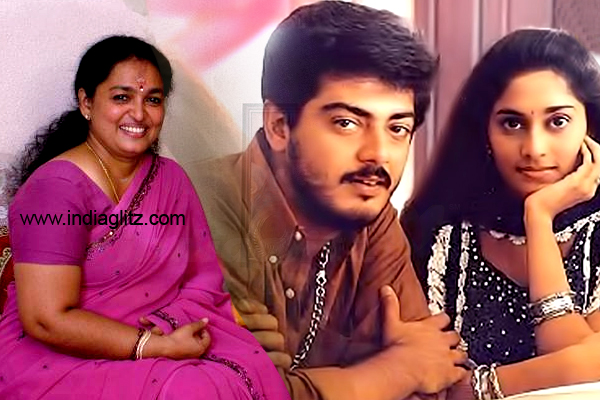 Veteran dubbing artist Sreeja Ravi has been in industry for 37-38 years. She has dubbed for heroines mainly in Malayalam and Tamil films and also in Telugu, Kannada, Bengali and Hind films. She has lent her voice for many leading heroines such as Revathi, Shalini, Kavya Madhavan, Devayani, Suvalakshmi among others in many Tamil and Malayalam films. She has also acted in a few films and Television serials.
Sreeja shared her experiences working with Thala Ajith in two films in a gap of over a decade. In 'Amarkkalam' she had dubbed for the lead heroine Shalini who eventually became Ajith's wife in real life. In the latest blockbuster 'Vedalam' Sreeja appeared in a minor role as a nurse.
Here we bring you what the highly talented professional spoke about Ajith in her own words.
"While I was dubbing in the studio for Shalini without knowing Ajith sir was present there, he suddenly came said 'Thanks for dubbing for my wife'. he secretly murmured this in my ears . I was really surprised. Only then he said he is going to marry Shalini.
During 'Vedalam' I went to the shooting spot. When we met, he was the first to say hello. He was holding a cup of coffee in one hand and a mobile phone in another. He extended his elbow as a gesture of shaking the hand.
We had to take four-five takes for the shot. It was not the mistake of the artists involved. Stilled he kept asking sorry to me every time when we went for another take. I was simply amazed that a star like him could speak like that to a person like me."
Sreeja's daughter Raveena Ravi is also a popular and sought after dubbing artist of the current generation. She is also a multilingual person like her mother and has dubbed for Amy Jackson in 'I', Amyra Dastur in 'Aneghan', Nayanthara in 'Baskar the Rascal' and also other young heroines like Kajal Aggarwal Madonna Sebastian and Sridivya. She is also making her debut as an actress playing the lead role in the film 'Oru Kidaayin Karunai Manu' with Vidharth.
In the exclusive interview to IndiaGlitz, the mother-daughter duo shared their experiences and a lot of interesting details about the highly underrated dubbing profession which can be watched in the video embedded here.
Actress Photos
Muskan Sethi
Sony Charishta
Rashi Khanna
Sneha Gupta