A Thaman musical
IndiaGlitz [Wednesday, December 4, 2019 • తెలుగు] Comments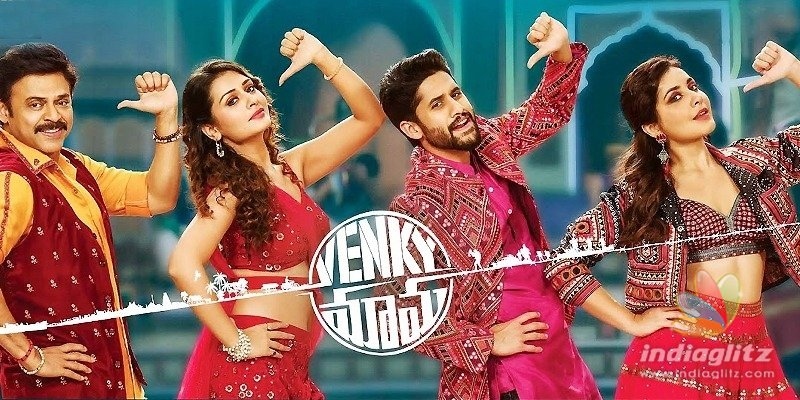 The first single from 'Venky Mama' is out, on Aditya Music.  Here we present its review.  The other songs will be reviewed as and when they are out.
Venky Mama
Singer: Sri Krishna
Lyricist: Ramajogayya Sastry
Family songs in typical Telugu family dramas are borderline bhajans.  No wonder then that the lyrics of the title track of 'Venky Mama' are not only hackneyed but also unabashedly Mama-worshipping lines.  Sri Krishna's voice sounds apt not just because this one is a rural drama but also because Naga Chaitanya is playing such a role for the first time.  Thaman's family song (released recently) for 'Entha Manchivaadavuraa' proved that his grip on the genre is firm.  And this song only reinforces the view.
Yennallakko
Singer: Prudhvi Chandra
Lyrics:  Sri Mani
When it's time for retro songs, our films resort to low-hanging fruits and this one is no different.  The instrumentation is spot-on and that's all can be said about it.  Prudhvi Chandra's deliberately irreverent rendition reminds us of Jessie Gift's offbeat voice.  Sri Mani's lyrics reflect the colourful backdrop of the duet even as Victory Venkatesh's alleged makeover is celebrated.
Coca Cola Pepsi
Singers: Aditi Bhavaraju, Ramya Behara, Simha, Hanuman
Lyricist: Kasarla Shyam
Trust Kasarla to use terms like surgical strike and batting in the same song when they mean something else in his mind and in the context of the number's "item song" trappings.  The singers do a pretty much decent job for a song that is content with low-hanging fruits, including familiar beats and run-of-the-mill choreography.  Lyrical videos damage interest in a song when they reveal their cards way too much.  This one is just the latest example.