A lovely album
Monday, October 25, 2021 • Telugu Comments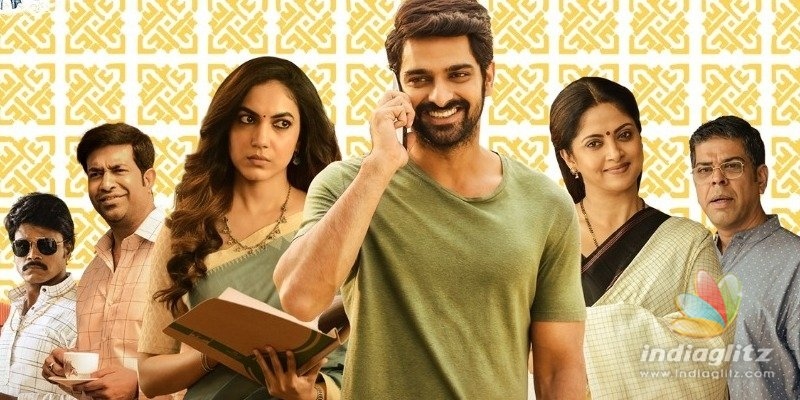 A romantic song from 'Varudu Kavalenu' is out, on Aditya Music. Here is our review of the song.
Kola Kalle Ilaa
Singer: Sid Sriram
Lyricist: Rambabu Gosala
The most-happening singer with a mesmerizing voice is back to do things he is known for. The Sid-fied inflections do sound too familiar but there is a certain charm to them. Rambabu Gosala's lyrics are eminently touching, complete with their poetic reflections. Vishal, who is adept at distinctive melodies, trods a beaten path and pops out with a conventional slow-burn melody.
Digu Digu Digu Naaga
Singer: Shreya Ghoshal
Lyricist: Anantha Sriram
If the first song of the album was composed by Vishal Chandrasekhar, the second one has come from S Thaman, who is a pro at composing songs with peppy beats. Selecting a soft singer like Shreya Ghoshal for this 'item' song proves to be a welcome decision. The super-talented singer adds oomph to it with her irresistible voice. Anantha Sriram's lyrics avoid the pitfall of stuffing the song with regular lines. Shot on an actress like Ritu Varma, the song promises to be a hall-time hit.
Manasulone Nilichipoke
Singer: Chinmayi Sripaada 
Lyricist: Sirivennela Sitarama Sastry
Vishal Chandrashekhar's composition is deepened by the melodious nature of the mood. Sirivennela's lyrics animate the song that is about the mental state of a lovelorn woman, who is pining to strike chemistry with her favourite man. Phrases such as 'Sumamai virise tholi ruthuvu' are excellent. Chinmayi Sripada is the go-to singer for songs of this sub-genre. While the composition is worthy, one feels it treads the beaten path. There is no innovation in terms of how the vibes are conveyed.
Vaddaanam
Singers: Geetha Madhuri, ML Gayathri, Aditi Bhavaraju, Sruthi Ranjani, Sri Krishna
Lyricist: Raghuram
Composer Thaman deploys the guitar and the violin for this festive song that is set in the backdrop of a wedding. Lyricist Raghuram marshalls those 'It's going to be a celebratory life' lines to give the song a generic effect. The singers, who are about five in number, are in a happy mood. Satya Yamini, Manisha Eerabathini, Ravali Paritala, Sahiti Chaganti, Srinidhi Tirumala, and Abhikya join them as chorus singers.
What To Do
Singer: Amala Chebolu
Lyricist: Lakshmi Priyanka
The lyrics introduce us to the quirks of the female protagonist, who has her own set of idiosyncrasies to live by. Amala Chebolu's voice is excellent, while the lyrics are the best part of the song. The tuning draws from a song from 'Prati Roju Pandage'.
Chenguna Chenguna
Singer: Sinduri
Lyricist: Sreemani
After a song that talks about the character of the heroine, here is a love song that shows her growing affection for the man in her life. Sinduri's voice is enjoyable, while Sreemani's lyrics are creative.
Verdict:
'Varudu Kaavalenu' has a series of enjoyable songs composed by Vishal Chandrasekhar and Thaman.
Rating: 3