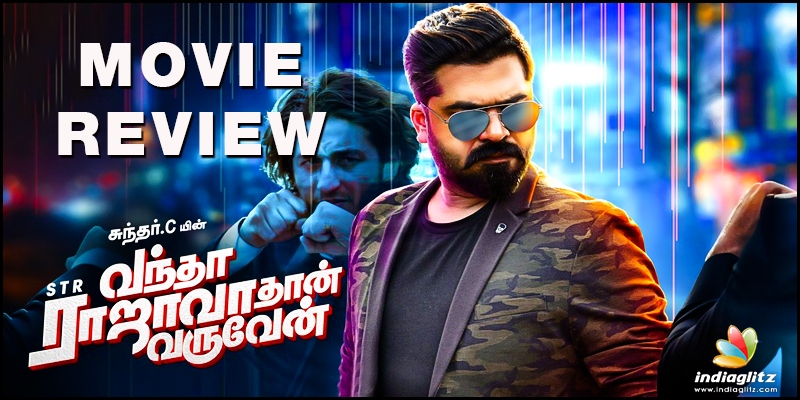 Highly predictable entertainer, but a treat for STR fans
Exactly after a year since his last release, the superhit comedy caper Kalakalappu 2, commercial hitmaker Sundar.C is back, joining hands with Simbu, who had made a strong return to form with his gangster act in Chekka Chivantha Vaanam, to deliver Vanthaa Rajavathaan Varuven, titled after Simbu's dialogue. Vantha Rajavathaan Varuven is the official remake of 2013 Telugu blockbuster Attarintiki Daaredhi, and let's see how well Sundar.C has adapted it to suit Tamil sensibilities.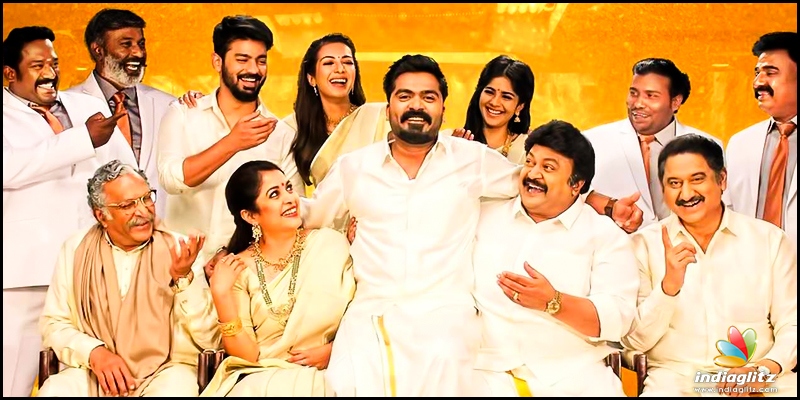 Vanthaa Rajavathaan Varuven begins with the introduction of Aditya (Simbu), the grandson of the wealthy Raghunandan(Nasser), who promises to bring back his estranged daughter Nandini(Ramya Krishnan) who had married Prakash(Prabhu) against his wishes. The royal Aditya enters Nandini's family as driver Raja, tries to woo her elder daughter Priya (Catherine Tresa), but as she's already in love, shifts focus to her second daughter Maya (Megha Akash). Though Maya hates him initially she falls for him, and then situations lead to the revelation that Nandini already knew Aditya's identity and fixes Maya's marriage with.Was Aditya able to win his aunt's heart and unite the family and also win Maya's love is what Vantha Rajavathaan Varuven is all about?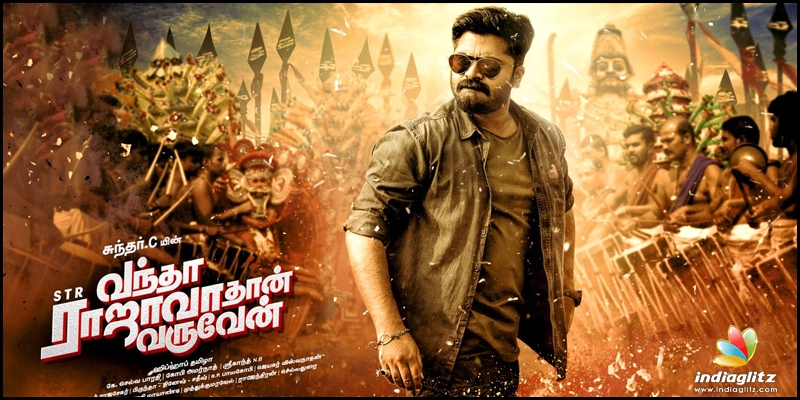 Simbu is in his elements, having fun to mouth punches and teaming with Robo Shankar and Yogi Babu to generate laughs, bash baddies doing the mass hero act, dances with energy and excels in few emotional episodes. Though Ramya Krishnan looks authoritative, she gets an opportunity to emote only towards the end, as Vantha Rajavathaan is a complete Simbu show and he completely overshadows everyone. Though Megha Akash's character is restricted, she makes her presence felt with her pretty looks and glamour, while Catherine Tresa plays the typical eye-candy to perfection. Prabhu and Nasser are cast in minuscule roles and it's a cakewalk for the veterans. The comedy duo Yogi Babu and Robo Shankar entertain with their one-liners and counters that work occasionally. Amit Tiwari and Radha Ravi are cast in cliched, stereotypical villain roles for the umpteenth time. The rest of the cast including Mahath, Suman and VTV Ganesh do not get much scope.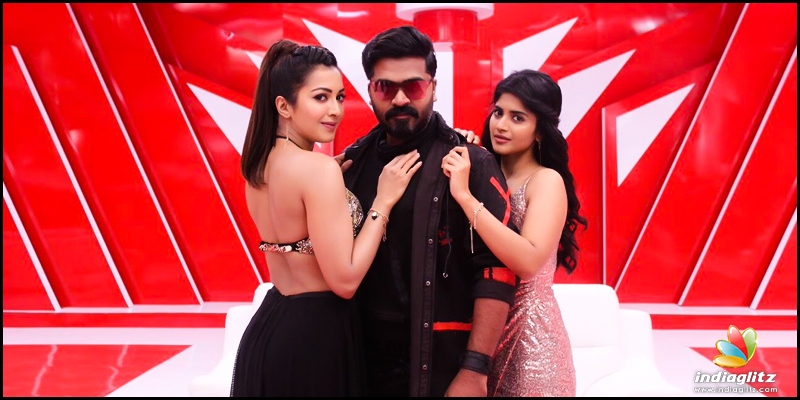 The first half of VRV moves at a good pace (barring the placement and picturization of the first song), with the engaging presence of Simbu and Ramya Krishnan. Typical family sentiments, some fun sequences between Simbu and Robo Shankar, and Megha Akash and Catherine Tresa's glamour spicing up the proceedings make sure that despite the cliched setup, there's no dull moment. 
However the second half where the logic completely takes a beating suffers from various issues ranging from predictability to pace, the masala overdose, song placements, and though occasionally lifted by fun moments featuring Yogi Babu,  culminates in a far-fetched climax.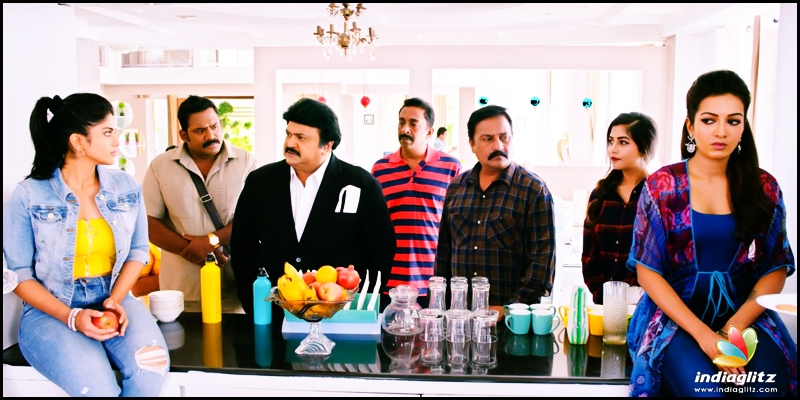 Hip Hop Thamizha's background score is loud and jarring, and none of his songs barring the peppy Red cardu song standout. Cinematography by Gopi Amarnath makes sure Vandha Rajavathaan Varuven is a colorful flick with glossy visuals, and richness throughout while editing by Srikanth could have been taut, as the song placements and several extended comedy sequences mar the screenplay.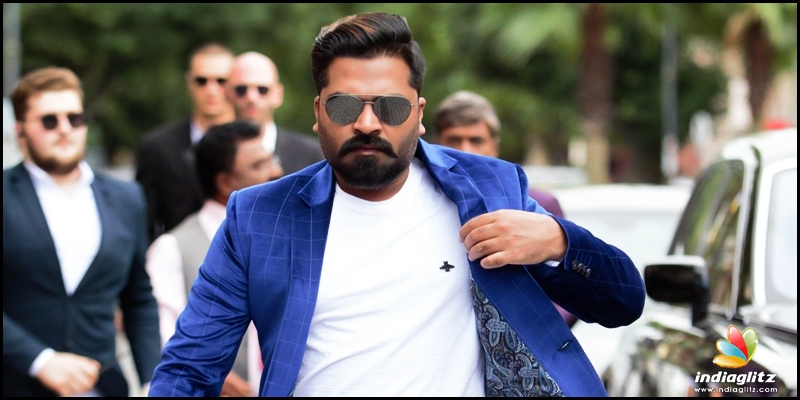 Sundar.C's forte is humor plus glamour and is known for his knack of presenting even a beaten to death plot in a fun-filled and entertaining manner, with his brand elements. Vandha Rajavathaan Varuven being a remake of a 6-year-old flick, is sure to remind one of the movies of the past like Minsara Kanna, Unnai Thedi, and Sundar C's own Sanda, as the plot is as old as the hills, and what was expected from Sundar.C was some novelty and tweaks in the screenplay to make it relevant. However, Sundar.C has opted to stay faithful to the original by Trivikram and hence the screenplay and dialogues lack freshness. Despite a fun-filled first half, post interval, the movie takes the typical Telugu masala entertainer route and is filled with fights, songs and very limited comedy,  impacting the engagement factor in the screenplay. Simbu completely dominates everyone in this one-man show, as even veterans Ramya Krishnan, Prabhu and Nasser struggle for screen space to perform. Though Yogi Babu entertains in his limited scope, the lack of a proper comedy track makes Sundar.C struggle, and adding to the woes, despite having two happening heroines, the screenplay mostly revolves around the Raja that their glam goes unnoticed as well. All said, Vantha Rajavathaan Varuven is a family fun entertainer and an old wine in an old bottle, that works in parts. Thanks to Simbu, who is sure to please his fans in his return to a proper family based emotional entertainment zone after more than a decade (Saravana, Kovil), this Raja limps to the victory line despite being let down by a cliched screenplay. 
Rating: 2.5 / 5.0
Showcase your talent to millions!!
Write about topics that interest you - anything from movies to cricket, gadgets to startups.
SUBMIT ARTICLE
More
Tamil Movie Reviews
Mark Antony
Jawan
Kushi
Adiyae
King of Kotha
Jailer