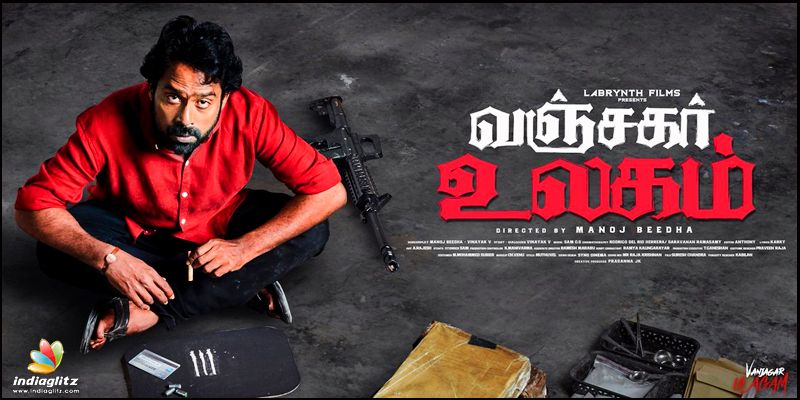 Vanjagar Ulagam - A novel attempt but laborious watch
In recent times debutante directors in Kollywood are ushering in new genres, trying off beat narrative styles and writing new characterizations. On paper 'Vanjagar Ulagam' has it all, a bunch of grey characters, a screenplay that goes back and forth, nothing is what it seems and twists galore.  Does all these translate on screen for an engaging viewing is a completely different matter.
The story starts interestingly enough as a young girl played by Chandini Tamilarasan is found murdered in her house and the main suspect is Shanmugham alias Shyam (Cibi Bhuvanachandran) a computer engineer living in the opposite house.  The police also bring in the husband Bala (Jayaprakash Radhakrishnan) for questioning when a dreaded gangster Sampath (Guru Somasundaram) comes out of hiding to whisk him away claiming that Bala is his dearest friend.  Journalists Vishagan (Vishagan Vanagamudi) and Samyuktha alias Sam (Anisha Ambrose) bail Shyam out and try to launch an investigation on who the real murderer is.  The rest of the screenplay goes back and forth to shed light on the true characters of all these players ending in a shocking revelation.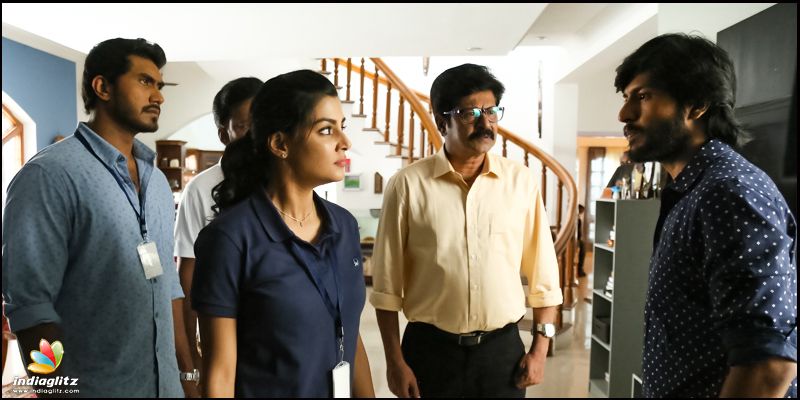 Guru Somasundaram is a method actor who in the hands of a good director gives some riveting as well as endearing performances such as in 'Aaranya Kaanam' and 'Jigarthanda/Joker' respectively.  Here presumably without proper direction he goes over the top and most of his antics are forced and at times bordering on the ridiculous.  Towards the climax he does get it right but its too little too late.  Cibi Bhuvanachandran was apparently asked to do an impersonation of 'Arjun Reddy' and credit to him that he does it earnestly.  Vishagan and Anisha Ambrose look a tad uncomfortable on screen and also have some serious lip sync issues.  John Vijay competes with Guru Somasundaram in overacting and emerges the winner. Jayaprakash who directed and acted in the critically acclaimed 'Lens' as the key character Bala is listless.  The sole consolation is Chandini Tamilarasan who plays the role with shades of grey effortlessly.  She is not only an eyeful in sarees but is also fetching in the bold bedroom sequences. Her sincere effort gains her the  sympathy when the final reveal is made.  Most definitely a good actress who is under utilized in Tamil cinema.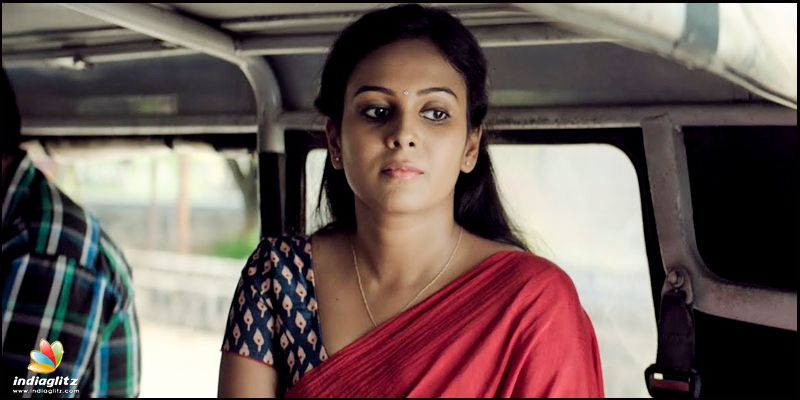 The reverse chronological screenplay does keep one mildly curious and the theme that everyone in their own situations turn traitors and villains holds shock valure.  There are  a couple of Balachanderisque touches, one when Chandni let's Cibi inside her house  and into her bed  after several attempts on his part.  The other is when Cibi asks her to call him Shanmugam when he usually gets angry when others do.
On the downside the main problem is that the wayward screenplay that can be likened to a road trip from Chennai to Madurai that goes via Hyderabad, Kolkata, Mumbai, Pakistan and  Kanyakumari tiring the viewer completely. Logical loop holes abound (cops taking instructions from journalists and most of the gangster sequences) pedestrian dialogues and bad acting make the 2 hours 40 minutes run time an ordeal to get by.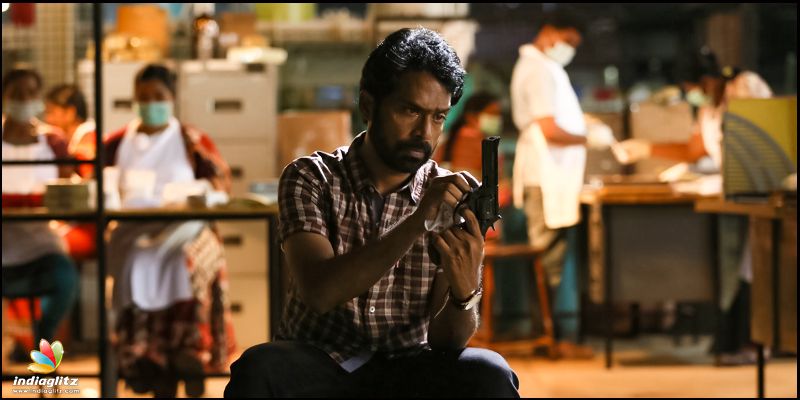 Sam C.S background score is neat like the couple of songs he has tuned in. Cinematography is good in patches while the editing pattern employed by Antony is what gives the film a novel touch.  Sad that he couldnt use his scissors to trim the length of each and every scene which seem endless. Manoj Beedha has surely chosen a good theme, written interesting characters and also has tried to touch a couple of taboo subjects such as infidelity and homo sexuality.  He however is found wanting in extracting convincing performances from his cast and in narrating the story in an interesting manner.
Verdict : Go for it if you fancy "experimental for the sake of it" stuff and also if you are a fan of Chandini Tamilarasan.
Rating: 2 / 5.0
Showcase your talent to millions!!
Write about topics that interest you - anything from movies to cricket, gadgets to startups.
SUBMIT ARTICLE
More
Tamil Movie Reviews
Chithha
Iraivan
Chandramukhi 2
Mark Antony
Jawan
Kushi