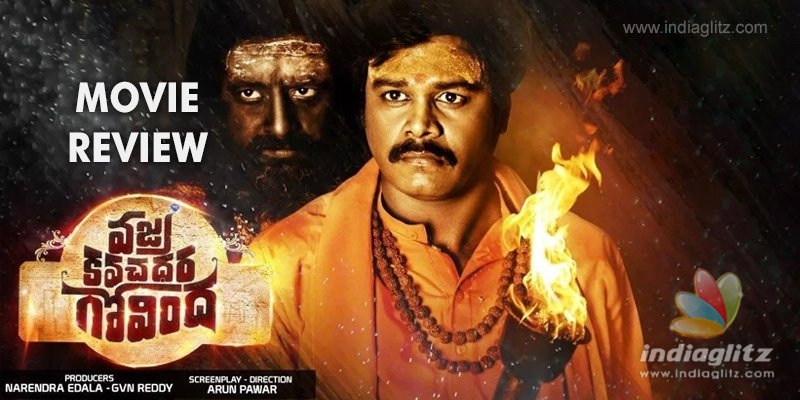 'Vajra Kavachadhara Govinda', starring Saptagiri in the lead, hit the screens this Friday.  Here is our review of the latest box office release.
Story:
Govindu (Saptagiri) is a petty thief with a heart of gold.  When many people in his village become victims of cancer, he joins forces with Lakshmi Prasanna (Veda), a wannabe MLA, who promises to construct a hospital in the village if voted in.
In a nearby village, a deadly village head named Bangarappa rules his village with an iron grip.  A temple in the village houses a precious, rare diamond whose worth runs into hundreds of crores.
Somehow, Govindu ends up with a gang that is after this undiscovered diamond.  When it is found eventually, it spells unforeseen troubles for the hero.  What are they and who is behind them?  How does he overcome them and save himself and his village from the bane of cancer?  Answers to these questions are found in the second half.
Analysis:
This is a film where characters are so unseriously written that it is as if we are expected to derive all succour from a melodramatic flashback.  A film strictly set against the backdrop of a village, it also relies on old-style male bonding and the village head's sadism.  
The second half sees Saptagiri's character undergoing a radical shift.  The way the characters around him behave during this phase is farcical.  Saptagiri retains his comedic self in these portions but the background music belongs to the world of 'Maharshi'.  The director should have put Saptagiri's talent to better use than making him do all this.  
After a point, we are convinced that the treasure hunt, the diamond, that violent village head, that cancer - everything is just an excuse for lewd jokes and vacuous gags in the second half.  Saptagiri's funny travails would have made for a 7-minute Jabardasth skit.  They have made it into a film.  
The hero embarks on a treasure hunt and the episode is bereft of even a semblance of believability.  The villain screams with impotent rage.  Srinivas Reddy, Venu, Get-up Srinu, and a host of comedians come and go in pointless after pointless scenes.
As for the romantic track, Vaibhavi Gupta plays a compulsively masculine girl waiting to be feminized by the hero.  Thus, our hero becomes a saviour to her.
Saptagiri tries to inject earnestness into the proceedings.  He succeeds to an extent but that's all can be said. The script keeps faltering throughout.   
The performances are largely over-the-top.  Even those faces who are usually good at comedy fall flat in the film.  Bulganin's songs are a misfit for this lousy entertainer; they deserved better.  Chinna's BGM and the cinematography are okayish.
Verdict:
The comedy goes haywire after staging the first act.  Elements as different as dementia, supernatural, social good and masala comedy are mixed in a haphazard manner.  The end result is a film that is a cross between self-indulgent comedy and rudderless climax.
Rating: 2 / 5.0
Showcase your talent to millions!!
Write about topics that interest you - anything from movies to cricket, gadgets to startups.
SUBMIT ARTICLE
More
Telugu Movie Reviews
7 Days 6 Nights
Chor Bazaar
Sammathame
Kondaa
Godse
Virata Parvam