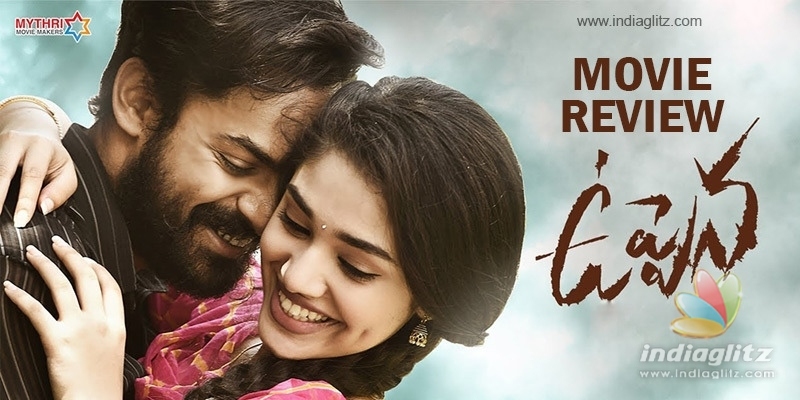 'Uppena', starring newcomers as the lead pair, hit the screens today. Here is our review of the latest box-office release.
Story:
Aasi (Panja Vaisshnav Tej) has been mooning over Babamma aka Sangeetha (Krithi Shetty) since he was a child. When they grow up, he stalks her. They come from diverse backgrounds. If Aasi is the son of a poor fisherman, Babamma is the college-going daughter of a rich man named Rayanam (Vijay Sethupathi), who is also ruthless when it comes to realizing his dream of building a fishing yard and his casteist honour.
As expected, Rayanam gets aggressive on coming to know of his daughter's love affair. What does he do? Can Aasi survive his aggression? Will Babamma rise to the occasion?
Analysis:
Debutant director Buchi Babu Sana comes equipped with a template-driven love story with a novel point. The word 'novel' is used in all seriousness here. This is a bold idea that defies the conventional narrative that we have seen South Indian films pushing so stubbornly for more than a generation. It has to do with masculinity, and it has also got to do with love.
The first half is set up in the style of Teja's popular hits of the early 2000s. It, therefore, is fitting that 'Uppena' is set in 2002. The romantic track is staged in an indulgent manner, complete with some dreamy moments. Whatever little comedy is there, it is all situational. There is a friend who is happy for Aasi and how so very easily he wins over the love of his dreamgirl.
The screenplay is clever here and there. There is a lecher whom Babamma despises and feels that her husband is going to put him in place. As destiny would have it, her future husband does just that, accidentally. It's a touching scene that also has got a mass appeal.
By and by, the love scenes get jaded. The 'jwaram kavala' element starts losing punch after a point.
The scenes involving Vijay Sethupathi, whose character is drunk on power and arrogance, should have been way better. Due to the dubbing, he comes across as a regular villain. And whenever he is around, he mouths some stock lines that don't rise above the conventions. He also gets too repetitive about his 'paruvu'. Even so, what he does to his daughter's boyfriend turns out to be the film's USP.
The second half is crisp (the film's run-time is 147 minutes), and the climax seeks to deliver a sucker punch. For all the shock value, however, there is nothing haunting about it. Is it because some over-enthusiastic gossip-mongers had ensured that the crux got revealed way before the film's release? There were even memes around the 'danger point' on social media.
The performances are solid. Vaisshnav Tej makes a grand entry with a neat act. He shows vulnerability where required. He is endearing when he smiles joyfully. He delivers the lines with ease and doesn't seem to struggle anywhere. Krithi Shetty gets a strong role and a say in the love story. That way, she is a genuine protagonist. Her disarming smile is a plus and she is convincing when she sobs. Sethupathi brings menace to the role despite the cardboardish dubbing. Sai Chand is enjoyable.
Devi Sri Prasad's montage songs have been used to the maximum romantic effect. The popular hits are stuffed in the first half. The BGM, however, leaves much to the desired. Shamdut Sainuddin's cinematography is well-framed, it is flawless for the most part. The slum where the fishermen live looks real.
Verdict:
'Uppena' has got a shocking idea writ large over the second half. The climax stands out for its emotional value. Well-placed songs enrich the love story. Able performances strengthen the movie.
Rating: 3 / 5.0
Showcase your talent to millions!!
Write about topics that interest you - anything from movies to cricket, gadgets to startups.
SUBMIT ARTICLE
More
Telugu Movie Reviews
Calling Sahasra
Atharva
Animal
Kota Bommali P.S
Aadikeshava
Sound Party