I believe there is a bubble around me and only I exist in that space: Trisha
Thursday, October 27, 2016 • Tamil Comments

Listen to article
--:-- / --:--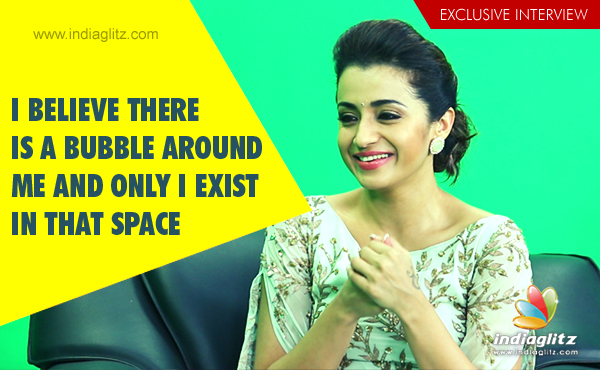 The single biggest survivor in Kollywood and an ageless beauty who lights up the screen every time she appears. Here we present the transcript of the one and only Trisha`s exclusive Red Carpet interview in which she shares never before details about Vijay, Ajith, Dhanush, Kodi, Marriage, Ambitions and much more...
We hear that you are doing a negative role in Kodi` is that true?
Yes! And I am so excited about it. We thought we will keep it under wraps, but after the teaser was released, fans guessed it from my dialogues and looks. This is the very first time I have tried a negative character and I hope I pulled it off as I have given a hundred percent and the fans like me.
Any exclusive info about the character?
It is a very meaty role and Dhanush is playing dual roles as brothers and its my character who brings about differences of opinion between them. I was initially apprehensive whether my body and structure would suit such a powerful role, but director Durai Senthil Kumar had confidence in me and we all pulled it off together.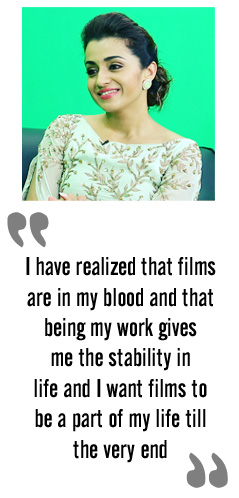 Working with Dhanush one of the biggest stars in India...
Dhanush is a selfless actor and he loved my role and said that he wanted to focus on me more than his two roles. Irrespective of whether people like the film or not they will surely like me and Dhanush as a pair.
Your character Rudhra...
It is not a stereotypical villi (female antagonist) role which would have been easy to do but something more intense. She is strong, crass and outspoken and she does not care about what she speaks and how it affects others. Rudhra is a very ambitious woman who will do anything to get what she wants which is the number one position. The love story between me and Dhanush is very mature and it has come out well.
About Kodi`...
It`s a well packaged film and it has so many highlights like Dhanush playing dual roles for the first time one of which negative. As I said before me playing a negative role.
About Mohini`...
I didn`t want to do a horror film after Nayaki` but Mohini` is a very different script by Madhesh and we have a couple of weeks shoot left and the film will hit the screens early next year.
Your other negative role in Sathuranga Vettai 2`?
No that is not a negative role in it Arvind Swamy and I play con artists who are in a mind game with each other but they both are good people. It is a very apt film for both Arvind and me to be in.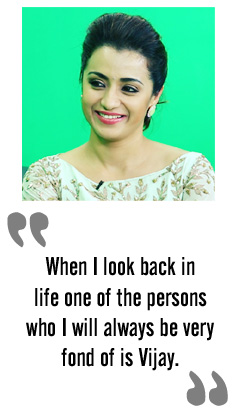 Right from Lesa Lesa` to Kodi` you look the same how do you manage that?
(Laughs) I think I am metabolically blessed because I don`t put on weight. It is important to take care of oneself in this industry where periodically you need to get over things. I make sure I sleep six to eight hours and eat correctly. I too agree that I look more defined now than six or seven years ago.
Your experience working with all the superstars of South Indian cinema...
I am blessed that at the initial part of my career itself, I was able to work with them and it makes your job easier. I think I was repeated by many of my heroes because I am not fussy, am punctual and hard working. I am a complete director`s actor and make sure that I have a great rapport with them. I cannot pick any favorites among my costars because all of them have helped me a great deal.
About Chiranjeevi...
He is a great human being and no one has pampered me like the way he does. For one film we were shooting in the alps and it was freezing but he gave me his jacket. He also made sure that his personal chef would also cook for me so that I eat right. Without making an effort he is the most humble and kind person I have ever met.
Mahesh Babu...
I love him, he is one of my favorites as he respects me as an artist and we have given many super hits together. He always made me feel that I am a good actor. Many people don`t know that in my college days itself, we knew each other as he also grew up in Chennai but we didn`t know at that time that we will be in the industry together.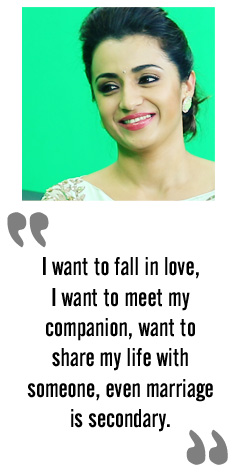 Kamal Haasan...
Kamal sir, is a dear friend of mine and he is one person with whom I share a professional as well as a personal relationship with. He is the one who gave me confidence to dub and sing. I am proud to say that I come from the Kamal school and what is more I can call him any time, even if I have a personal problem or a film I am confused about.
Your Ghilli` hero Vijay...
Vijay is an amazing person and we have made four films together. When we started Ghilli`, honestly, I didn`t have a good rapport with him, but thanks to director Dharani and others in the team we became very good friends. Vijay is the most special hero to me as he has given very big hits with me. He is a very kind and gracious person who never loses his cool, very professional. Completes his task to the T, working very hard. When I look back in life one of the persons who I will always be very fond of is Vijay.
What about Ajith...
He is a complete gentleman who will ask me what would you like me to cook for you today and during all the four films I have done with him enjoyed a great rapport as well as his biriyanis and Italian pastas. We don`t discuss films, but talk about what is happening around the world, gossiping, food and all. I admire him for having the guts to put films aside in his peak and trying something else he loved like racing and flying planes. He is such a wonderful husband and father who any girl will want to have like him.
About Gautham Menon...
The role that he gave me in Yennai Arindhaal` is absolutely fabulous and even now when people watch the film they call me and tell me how good I was a Hemanika. Earlier, w
Follow us on Google News and stay updated with the latest!
Follow
Actress Photos
Mehreen Pirzada
Sonal Chauhan
Amala Paul
Shobitha Dhulipala