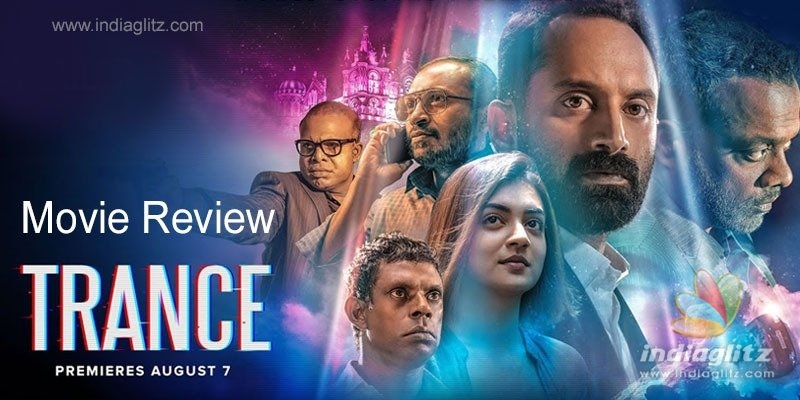 'Trance', starring Fahadh Faasil in the lead, is currently streaming on Aha.  Dubbed from Malayalam, it has been directed by Anwar Rasheed.  Here is our review of the film.  
Story:
Viju Prasad (Fahadh Faasil), a small-time motivational speaker with a painful past, is left orphaned suddenly.  His search for popularity leads him to Mumbai, where he is recruited by two evil businessmen (played by filmmaker Gautham Menon and actor Chemban Vinod) for a religious project.   In no time, Viju transforms himself into Pastor Joshua Carlton, a powerful preacher and miracle healer.  
After the Pastor's spiritual empire, Glorious Church, becomes a force to reckon with, troubles ensue when he appears on a TV channel for an interview.  How it all ends in a heady tale of corporate machinations is what the second half is about.
Analysis:
The Malayalam original of this film hit the screens in February 2020, to general critical applause.  More than a thriller, it has to be seen as the biopic of a small-town guy throwing morals to the winds in becoming a sensation by hook or crook, only to lose himself in the melee that follows.  'Trance' is also a psychological drama that stays true to the genre for the most part.  
Fahadh Faasil is brilliant and there are no two ways about it.  He is totally convincing as that cunning pastor who behaves as though he is a man possessed.  Dileesh Pothan as his trainer Alexander and Gautham Menon as Solomon Davis are superb, too.  Nazriya Nazim of 'Raja Rani' fame fits the bill.
More than the songs, it's the background music (by Sushin Shyam, Jackson Vijayan) that is impressive.  The score can induce a trance and can suck you into the proceedings, especially in the first half.  Amal Neerad's cinematography is another plus.
Like most Malayalam films whose dubbed versions we get to watch, 'Trance', too, has a second half problem.  The first half is consistent and keeps you invested.  But, in the latter half, the narration sort of meanders.  A key flaw lies also in what the Pastor does in the interval block to the intrepid journalist.  In real life, organized mafias don't commit such silly crimes.  
It would have been great had the protagonist's actions seemed more believable and less convoluted in the second half.  The elements of drugging and mania are not leveraged to give the audience a sense of the roller-coaster.   The character Esther proves to be another letdown.  It would have helped to introduce her in some form in the first half itself.  
The first half-an-hour is a sheer delight to watch.  Most motivational speakers are pseudo and the male lead seems to be one.  His ways and language are authentic when he becomes a miracle healer in search of "sheep".  The comical scenes are a bit distracting, though.  
Verdict:
'Trance' works in bits and pieces.  It has a thoroughly engaging first half, while the second half loses its steam.  At 167 minutes, it could have been way slimmer.
Rating: 2.5 / 5.0
Showcase your talent to millions!!
Write about topics that interest you - anything from movies to cricket, gadgets to startups.
SUBMIT ARTICLE
More
తెలుగు Movie Reviews
Karthikeya 2
Laal Singh Chaddha
Macherla Niyojakavargam
Sita Ramam
Bimbisara
The Legend