Beating for first love
Thursday, January 25, 2018 • Telugu Comments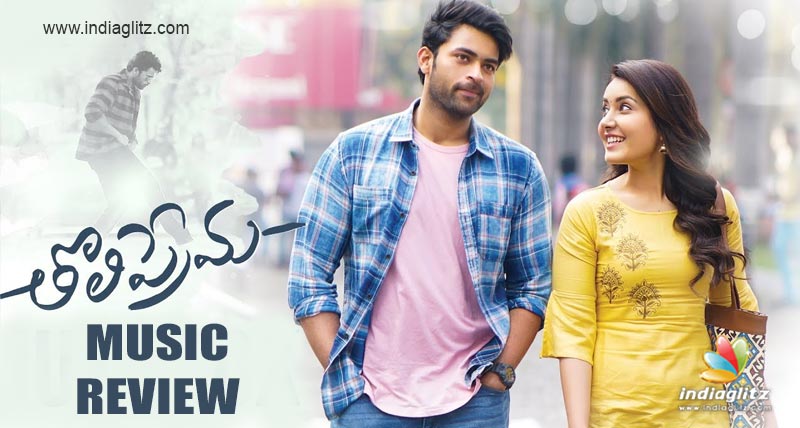 Thaman ropes in the right voices: Shreya Ghosal, Raghu Dixit, Armaan Malik, Rahul Nambiar, and Kaala Bhairava. Sri Mani gets to write a single-card album.
Break the Rules
Singer: Raghu Dixit
Lyrics: Sri Mani
This is a typical hero-oriented song. The noble guy that is the male lead exhorts everybody to, well, indulge in romance and all the naughtiness possible. Sri Mani's lyrics capture the concept in quite many stock phrases. Raghu Dixit has a semblance of a booming voice. Thaman's music slows down somewhere in the middle to accommodate classical notes. Conceptually and musically, 'Break The Rules' doesn't break a single rule.
Ninnila
Singer: Armaan Malik
Lyrics: Sri Mani
It's a deja vu as the tune bears resemblance to an old number. For a music director known for loud, mass numbers, 'Ninnila' is a whiff of fresh air. But that's about it. Sri Mani's lyrics are quite a breeze, much like the 'gali' they refer to. The lover boy asking the girl not to hide her 'tholi prema' (first love) is great. Rhyming words like 'Andam' and 'Anandam' are there. Armaan Malik renders the number to a soothing effect.
Sunona Sunaina
Singer: Rahul Nambiar
Lyrics: Sri Mani
The song is a peppy romantic. After Raghu Dixit, Rahul Nambiar comes up with sharp vocals for this number. Sri Mani's lyrics are beautifully imaginative, once again. Thaman's beats lend themselves to some dance moves. But then, if the director chose to contain everything in minimalist moves, it will be interesting, too.
Allasani Vaari
Singer: Shreya Ghosal
Lyrics: Sri Mani
Lyrically, vocally and musically, this is the album's best number. Sri Mani's lyrics are laced with high-brow meaning and it takes one to listen to the number a few times to understand the meaning enshrined in the stanzas. 'Bhasha lo unna lalana' and the like are poetic. Shreya Ghosal's rendition is resplendent with depth and catchiness. Her brilliance is matched by Thaman's awesome musical performance. He enriches the song with soulful crests and troughs.
Vinnane Vinnane
Singer: Armaan Malik
Lyrics: Sri Mani
Sri Mani once again peppers the number with some distinctly mesmerizing lines. If lines like 'Tholi premai nee lo ne unnane' are routine, others like 'Nee melukava kosam veluthurule parichale' ooze poetic depth. Armaan Malik's voice is enjoyable; it's youthful and lovely, something that this song needed. Thaman's music may not give much of a takeaway, for the tune is something of a rip-off.
Tholipremaa
Singer: Kala Bhairava
Lyrics: Sri Mani
The lyrics brilliantly encapsulate the revived memories of first love. Long after she was gone, the special one is back. The phrase 'Nerame evarido teladu gaa' captures the quirk of their love failure. Kala Bhairava's vocals have the depth in them to convey the pain writ large over the number. Thaman belches out an excellent number with his superb talent.
Verdict:
The album throws up meaningful lyrics and soulful renditions. Thaman does his best with the title song and 'Allasani Vaari'.
Rating: 3/5