'Theri' has a message for women safety with strong a mass appeal - Atlee
Wednesday, April 13, 2016 • Tamil Comments

Listen to article
--:-- / --:--




Director Atlee is the young sensation in Kollywood. After making a splendid debut with the superhit emotional romance flick Raja Rani`, he is now keeping his fingers crossed for the grand release of his second film Their` a mass action entertainer with Ilayathalapathy Vijay as hero and veteran director Mahendran as villain.
Ahead of the grand release of Theri` across the globe, the young and highly talented filmmaker shared a lot of Theri` details with Indiaglitz.
Excerpts:
How was it directing Baby Nainika in Theri`? Was it tough?
If you have handpicked a child for your story you have to bear the difficulties. Nainika is just 4. Everything is excitement for her. If I had brought her to this place she will keep looking at this new camera with excitement. I can`t keep telling her about the call-sheet related time constraints and all. Kids will keep discovering themselves. If there is a rain effect shot they will keep analyzing from where the rain comes. We have to bring them out of all these and make them perform. I think it is my duty as a director and I hope I have done it correctly.
How did you convince Meena to let Nainika act in the film?
Actually Meena mam warned us while casting her daughter who is just 4. As she is well aware of the importance of shooting and the requirements of a shooting spot she clearly said a no when we initially approached. I said that I will do a test shoot in my campus and show her and if she is convinced about her daughter`s convenience in the shooting spot she can give her nod. She was happy with the test shoot and that made her accept the offer.
Share an interesting incident you encountered with Nainika?
Nainika`s entry into the shooting spot itself will incite interest in all of us. Once Vijay Anna enters the shooting spot everyone will become a little nervous. Everything has to be correct. We will be concerned to avoid any mistakes in front of him. Handling a star is a very important task in the administration level. If a star feels comfortable at the spot, that will reflect in the scene. They cannot perform amid disturbances from the crowd. Handling Nainika is an art that goes beyond all these logistics. Anna will be standing in front of the camera for the shot. She will come and keep playing for some time. She has to settle down. It will take some time. Only then she will look at the dialogues. Then she will perform one take and say she is feeling sleepy. I will be shocked. I will request Anna to wait for five minutes. But he is super cool. He will keep waiting for her.
Amy Jackson had to drive two-wheeler for a scene with Nainika. Only after we made everything ready for the shot she said she is not familiar with bike unlike cars. I asked whether she can do that and she said yes. Once the camera started rolling she just had to go out (of the camera`s focus) with the bike. As she did that the bike went a little far away and stuck into a bush. Thankfully nothing serious happened but Nainika got frightened by that. We had to pacify her.
Another day, we were shooting a portion in which she had to sit with Vijay Anna in the bike. She just refused and said Vijay Anna should drive the bike and come back and only then she will get in the bike with him. Nothing struck my mind and when I made her sit she started crying. Then only Vijay Anna took her for a round. Only after that she performed the scene happily. She is so clever and has a very good memory. We shot the bike scene with Amy long back and we shot the scene with Vijay after a gap of 4-5 months. She is super intelligent and equally naughty.
I will miss her a lot in shooting spot. If there is no shoot for her on a day I will feel the weakness. She gave me such a zone. And she is a superb artist apart from everything. She started learning things fast and completed the shots in single take. I think she will become a big actress in future if she wishes.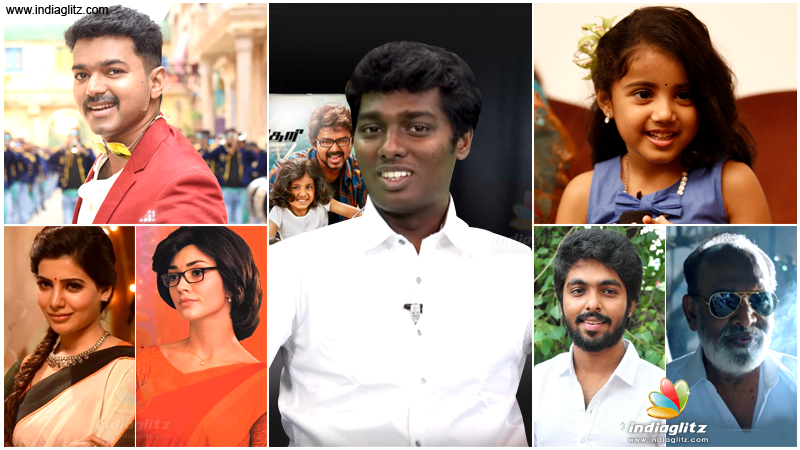 We heard Vijay was the first to appreciate her when she completed the first shot?
Yes that was during the test shoot I mentioned earlier. It was a conversation scene between Vijay and her. She brilliantly completed the shot and Vijay Anna was so excited. She lifted her and congratulated her. Every one of us got the confidence about her acting. I would say Nainika is the biggest plus for the film.
We heard Meena was there in the shooting spot with Nainika throughout. Did you at any point of time asked her to make an appearance in the film?
She is such a big artist and she would be sitting under the scorching sun. I will feel bad for that. So I did not ask anything that would embarrass her a bit. And there was also no scope for her inclusion in the film.
Recently we interviewed Radhika and she had asked us to watch out for Mahendran sir in Theri`. How did you convince him to act in this film?
If a strong villain character has worked out in a film the heroism will work out extremely well. A strong villain will be enhancing the power of a film. We needed a fresh and strong villain. I am a huge fan of Mahendran sir. I just got the thought of casting him for the role and pitched it to Thanu sir. Then Mahendran sir asked me to come.
First time I visited his home and at the first sight he said Raja Rani` was very nice and started inquiring about the Theri`. Then he asked whether Vijay is okay with the idea of casting him as the villain. I said all are fine and then he listened to the script I narrated for three hours. Wherever I wanted audience to laugh, wherever I intended to make them feel emotional all these reactions came from him at the right moments. I had decided to narrate the script to him once even if he does not act in the film. It`s a very good feel to narrate your script in front of a legend. He liked the story very much. He said the film will be high in commercial values and it will be liked by all. And said If you are okay I will do. I don`t have any reasons to say no. If you feel my acting does not match your expectations please indicate it to me. No issues. My primary intention is you growth as a filmmaker. I like you a lot.`
Mahendran sir had given class films and this is a mass film. But I was confident that if he does this role it will be fantastic. Sir also liked it and that`s how it happened.
Tell us about Samantha and Amy characters in the film?
Amy is British Beauty. But her general look did not appeal to my story. I approached her because I needed an Anglo-Indian teacher who looks angelic from the view of children. The audience should feel the same way. She had to go to the next statue and look matured than her regu
Follow us on Google News and stay updated with the latest!
Follow
Actress Photos
Mehreen Pirzada
Sonal Chauhan
Amala Paul
Shobitha Dhulipala