Theeran Adhigaram Ondru
IndiaGlitz [Friday, November 3, 2017 • தமிழ்] Comments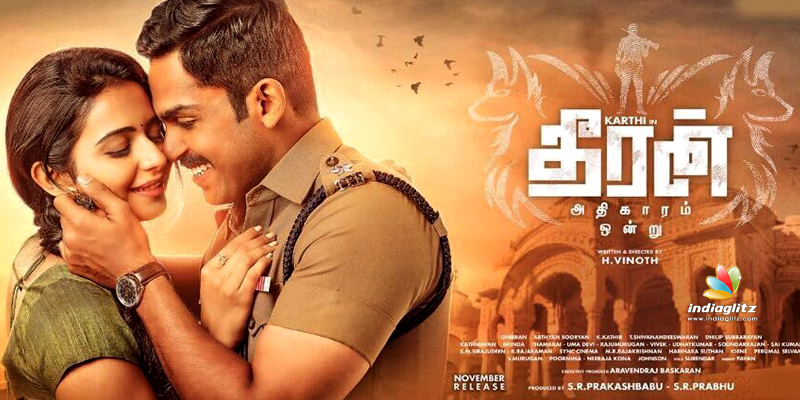 Karthi is all set to hold audiences captive with his second outing as a tough cop in the much awaited 'Theeran Adhigaram Ondru'. Vinoth of 'Sathuranga Vettai' fame has wielded the megaphone for this cop thriller which has Rakul Preet Singh playing Karthi's love interest.
While the movie's trailer promised a nail-biting thriller, there is huge curiosity surrounding the film's music score. Ghibran has composed the music for the film which is touted to exceed expectations.
Composer: Mohamaad Ghibran
Voices:Shashaa Tirupati, Inno Genga
Lyricist: Thamarai
'Oru Veettil' is an intoxicating number with Ghibran luring in listeners to the groovy rhythm pattern right off the bat. The song smoothly transitions into Shashaa Tirupathi's mesmerising vocals. Just then Inno Genga's deliberately alluring vocals begins complementing the song's fluid progression to dish out an exceptional duet. There is also an interlude where symphony violins help ease the ending like a forgotten dream. This song will hook you up the first time you hear it.
Voices: Armaan Malik
Lyricist: Uma Devi
What starts off as mysteriously quiet turns overboard as we are bombarded by Armaan Malik's piercing vocals. However as the song settles into a mellifluous flow, we grow fonder of its rhythmic patterns. Uma Devi's poetic lines serves as a lifeline for the song which otherwise might have sounded bland and conventional. The accompaniment of the instrumentals also make this a highly listenable number.
Voices: Sathyaprakash, Pragathi Guruprasad
Lyricist: Raju Murugan
Laali Laali is a refreshing piece from 'Theeran Adhigaram Ondru' that impresses you with its focused mid-tempo. The song takes its pauses and timings seriously not rushing into exaggeration which makes it heartily indulgent. Laali comes off as a laid back duet but equally soothing to hear- and hum when you're not hearing it.
Voices: Aravind Srinivas, Sarath Santhosh
Lyricist: Vivek
The track starts with the strumming of guitars and leaps to the vocals with controlled vigour. The song turns groovy as the vocals relay to a worthwhile show-off of guitar reams. Tap-worthy beat patterns, composed throw of lines by the singer and the contrasting power-play of techno parts makes this song a commendable fit in the album.
Voices: Padmalatha
Lyricist: Uday Kumar
Tinga Tinga is reminiscent of your usual Bollywood number when the hero-heroine stops for a 'chai' on the highway dhaba. Padmalatha's diction is crisp and clear cut which might let us excuse the heavy presence of non-Tamil words. But there's a catch. At least we get to tout Tinga Tinga and other such lyrical rhymes that hooks you to the flow of the music. This song will make a perfect dance number for your festive gatherings in addition to being a happy-go-cheerful song in an otherwise serious album.
Voices: K.G.Ranjith
Lyricist: K.G.Ranjith
Sevatha Pulla which was released as a single has already impressed listeners with its simple yet effective use of vocals and intrumental accompaniment. Ranjith's lines touting love for a girl is set to become addictive from the first hearing. Easily this song becomes the most pleasant solo of the album with its seductive rhythm and beat patterns. The final word being – this addictive song is a must in your romance playlist!
Verdict: Seductively distinct, Ghibran sways you with another hypnotic album.