That's the most challenging song of 'GPSK': Chirantan Bhatt [Exclusive Interview]
Monday, January 2, 2017 • Telugu Comments
Chirantan Bhatt got the opportunity to compose the music for 'Gautamiputra Satakarni' like a blessing. In this exclusive interview with IndiaGlitz, the Bollywoodian says that it was more difficult to compose the BGM for the emotional scenes rather than the war sequences. Read on to know why, and more..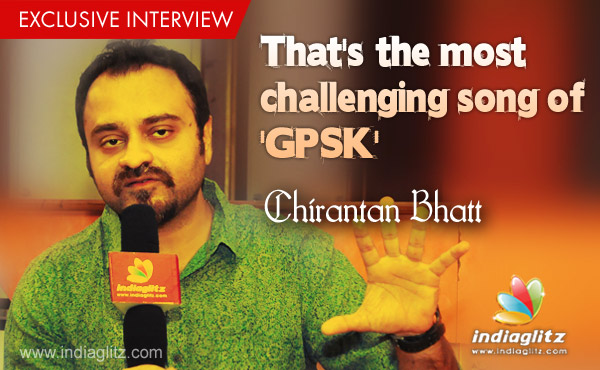 What was your first reaction when Krish offered you 'GPSK'?
My first reaction was yes because very rarely do you get an opportunity to work on a historical film of this magnitude. And this being Balakrishna's 100th film, I felt the opportunity was heaven-sent. I knew it was going to be a different experience compared to 'Kanche', which was set in the World War era, whereas 'GPSK' is set in an entirely another era.
Balakrishna being a mass hero, were you intimidated by his image?
When it's a mass hero, people expect a certain kind of commercial music. I made it a point that I should do justice to Krish's vision because it's he alone who has the complete vision of what kind of music the film needs. If I can satisfy him, I would be satisfying the Telugu audience.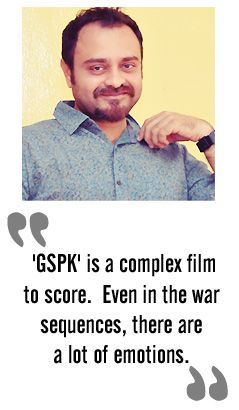 The film was completed in a remarkably short time. What kind of pressure did you face?
There was pressure to complete it on time, but the time was sufficient. It's not like we rushed through it. We really worked hard on every song. As Krish was busy shooting, we had several discussions over the phone. We considered several options for the songs and decided on one tune.
Do you think had you had more time, you would have done a better job?
For any creative endeavor, it's always less time. There is no limit to what one can do creatively. As someone said, any creative endeavor is abandoned, it's never finished.
You have done a great job in selecting the singers. What went into zeroing in on such names as SPB, Shreya Ghoshal and Vijay Prakash?
Shreya Ghoshal and Keerti Sagatiya are somebody I had already worked with. Krish is a big fan of Shreya and so am I. She has sung 'Ekimeeda' and 'Mriganayana' very well. The fun part was working with Udit Narayan, who has sung a song for Balakrishna after a long time. We felt it would be a nice touch if we can bring him back. Working with Balu sir on 'Mriganayana' was a great experience. It's rare for someone who comes from Bollywood to work with him; it was a dream-come-true. It's only this film and Krish that made it possible.
Films like these need to have a great BGM. How confident are you about it? Was it very difficult to compose BGM for the war sequences?
I did my best, the way I had done for 'Kanche'. I just hope and pray that people love the BGM.
More than war sequences, composing for the emotional sequences was challenging. In the case of the former, it's enough if you elevate the mood through aggressive tunes, huge drums, war horns, etc. But in the case of emotional scenes, it's more difficult. Every scene has a story that needs to be told, every dialogue has a certain effect. Therefore, it took more time to score for them. Even in the war sequences, there are a lot of emotions. The entire story of 'GPSK' is built in such a way that there is grandeur, there is action, there is patriotism. It's a complex film to score. That's what makes it special.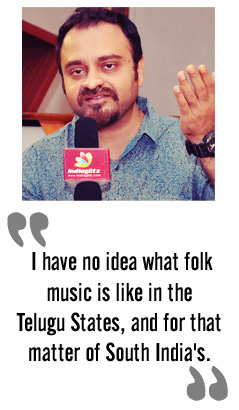 Did you listen to Balakrishna's songs before doing the music for 'GPSK'?
I had listened to only one song and it's 'He is a Legend..' from 'Legend', even though the same has no significance for 'GPSK'. I listened to it because it's massy. The theme song 'Saaho Saarvabowma Saaho' for our film had to be of patriotic in nature.
You have said that composing 'Saaho Saarvabowma Saaho' was the most challenging. Why so?
The challenge was to come up with the tune that has an uplifting quality in the context of a different time signature. That also made it very difficult to write. Sitarama Sastry garu is a genius and that's why he wrote such wonderful words. People are getting goosebumps listening to it. Even the choir that sang the number got the same high in spite of not understanding the words. It was an awesome experience.
The songs have a folkish feel. How did you imbibe the Telugu nativity?
I don't know how I did it. Even in 'Kanche', I just did it. I have no idea what folk music is like in the Telugu States, and for that matter of South India's. I just did my take on how it sounds. Fortunately, people feel it has got the native touch.
Follow us on Google News and stay updated with the latest!
Follow
Actress Photos
Meera Jasmine
Faria Abdullah
Nidhhi Agerwal
Hansika Motwani