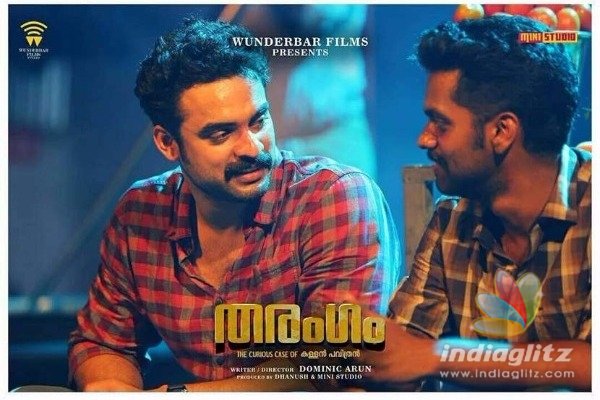 When the movie began with gratitude to Quienten Tarantino, Priyadarshan, Al Pachino and others I thought it would be a mind blowing experience. And yes it was mind blowing. 'Tharangam' simply blew my mind with its inane meandering story which one struggles to keep track of and its over ambitious guise. Only the first twenty minutes or so is tolerable and then it is a downhill slide. With God, Kallan Pavithran and his clan taking over, and a series of occurrences hastily given weird connections, the movie doesn't amount to much.
There is God and Kallan Pavithran at his abode trying hard to get God to revoke the curse on his clan. The curse can be revoked only if one among the three people existing in that generation has a change of heart. The three are Malu, Omana and Raghu if my guess is correct. Now Malu, who by the way is a kleptomaniac, is Pappan's (Tovino) lover. They are living together. Pappan is a corrupt police officer who is forever under suspension, forever in debt and forever getting into troubles. His comrade in arms is Joy (Balu Varghese) who is also under suspension. To make some money they undertake a quotation.
From here on the story takes bizarre routes zig zaging here and there, and stretching connections to its limit. The plot is a huge spoiler and it is an effort to just sit there and watch the actors doing random stuff with absolutely no clue. If the intention was attempting an experiment in the Tarantino don style, the makers have made a mess of it. If the intention was spoof, it falls way too flat. The trailer and song released ahead of the movie's release, gives absolutely no warning of what is to follow.
Tovino and Balu Varghese play pivotal roles in the movie. And they have not been able to shoulder the movie. Post 'Godha' expectations were heavy on Tovino and he has simply run the other way. Characterization is not the priority in the movie and so none of the characters make any kind of impact. Neha Iyer as Omana, Santhy Balachandran as Malu  have done the needed. Unni Mukundan as Raghu looked all dazed and confused in the melee.
'Tharangam' is Dominic Arun's first directorial. The vision itself is flawed, though we feel that he is in earnest. Maybe he could rethink his craft. He has scripted a movie previously titled 'Style' with Tovino and Unni Mukundan on board. 'Tharangam's' script is shoddy and offers nothing to the viewers or the actors. Songs are kind of okay in isolation. Cinematography and editing add to the deliberate confusions.
'Tharangam' is perhaps over ambitious and fails heavily. Barring a few moments here and there the movie doesn't make any impact.
Rating: 2 / 5.0
Showcase your talent to millions!!
Write about topics that interest you - anything from movies to cricket, gadgets to startups.
SUBMIT ARTICLE
More
Malayalam Movie Reviews
Drishyam 2
Ayyappanum Koshiyum
Hey Jude
Aadhi
Vimaanam
Aadu 2