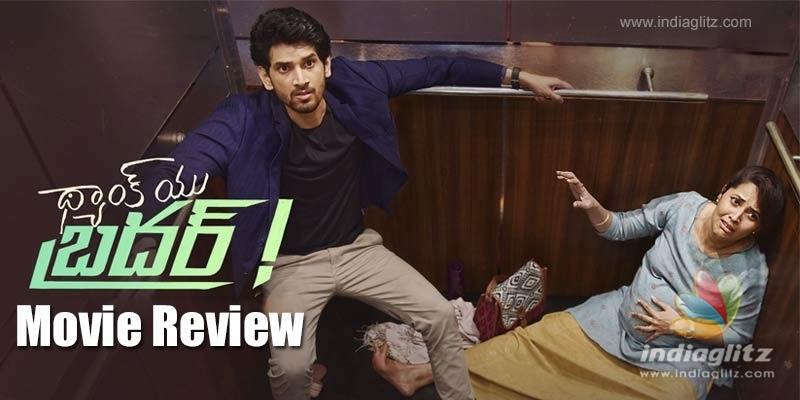 'Thank You Brother' is now streaming on Aha. Let's find out what is good and what is bad about the thriller drama.
Story:
Priya (Anasuya Bharadwaj) is a pregnant widow who gets stuck in an elevator with Abhi (Viraj Ashwin). Now, Abhi is a typical entitled and careless youngster who has a tempestuous relationship with his mother and stepfather (Anish Kuravilla). It's now up to Abhi to save Priya to safely deliver her child in the elevator before time runs out. Can he?
Analysis:
In adapting 'Elevator Baby' (a less-known Nigerian movie), director Ramesh Raparthi has tried to make it look as contemporary as possible. The story is set in Covid-19 times for the sake of it. The temporal aspect looks quite forced, more so because the whole city manages to watch the ordeal of the Priya-Abhi duo LIVE on TV without anyone in power being able to do anything - apparently because the city is under lockdown.
Actually, there is more to it than meets the eye. In Telugu films, if a spoit brat has to be redeemed, he has to not only pull off a noble act (like do farming or diss the urban life or save a pregnant woman with copious tears in his eyes) but also has to be seen pulling off the noble act. That explains the LIVE TV farce.
'Thank You Brother' is staged like Abhi's story, not Priya's. As such, her memories and emotions are a mere footnote. Her late husband (Adarsh Balakrishna in a cameo) is a prop. Abhi, on the other hand, is someone the film can't wait to make a hero of. His friends can't wait to call themselves idiots for misunderstanding him all along. Just Tollywood things.
When you want the audience to patiently indulge your protagonist's playboy nakhras and hednoism, at least make sure you pick an actor with the right flamboyance and zany attitude. Or, fill up the frames with doses of rich humour, not the regular comedy that Viva Harsha types have done for ages.
Abhi's mother is sleepless because her son keeps partying night after night. Just to make sure that we understand how much she misses her son, we see shots of 'Shatamanam Bhavati' on the TV in her background. The director seems to believe that this is what adapting to Telugu nativity means.
The characters around Abhi are sketchy. Barring his stepfather (who is conveniently a doctor), nobody is expressive in his presence beyond archetypal reactions.
In the recent 'Gaali Sampath', a survival drama, a miracle saves Rajendra Prasad's character. At least, 'Thank You Brother' doesn't have such boldly stupid ideas. To that extent, it's respectable. But the film doesn't possess the ennobling emotions of an 'Aramm', the Nayanthara movie in which a small girl falls into a deep pothole. Like in 'Aramm', 'Thank You Brother', too, has got the element of a novice character having to do something he has never done before, in an existential crisis. But here, the audience doesn't see any edginess in proceedings.
The film's run-time is 92 minutes or thereabouts but the length would have been shorter had the characters known how to come to the point in a life-and-death situation.
The film is also flatly cast. The BGM and the cinematography are at the level of a web movie. Perhaps, this one was never meant for even a multiplex release.
Verdict:
The narration of 'Thank You Brother' nosedives from the word go. You can just watch its trailer and go straight to the 70th minute of the movie. You wouldn't miss anything much.
Rating: 1.75 / 5.0
Showcase your talent to millions!!
Write about topics that interest you - anything from movies to cricket, gadgets to startups.
SUBMIT ARTICLE