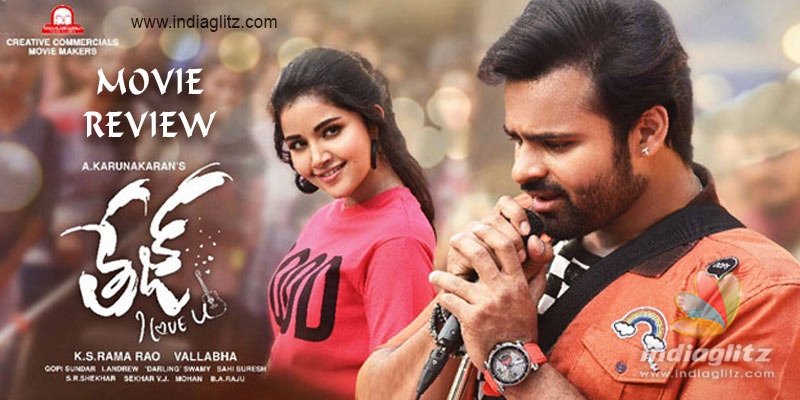 'Tej I Love U', starring Sai Dharam Tej and Anupama Parameswaran, hit the screens this Friday.  Here is our review of this Karunakaran-directed rom-com.
Story:
Tej (Sai Dharam Tej), technically a parentless child, is part of a joint family.  As a pre-teen boy, he murders a rapist in order to save a woman.  He ends in jail for the next seven years.  
After serving the jail term, he is banished by the head (Jayaprakash as the hero's uncle) of the family for helping his sister elope with her lover.  
We next see Tej as a consummate dancer, who falls in love with the most beautiful girl out there (Anupama Parameswaran as Nandini).  
Nandini starts seeing him as a friend but love blossoms a little later.  A tragedy strikes the heroine, who now forgets the last 3 months and 12 days in her life.  She opens her eyes and calls Tej a doctor (hell, he is a dancer).  Tej is heartbroken but his mind is sharp.  He discovers that Nandini is there in Hyderabad for a purpose.
It's now up to our hero to befriend Nandini all over again, find out her past, save her from any danger that she might be in, and be loved back.
Analysis:
It is frustrating when calamitous events in a lead character's life are portrayed like a semi-joke in movies.  It's frustrating, for want of a better word.  A teenage boy, who will grow up as the film's hero, condemned to suffer for seven years.  And the titles roll with floral designs as if he just went to the best boarding school in the two Telugu states.  After the titles, the joint family joins together to croon and jive for 'Enno Santoshalu'.  The bride elopes.  The hero is ejected out of the house by the elder.  Without wasting any time, director Karunakaran then shows our hero brushing his teeth and ragging a junior.  What do you call such an idiosyncratic narration?  
The hero never behaves like someone with a tragic past.  It's as if spending seven years away from his family as a punishment was a cake walk for him.  He doesn't talk about it in a touching way even in the climax.  And being banished by his uncle from the Sooraj Bharajatya 'kutumbam' is nothing for him.  It's as if he is a Bigg Boss-2 contestant who has been eliminated from the house.  Not a big deal for him.  
It's now time for Anupama Parameswaran's intro scene.  Our hero thinks she is a blind girl.  Seconds later, he says some Enligsh-language proverb which director Karunakaran thought makes sense because it has the word 'blind' in it.  Before and after this insensitive scene, two WhatsApp jokes are delivered by cardboard-like character artistes.  
Days later, the hero makes the heroine smoke a cigarette.  She does it because she is full of gratitude (as we realize later).  This is how their future love starts in a public place.  To control each other, they both write laughable agreements, which no adult member would take seriously.  It's based on these childish stamp papers that the rom-com track in the first half thrives somehow.
In the second half, the theatre of absurd starts becoming in-your-face when one lame scene after another, one eccentric idea after another starves the film of any emotions.  The pre-interval memory loss element loses its significance (perhaps, the audience, too, are supposed to have a 'memory loss' regarding the last 10 minutes of the first half).  Tom, Viva Harsha and Harry start taking control of the proceedings but not the director.  In one immature moment, the hero's funny sidekick Harsha seeks to put the damsel in potential distress (Nandini's body language and facial expression never suggest that she is one) in trouble in the presence of her father (Anish Kuruvilla) as a dumb Tej encourages him.
To add to the woes, the second half forgets comedian Prudhvi and the joint family itself is disjointed from the story for too long.  
To write about the performances, let's review Anupama before her male counterpart.  She has got the maximum number of dialogues and the least we deserved is the right dubbing artiste.  It's difficult to say if the dialogue-delivery lacks class more than Anupama's performance or it's the other way round.  Sai Dharam Tej sleepwalks through every single tragedy scene and every single comedy scene.  Kailash (producer Siva Prasad Reddy's son) debuts with this film in a character role.  Jayaprakash, Pavithra Lokesh, Anish Kuruvilla, the girl who played Tej's sister (bro-sis sentiment in the first half is not worth it) and others pass muster.  
Gopi Sundar's songs and I Andrew's cinematography are not passable, though the former is OK audio-wise.
Verdict:
Unfleshed characters, a love story that is dealt without a semblance of respect, a narration that borders on the insensitive.  This is 'Tej I Love You'.
Rating: 2.25 / 5.0
Showcase your talent to millions!!
Write about topics that interest you - anything from movies to cricket, gadgets to startups.
SUBMIT ARTICLE