A striking album
Monday, November 5, 2018 • Telugu Comments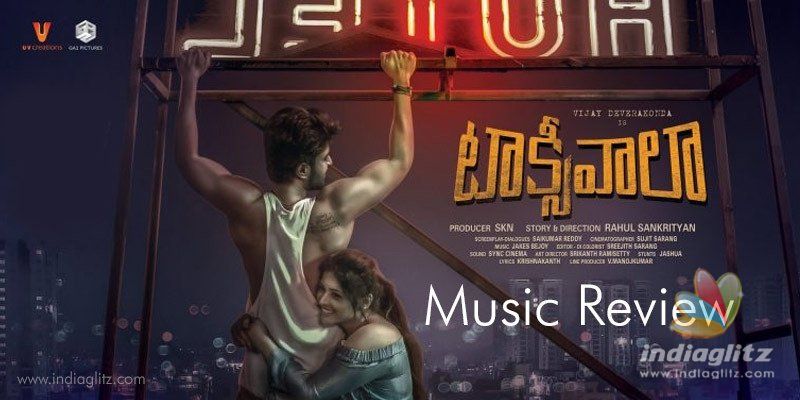 The soundtrack of 'Taxiwala', composed by Jakes Bejoy, is out on Aditya Music.  With lyrics from Krishna Kanth, its singers are Hemachandra, Sid Sriram, Shreya Ghoshal, and Revanth Kumar.
Ladies And Gentlemen
Singers: Hemachandra, Jakes Bejoy
Lyrics: Krishna Kanth
Jakes Bejoy dishes out a peppy number.  The flavour is youthful and singer Hemachandra only revs it up.  The feel is so virbrant, helped in no small measure by Krishna Kanth's lyrics that pay a tribute to optimism.  All in all, a very interesting number that also goes into establishing the male lead's character in the fantasy-comedy.
Maate Vinadhuga
Singer: Sid Sriram
Lyrics: Krishna Kanth
The melody comes with Krishna Kanth's soulful lines.  'Arere puduthu modhale, malupu kudhupu needhe' is one of those profound lines from the number.  The songwriter's language reflects the Taxiwala's state of mind poetically.
Jakes Bejoy delivers a tailor-made musical for singer Sid Sriram.  Somewhere it's easy to relate the tune to what was heard in SA Rajkumar's 'Pallavinchu toli raagame' from the film 'Raja'.  Sid Sriram, whose 'Inkem Inkem' for 'Geetha Govindam' was a blockbuster hit, is back with a typical song for his singing capabilities and style.
Crazy Car
Singer: Revanth Kumar
Lyrics: Krishna Kanth
It's a car that scares.  This one makes for a good situational song in a film where a supernatural taxi is a character in itself.  Jakes Bejoy's music is meant to appeal to children as well.  As a genre, fantasy is also about childish curiosity.  The tune is not uninspired, though.  Revanth Kumar's sharp vocals are a big plus.  Krishna Kanth does well by using Telugu words for the most part.
Neeve Neeve
Singer: Shreya Ghoshal
Lyrics: Krishna Kanth
When Shreya Ghoshal is the one, depth can't be away.  'Neeve Neeve' has poetic flourishes (thanks to Krishna Kanth) and the singer only stuffs it with more soul.  The 'raga' is not completely unfamiliar and yet the impact is bang-on.  This song will soothe the discerning music lovers for sure.
Verdict:
'Taxiwala' is a winsome album boasting of two melodious songs and two cinematic numbers.  If the singers and the lyricist give their vocal/poetic best, the music director blends the known and the new well.
Rating: 3/5