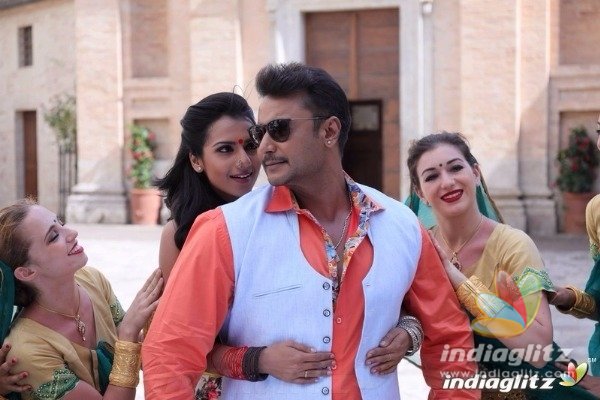 The challenging star Darshan in direction Milana Prakash combination 'Tarak' is a wholesome family film for the emotional part touching at regular intervals. The grandfather and grandson combination worked out tremendously. The two heroines Shanvi Srivatsa on showing what is Love and Shruthi Hariharan spreading the importance of life are also at the top level of this film.
Milana Prakash has taken a risk by delivering an emotional film with Darshan box office sultan as hero. The compulsory commercial elements are not in this film. Two sterling action portions plus enemies not returning in the climax is not found in this film. Situation is the enemy in this film.
On the plus points, film contain good family subject, wonderful performances, exotic locations, lovely songs, excellent cinematography and clean in dialogue with no regular punches form challenging star Darshan.
Tarak is a youngster living in Europe for last 22 years. He has come here on the exit of his parents in an accident. The mental trauma faced by the parents is because of his grandfather Tarak Ram is his strong opinion. In Europe a highly qualified Tarak is a strong man running an industry of his own. He is a rugby player with power in him perfect. The strong mindset of Tarak takes a turn with the entry of Meera in life. Tarak melts down in heart and starts loving Meera. Meera understanding that Tarak has discarded his huge family is not ready to accept him. You are an animal she screams and sets two months time to transform.
In these two months Tarak reaches his business tycoon grandfather Tarak Ram in Bengaluru. A series of developments take place and that obviously puts Tarak in a jinxed situation. He is in love with Meera but his grandfather wants him to marry Sneha (Shruthi Hariharan). The last days of Tarak Ram makes Tarak to agree for engagement with Sneha. Oh what happened to Meera, Tarak goes to Europe to meet her, how he manages the situation etc follow in the later part of the film.
Perhaps this is the first film wherein challenging star Darshan collected so much of tears in his eyes. He is in emotions with care taker mother in Europe, Meera, Sneha, grandfather Tarak Ram – The darshan fans would like such tears dropping from him is a separate question. He is tremendous in emotional acting. Two superb action scenes are there to treat his fans, only action no discussion is his policy. He looks grand in his outfits is an additional bonus.
Shanvi Srivatsa, Shruti Hariharan and Dynamic star Devaraj take the next credit in order. Jai Jagadish, Sumithramma, Chitra Shenoy render good support in character roles. The comedy of Kuri Pratap is a bit in excess.
Editing could have further pruned from 145 minutes film. There were chances to delete unnecessary scenes. Krishna Kumar gives a feast to the eyes from his camera work. The lovely locales of Europe in the first half are additional grandeur on silver screen.
Arjun Janya has given three melodies and one peppy number. The dialogues are also well controlled. The best costume selection in this film gives pleasant look to artists.
Milana Prakash has given a deviation to Darshan box office image almost like what he has done to Power star Puneeth Rajakumar in Milana that ran for one year in the theatres.
For the lovers of family sentiments and family bondage this 'Tarak' is a treat to watch.
Rating – 4/5
Rating: 4 / 5.0
Showcase your talent to millions!!
Write about topics that interest you - anything from movies to cricket, gadgets to startups.
SUBMIT ARTICLE
More
Kannada Movie Reviews
Vanilla
Hottegagi Genu Battegagi
Seizer
Tagaru
Googal
Raja Simha