"I have not taken to my head that I am a Rajini film director"- Pa Ranjith
Saturday, July 16, 2016 • Tamil Comments

Listen to article
--:-- / --:--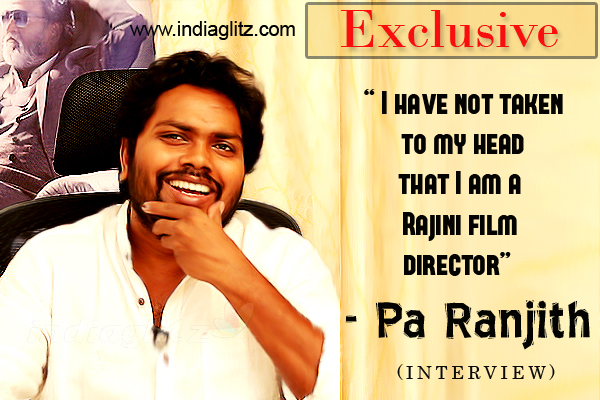 The Thalaivar`s charisma has created a magnetic field of Kabali` fever with just a few more days to go to get the dharshan in theatres. We caught up with director Ranjith the captain of the ship for an exclusive chat in which he shares some never before known info about the most awaited film and its luminary hero Superstar Rajinikanth.
How was the moment when you first heard that you are directing Superstar Rajinikanth?
"After narrating the script, it took about a month and I did not have much hope as the news was coming out that the Thalaivar was doing his next film with some top directors. I did not even ask Soundarya about it after deciding I was not in the fray. I was in Pondicherry doing the script when Soundarya madam called me and asked me if my screenplay had the necessary comedy scenes that Rajini films usually have. I said that I am not used to writing such scenes, but there are lighter moments which would be hilarious enough. Later, when I met the Superstar the first thing he told me was that he has decided to do the film with me and asked me when the shoot will start. I was super excited and proud that my third film was with the biggest star, but at the same time I was very careful that I gather the right team and deliver a good film."
What was your family`s reaction about such a great opportunity?
"My mom and dad were already very happy with my Attakathi` and Madras` and they felt that I got Kabali` because of that and so they were not overly excited."
How did you balance the larger than life image of Superstar Rajinikanth into your realistic script?
"When I was writing the screenplay the image of the Superstar will come into Kabali` but I tried my best to push it aside and only in some portions where I felt the audience needed him I used it but on the whole the film will have my realistic touch. Though Rajini sir in the beginning agreed to do the film with me with much force he became skeptical whether my style of mellowed down direction. Only after watching the teaser he got the confidence and after watching the film, he told Thanu that he has won as a director and no we have to win as an actor and producer."
What went behind the superb get up you have designed for Superstar?
"I feel that for any character the getup is the most important and only after that comes the dialogues. Not only for Rajini sir, but also for every minor character in this film, we worked extensively to get the right look and that shows in the film. When we were shooting the younger getup Rajini sir, was not well physically and he was a little annoyed that there were lengthy dialogues but still he did it very well. Magizhchi is a very ordinary word that we use, but when he says it it becomes a trend.
How did you interact with him in general?
"He is a man who is a devoted believer of God and I am just the opposite, so I used to give him books to read about the opposite view of him. Even now when he is in America he has asked Soundarya to ask me about the books which he wants to read there. When he does not have a shot he used to call John Vijay or Dinesh and talk to them about spirituality, but with me he will talk about contemporary Tamil Nadu and Indian politics."
How differently have you shown Superstar in Kabali`?
"Usually you will see him speaking punch dialogues in his films which I have completely avoided, also talking about women or God and especially Rajini sir always walks fast but in this film he will walk very slowly with measured steps. On the acting front his performance is very realistic at the same time very powerful with a wide range of emotions and that is the highlight of Kabali`.
What was Rajini`s reaction after watching Kabali`?
"He asked me to leave and he saw the film alone and I went and waited in a different place with much tension not knowing what his reaction would be. I was wondering if he would say that the mass scenes are missing and whether I may have to shoot again. Rajini sir, was teary eyed after he finished watching non stop except for a ten minute break for a doctor checkup. He told me that it is not at all a Rajini film, but a very very good film. Thanu sir, and Soundarya madam after watching the film wanted an alteration in the climax, but Rajini sir called me from America and asked me not to cut any scene for anyone."
How have ` Kabali ` and Rajini changed you as a person?
"I want to remain who I am and I definitely have not taken to my head that I am a Rajini film director. Even with the production house I did not try to spend unnecessary money on sets etc and have only utilized what is absolutely necessary for the script. I strongly believe that grandeur is in the scene, in performances and the how the story moves and not in lavish sets. I also kept telling Thanu sir, not to spend too much on publicity as the people are already waiting for the film and we don`t have to over hype it. But social media and other commercial tieups are happening as they want to associate with Kabali` and let see how it goes."
Both your movies had memorable characters like (Kalai, Aishwarya Rajesh) do other characters have space with Rajini?
" Every single character in the film be it that of Dinesh, Kalairasan, John Vijay, Mime Gopi, Lingesh, Purushothaman, Dhanshika, Riythvika and Radhika Apte all have a justifiable presence in the film and will make an impact with the audience."
How powerful are the women characters in the film?
"There are three women characters one is Radhika Apte who plays Rajini Sir`s wife, Dhanshika plays a sniper and Riythivika plays a school dropout drug addict. Though Radhika does not know Tamil she has taken tremendous efforts to understand the character of Kumudhavalli and bring it to life. Similarly Dhanshika without hesitation cut her hair short to audition itself and has done a great job while Riythvika as everyone knows has done so well that Rajini sir himself praised her on the sets. There is a charged up confrontation scene between Rajini sir, and Riythvika which will be a major highlight in the film."
How about Santhosh Narayanan`s music in Kabali`?
"Rajini sir, and Thanu sir told me that I can have any technician for the film, but I told them that I wanted my Attakathi` and
Follow us on Google News and stay updated with the latest!
Follow
Actress Photos
Mehreen Pirzada
Sonal Chauhan
Amala Paul
Shobitha Dhulipala