A Vivek-Mervin Musical
Thursday, April 1, 2021 • Telugu Comments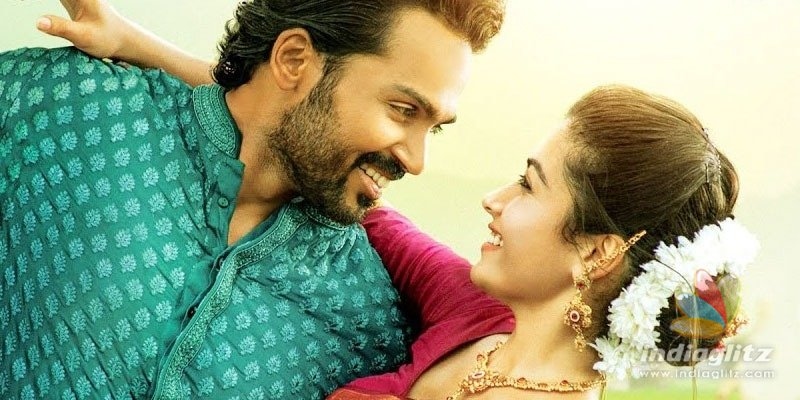 The first single from 'Sulthan' is out. Here is our review.
Jai Sulthan
Singers: Rahul Sipligunj, Mahalingam
Lyricist: Chandrabose
The energetic song has got imaginative lyrics, thanks to Chandrabose. Words like 'sketch' and 'stretcher' are deployed to elevate heroism in the most fashionable manner. Rahul's voice is supplemented by Mahalingam's vocals, both of which make the hero-centric number peppy. The beats are electrifying and filled with an unmistakable Kollywood-esque flavour. Vivek-Mervin delivers the goods in keeping with the film's genre.
Elaa Unnaamu Memu
Singers: Anthony Daasan, Sarath Santosh
Lyricist: Shree Mani
The music directors deploy bass guitar and acoustic guitar, among others, to make the irreverent song sound as interesting as possible. Shree Mani's lyrics convey the situational nature of the song effectively. The two singers come with the kind of vocals that befits a film dubbed from Tamil. The song's visuals suggest that Karthi is doing something for Rashmika Mandanna, leaving sidekicks with comical repercussions.
Jai Sulthan
Singers: Rahul Sipligunj, Mahalingam
Lyricist: Chandrabose
This song doesn't really work at any level. Stuffed with Kollywood-esque musical energies, the title track is peppy in terms of the rendition by Rahul Sipligunj and Mahalingam, though. Chandrabose's lyrics are driven by the story. Shot on the lead man and the 100 rowdies he is tasked to handle, the song will hopefully work as part of the film.
Santhosham
Singers: Kailash Kher, Vivek Siva, Sameera Bharadwaj
Lyricist: Rakenda Mouli
The song is typically in the zone of Kailash Kher, complete with those celebratory vibes and high-pitched vocals. Rakendu Mouli's lyrics are rooted in the Telugu nativity. Vivek Siva and Sameera Bharadwaj join the male singer and complement the peppy voice. Vivek-Merwin let the listener soak into the lyrics without letting the music feel too familiar.