Mickey for all
Monday, August 24, 2015 • Telugu Comments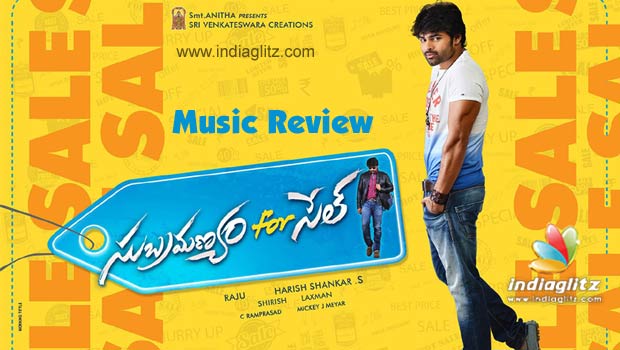 Coming as it does from biggies like Dil Raju and Harish Shankar, this album has been awaited. Styled for Sai Dharam Tej, the album has a good mix of genres.
Vanamali, Bhuvana Chandra, Chandra Bose and Bhaskara Bhatla are at it again. Rahul Nambiar, Shankar Mahadevan, Aishwarya Majumdar, Aditya, Krishna Chaitanya, Ramya Behara, and last but not the least, Mano make the album a complete one.
Subramanyam for Sale
Artist: Rahul Nambiar
Lyricist: Vanamali
For a title like this, the song is a boisterous and indicative introduction to the youngster for sale. Vanamali's lyrics are in the nature of everyday lingo, adding all the more fluidity to an already popular song conception. At places, the English words were unavoidable. Rahul Nambiar's characteristic vocals fit the song's genre and concept, more so even the hero. Mickey J Meyer is at it again; he delivers a youthful and refreshing number, trying to entertain one and all.
I'm in love
Artist: Aishwarya Majumdar, Aditya
Lyricist: Vanamali
'I'm in love' is a romantic ditty that gives expression to the new-found experience of two lovers. Contrary to the expectation triggered by the title, this one is stuffed with only the bare minimum English words. Vanamali shows his creative spark when the poetic '..manase vely.. and such lyrics touch the heart! Aishwarya and Aditya have mellifluous voices to redeem the song. Mickey showcases his ability at improvisation when he gives a dose of 'Aalochana vastene..' from 'Oh My Friend'.
Aakasam thassadiyya
Artist: Krishna Chaitanya, Ramya Behara
Lyricist: Bhaskara Bhatla
Bhaskara Bhatla's knack for giving a huge chunk of massy stuff for front-benchers is well-known. For this number, however, he targets the college-going audience. With one too many English words and Telugu slang words added, this one simply hits the bull's eye, although the lyrics are themselves are not high on content when looked totally. Pacific's depths and Everest's peaks, the jealousy of the onlookers have all been stale. Yaish karenge.. and piccha peaks are some of the terms the lyricist uses to lend the song a youthful feel. Krishna Chaitanya and Ramya Behara prove to be apt for the number. Mickey merely passes muster.
Guvva Gorinkatho
Artist: Mano, Ramya Behara
Lyricist: Bhuvana Chandra
The remix of the legendary Guvva Gorinkatho.. number may not be as good as some of the famous remixes in the recent past. The composition is up to the mark, but what doesn't pass muster is the choice of singers. Mano has a well-established image having a sharp baritone; while he is apt for a genre like this, complete with oblique lyrics, Ramya Behara's vocals look too tender in comparison. The theatrical mood may offset some of the apparent lacunae. Everything said, a toast for the choice itself, as the song's lyrics are many, many shades different from the kind of songs we hear today.
Telugante
Artist: Shankar Mahadevan
Lyricist: Chandra Bose
Chandra Bose and no one else would have been able to convey the message in so non-preachy a tone and so fluid a language. Although the song doesn't fit with the album's overall temperament, this one might have been conceptualized for a hero from the Mega family with a social intent in mind. Shankar Mahadevan is sparkling as ever, his voice bursting with sincerity and seriousness, fun and frolic, all at once. Mickey J Meyer's style is deliberately massy, just to make sure that the song reaches out to one and all.
Verdict: An album with different genres of songs, this one is a success in so far as it doesn't overdo anything. Mickey J Meyer doesn't go overboard to deliver a profusely melodious ditty. For that matter, the album is tailored to have the music director belch out non-Mickey tunes.
Rating: 3.25/5