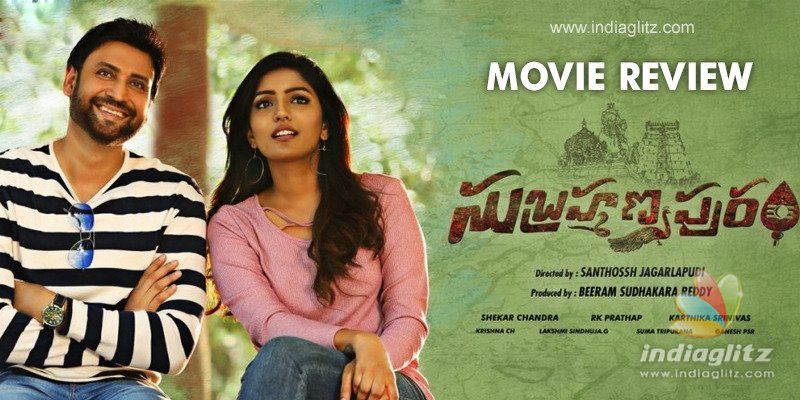 'Subrahmanyapuram', starring Sumanth in the lead, hit the screens this Friday.  Here is our review of the theological thriller.
Story:
In Subrahmanyapuram, abhishekam is prohibited in a temple of Subrahmanya Swamy.  A spate of suicides has been rocking the village ever since someone died mysteriously in the precincts of the temple.
At a time when Surendra Varma (Suresh) is thinking of resolving the problem, Karthik (Sumanth) comes to the village as a research scholar working on ancient temples.  As a rationalist, he refuses to believe that supernatural powers are behind the spate of deaths.  
Defying all the religious logic, he goes about his mission of unravelling the mystery.  What is the truth behind the deaths?  Will the atheistic Karthik discover it?  What ails the village?  Is there a mystery behind the temple?  Answers to these are found in the second half.
Analysis:
A problem with "high-end" supernatural themes is that they don't take much time to lose the fizz in the absence of substantial improvements over other films of the same genre.  'Subrahmanyapuram' grapples precisely with this issue.
If the Trailer didn't convince you that you are in for cliches, you may want to watch the movie to see it for yourself.  With elements borrowed from here and there (the usual suspect being 'Karthikeya'; the surprise lenders being 'Damarukam' and even 'Khaleja' to an extent) make it an uninspiring fare, over-dramatization is another low point.
Right from the way the inexplicable deaths are narrated to the way familiar characters come and go to reel off old-fashioned lines, everything is so cliched about the film.  At least Priya's (Eesha Rebba) character should have been portrayed in a new way.
The whole ambiance looks rather dull.  Some of the characters are cardboard types.
The interval episode comes as a saving grace, somewhat.  After this, the alleged theological aspect goes for a toss, riddled as it is with mediocre elements.  Predictability aside, there is so much about the lack of sense of urgency in the proceedings.  
As performances go, Sumanth delivers a confident act with conviction.  He brings some dignity to an otherwise ordinarily-written role.  Eesha Rebba, Suresh, and other actors put up a so-so act.  Bhadram, Josh Ravi, Manasa and Sai Kumar (in a cameo) are seen.  
Shekar Chandra's music is below par and the background score should have pushed the envelope.  RK Prathap's cinematography is not appealing.
Verdict:
Predictable and cliched, 'Subrahmanyapuram' doesn't flesh itself out to offer anything new.  The climax is feeble and the interval bang alone manages to create some interest in the theological backdrop.
Rating: 2 / 5.0
Showcase your talent to millions!!
Write about topics that interest you - anything from movies to cricket, gadgets to startups.
SUBMIT ARTICLE
More
Telugu Movie Reviews
7 Days 6 Nights
Chor Bazaar
Sammathame
Kondaa
Godse
Virata Parvam