A mix of styles
Saturday, September 9, 2017 • Telugu Comments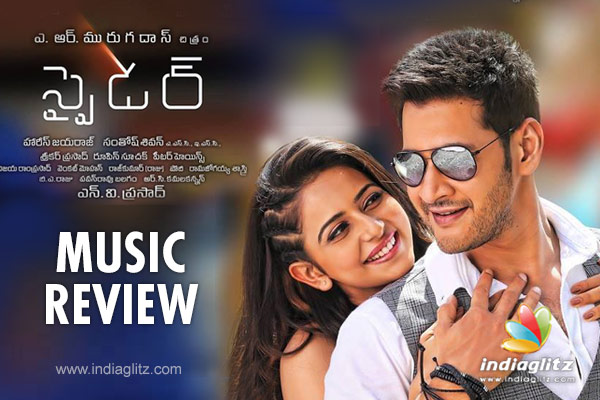 This Harris Jayaraj's album has been penned by Ramajogayya Shastry. Nikitha Gandhi, Hari Charan, Shakti Shree, Brijesh Tripathi, Harini, Jogi Sunitha, Pravin Saivi, Christopher Stanley, and Sathya Prakash are the singers.
Boom Boom
Singer: Nikitha Gandhi
Lyrics: Rama Jogayya Shastry
As the pulsating title of the number suggests, it's a hero-centric single that catapults the spy of the moment to supermanship. Harris Jayaraj's music gets it going from the word go. You have to listen to the beats to start tapping your foot and jive in exhilaration. The stanza does remind one of Keeravani's 'Dhinthana' number from 'Dikkulu Choodaku Ramayya'.
Ramajogayya Sastry's greatest ever spy is not just amazingly omnipotent but also enjoys omniscience of eminence. The lyrics appease him, elevate him and create a sense of invincibility about AR Murugadoss' protagonist. Not to be missed, the way the hero's identity (of spy) is highlighted musically and lyrically is awesome.
Ciciliya Ciciliya
Singers: Hari Charan, Shakti Shree
Lyricist: Rama Jogayya Shastry
The lyrics, the vocals and the music, in that order, make the number. The lines are lilting and the love birds are in a mirth. They vie for each other's company, an urge and a bonding brought out well by Shastry's lyrics (read phrases like 'Nnuvu navu visiresthe'). While Hari Charan's voice is very familiar, Shakti Shree's voice will take its sweet time to sink in. Somehow, Harris seems to think that this number is for a medium-range star, a Kollywood one at that. The ballet dance may well be amenable for the song.
Haali Haali
Singers: Brijesh Tripathi, Harini, Sunitha
Lyrics: Rama Jogayya Shastry
AR Murugadoss may not have picturized it as a raunchy number, but lyrically, 'Haali Haali' is unmistakably voluptuous, way too naughty and quite irreverent. 'Kanne chunniki malle ninnu utiki pindi rangu dandaanikesi, endakaaresi, teesi vanka nadumuku chuttukoda sotta bugga chitti jabili' and such lines are remarkably curious.
The singers get breathless time and again. If Brijesh Tripathi does the fine job of elevating the Hindustani influence of the number, Harini and Sunitha remind one of our own Geetha Madhuri.
Achcham Telugandam
Singers: Pravin Saivi, Christopher Stanley, Sathya Prakash
Lyrics: Rama Jogayya Shastry
Harris Jayaraj tries a blending of the classical and the pop to a worthy effect. The song promises to grow slowly but surely on the ears. Pravin Saivi's vocals are as sharp as that of a Kautilya. Christopher and Sathya Prakash complement his talent well. The lyrics throw up a challenge to the director's visualization, since it's a superstar who is singing in praise of Miss Mysterious.
Spyder on mission
Music: Harris Jayaraj
The tune heard in the teaser is what 'Spyder on mission' is about. It announces both heroism and villainism at once. The tune has a dualistic quality for sure.
Verdict:
There is a strong Tamil flavour in all of the songs, with even traces of Harris' past works eminently noticeable. A middling performer of an album, this. The vocals sound new with exceptions.
Rating: 3/5