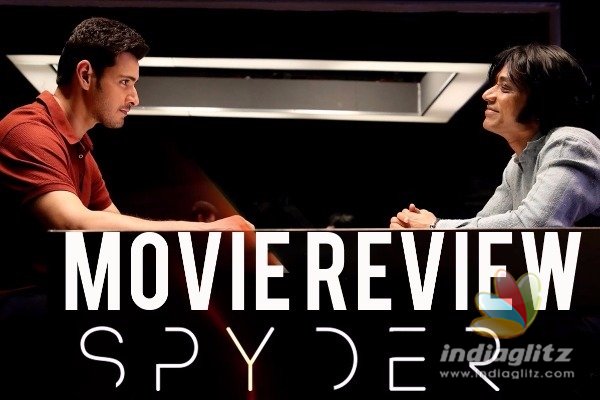 SPYder: Wannabe good meets Wannabe bad
Helming a bilingual is no easy task, it can be accomplished only by someone who is versatile in both languages; both Mahesh Babu and ARM are fluent in Tamil as well as Telugu and also in understanding the regional difference so SPYder' bilingual efforts have indeed paid off. Let us find out what SPYder has in store.
Where there is good there is also bad, or rather SPYder infers the vice versa of this line – Where there is bad, good is very much there. Taking cue from humanity and emotions, Murugadoss has toned it on a commercial scale to portray the theme with a psychotic killer on one hand and a surveillance expert on the other hand. Mahesh Babu plays a surveillance officer who hikes an extra mile in developing his own software to tap calls and help anyone in distress, he is that silent Robin Hood who would like to bring smiles to unknown faces. Not far away is SJ Surya raised in a graveyard, his ears habitual to the wails and cries of the relatives of the dead's. SJ Surya's flashback is truly the best segment of SPYder and is sure to send a shiver down your spine. When a man who takes delight in watching the city burn meets his exact opposite; everything breaks loose and paves way for a hardcore duel.
Both Kaththi and Thuppakki went on to become blockbusters, but failed in establishing a solid love portion which is the same case in SPYder. The mandatory romance portion has been inserted just for the sake of gloss and ARM frantically searches for a good reason to bring those numbers from Harris Jeyraj in. Bharath has done a small but effective cameo that shows the door to the bigger Villain. ARM takes time in establishing the characters of Mahesh Babu and SJ Surya in the first half, while Mahesh's role keeps stressing on human values and compassion, SJ Surya comes later as the psychotic killer who exhales happiness when people die. It's tough not to compare SJ Surya's character with Heath Ledger's Joker in Dark Knight; both mentally disturbed, the manner in which they escape from prison, their theme and so on. That said, hands down "Suddali" is definitely one of best role played by SJ Surya; with sarcasm riding high, his devilish nature brings the floor down in laughter and fear.
Murugadoss's writing has always been intelligent, quick and needful when the screenplay suffers a setback. SPYder defies logic on many extents and sadly refuses to come out of the situation. The scenes when Mahesh Babu tries to find SJ Surya's whereabouts using a TV serial and chaotic technology is simply out of logic, the desperation to show something intelligent while trying to satisfy family and commercial audience is evident. The cat and mouse game of hero catching the villain has not been kept on an engaging note, this becomes too costly in terms of screenplay as after a point you give up on wondering how they find each other so easily. Stunts from Peter Hein truly are gritty and solid, the climax action portions enough to show the effort they have put in. Harris's BGM is a mixture of good and bad, same goes for songs as they are poorly placed. Santhosh Sivan's camera work in the hospital portions, flashback and fights is versatile experience at work.
Mahesh Babu's Tamil diction and SJ Surya's venomous portrayals are the oomph factors that save the day. Mahesh Babu's role is kept very simple without mass or lengthy dialogues, his underplayed character is something not many superstars would agree. His efforts are truly appreciable although his acting skills do not seem to be utilized completely.
Verdict: Watch SPYder for Mahesh's genuine efforts and SJ Surya's gritty performance. If you are looking for a fitting duel between the hero and villain you might get disappointed for the film shines only on their respective characters and is let down when it comes to their duel.
Rating: 2.5 / 5.0
Showcase your talent to millions!!
Write about topics that interest you - anything from movies to cricket, gadgets to startups.
SUBMIT ARTICLE
More
Tamil Movie Reviews
Mark Antony
Jawan
Kushi
Adiyae
King of Kotha
Jailer