Producer Thanu's Interview on 'Theri' Box Office Collections
Wednesday, April 20, 2016 • Tamil Comments

Listen to article
--:-- / --:--




In this Theri` Box Office Special Red Carpet, film journalist and analyst Sreedhar Pillai discusses about the overwhelming box office collections made by Ilayathalapathy Vijay`s grand Tamil New Year Release Theri`.
Here is a conversation between Sreedhar Pillai and Kalaipuli.S.Thanu which gives us the full details of earth-shattering collections made but the Atlee directed flick in overseas as well as Indian box office markets.
"This is a historical victory. We can say this is the biggest in llayathalapathy Vijay`s career. The film has collected that much. While we can call it a sure hit Tamil Nadu. the film has stormed the overseas box office also. I am running short of words to explain my happiness for the distributors who have released the film in overseas markets. Within two days the film has collected Rs.4.75 crores. It has collected Rs.6.70 crores in USA. We keep getting good news from all centers Distributors and exhibitors are extremely happy." says a proud and exuberant Thanu about the overseas performance of his latest production venture.
"I have selected new and budding distributors for this film. They have put a phenomenal efforts to prove their talent in marketing the film and that has resulted in a huge success. In the daily advertisements I am going to give the details of the collections in each place with proper evidence."
"Regarding Malaysia` I am yet to get the exact four day opening figure but the distributor said that he has collected what he expected to collect from two films. I am really very happy for that."
This is the first Vijay starrer to enter one million dollar club in USA. What does Thanu has to tell about that?
Cine Galaxy purchased the film`s distribution rights for Rs.3 crores. No other film has been sold for more than Rs.1 crore. Kabali` and Their` have been sold have exceeded that. Now they have collected more than double of that within two days means the credit should go to the hardwork and brilliant marketing of the distributor.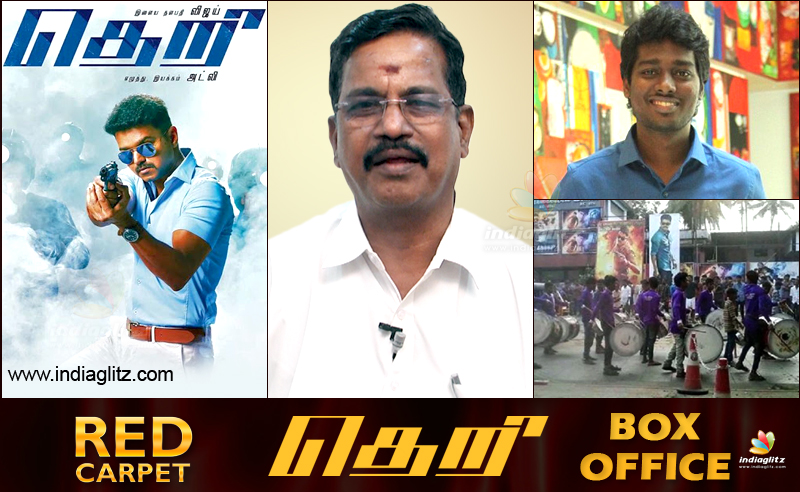 What about the film`s performance in Indian markets including Tamil Nadu?
In Chennai and Chengalpet the film is expected to make more than Rs.7 crores in one week. That will be a huge count. Madurai distributor says the film has collected more than four and a half crores in four days. Vellore distributor Seenu says the film has collected three crores in just three days.
The film is a super duper hit in Telugu also. This is the biggest hit for Vijay in Telugu.
Has Theri` exceeded the opening collections made by the blockbuster Thuppakki`, Thanu`s earlier film with Vijay?
Yes the film has already firmly exceeded Thuppakki. Both are my films. A record is always meant to be broken and my film has broken the record of another film of mine. First day collection in Chennai exceeding Rs.1 crore is a new record."
That`s it with Thanu and Sreedhar Pillai continues the analysis on Theri` with the collection figures worldwide:
To use a clichéd term Theri` is doing terrific business worldwide. It is creating new records in the overseas box office. It is going to touch one million US dollars by the end of the first week. It has collected $925,000 in North America-consisting of the US market and Canada - which is phenomenal. It would be Vijay`s first one million dollar film in the US.
In the UK Theri` has broken box office records left right and center and emerged as a clear number one overtaking Enthiran` by collecting around 281,000 pounds in the first four days of release. Vijay has broken the record set by Rajini after six years.
The film continues to do bumper business in UAE and Singapore also. In Australia the film has created a new Box office record by collecting nearly 80,000 Australian dollars.
Coming to India, in Tamil Nadu, the film has grossed Rs.35.5 crores. This is huge when you take these into consideration. Tthe film was released only in multiplexes in Chengalpet (distribution area) and not in regular single screens like Vetri, Ambattur Rakki, Kanchipuram Babu etc. The film has not been screened in 60 screens in Chengalpet. In spite of that, the film has made such a huge collection in TN BO. The film is doing phenomenally well in areas like North Arcot, South Arcot, Coimbatore, Salem Madurai.
On the fifth day that is on Monday the film is going rock steady.
What worked in favour of Theri`?
First and foremost Theri` had a perfect release date. April 14th Tamil New Year Day without any competition. The onscreen combination of Vijay with Nainika has worked big time with the family audiences. They seem to be simply loving this kid with Vijay. Altogether the packaging of Atlee was for the family entertainer. The way the film opened in almost 500 odd screens in Tamil Nadu and it had around 2,000 screens across the globe.
Even Policeudu` , the Telugu version of Theri` has also taken a fantastic opening in Andhra Pradesh and Telangana box offices. The way things are going the family sentiments seems to have worked for the film along with the April 14 solo release date has worked big time for the film.
There has not been any big hero film in the last four-five months. All these factors put together have worked out in favour of Theri`. With the start of summer holidays, Theri` is rock steady at the box office.
Follow us on Google News and stay updated with the latest!
Follow
Actress Photos
Manjusha
Anasuya
Chandini Chowdary
Krithi Shetty