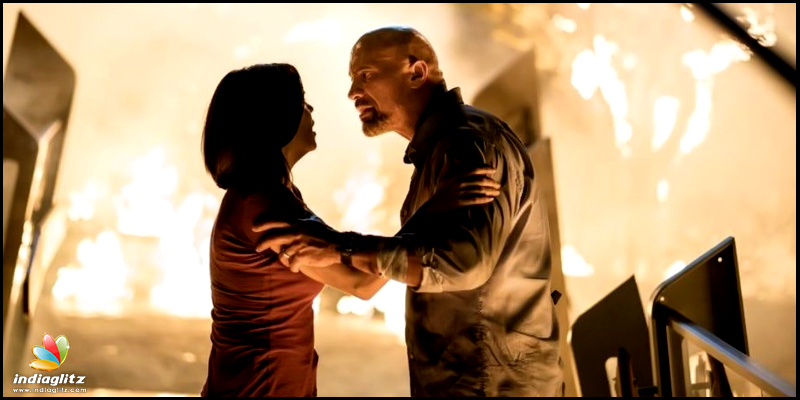 Skyscraper : Predictable yet tries to entertain
Hollywood's highest paid actor - Dwayne Johnson alias The Rock is back rather quickly after his fantasy movie - Rampage which rather did well. Now Skyscraper is almost what you know from its trailer, the story of a retired Military man who goes down the road of hell to save his family amidst all the glitz and glamor surrounding one of the tallest buildings in the vicinity, and yes it has a twist within.
Taking place in the bustling city of Hong Kong, Skyscraper hubs its story on Dwayne Johnson as Will Sawyer who is a former hostage rescue specialist. He starts a security company after an IED claimed his leg during a mission. He is brought in to assess the safety and security of The Pearl - the newly-constructed tallest building in the world. However, things go terribly wrong when terrorists invade the facility and take his wife Neve Campbell and children hostage in an attempt to destroy the building. When the authorities presume that he is involved in the hostage situation, Sawyer finds himself on the run from the police. In addition, he has to find a way back into the building to rescue his family before the whole thing comes crashing down to dust. This is typical summer blockbuster type story, with lots of explosions, last-minute jumps and stunts that would be absolutely unbelievable with anyone else in the starring role. The Rock's beastly physique makes you question your own questioning; if anyone is able to pull off these insane moves, it's him and yes only him.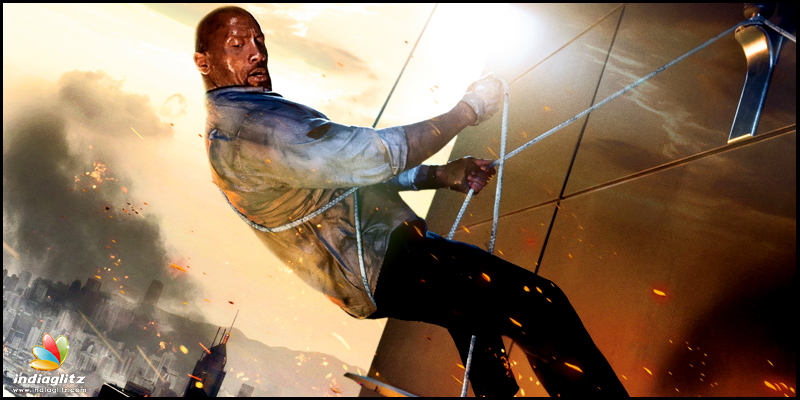 If you are someone who is afraid of heights, vertigo and all that; Skyscraper should scare the bejesus out. The landscape portrayal of tall buildings with aerial mug shots, some heavy zooming and all that are spectacular, seeing in a theatre with best viewing abilities will certainly give you the goosebumps, well at least those particular scenes. The movie is absolutely inspired by Hollywood's usual stereotyped action movie; heavy duty all of a sudden action with a hero who loves his family dead and near, would go the extent of risking his life to save them. When the storyline itself becomes predictable, it's only fair that the screenplay springs a few twists to make it entertaining, sadly the scenes pan out in the exact manner you would have expected making it less enjoyable. If there is something that makes the film entertaining then it's certainly the Rock's charisma and absolute breathtaking visuals.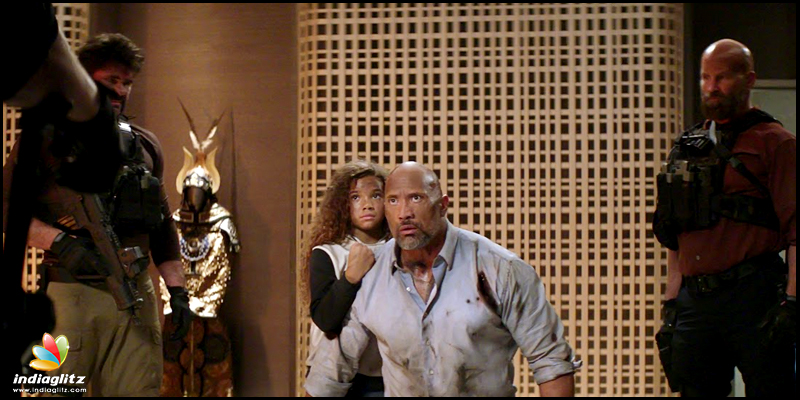 Rock as the handicapped security agent is larger than life in every aspect, he goes on a saving spree, does some daredevil stunts and with all that does he saves his family? That in a nutshell is Skyscraper. What keeps Skyscraper working is Dwayne Johnson's committal to the action and the part. In so many of his movies Johnson makes them work, seemingly, by his will alone. He's always at a hundred percent, and I've never seen Johnson do anything halfheartedly. It's that commitment that informs his performances and makes us so eager to cheer him on, even when the movies themselves aren't quite high quality.
                
Verdict: Overall, Skyscraper is not a blockbuster type super good movie, but at the same time it's not a movie that will let you down walking out the theatres with a sunken face either. Dwayne's gritty action lightens up the screen during its dull moments.
Rating: 2.5 / 5.0
Showcase your talent to millions!!
Write about topics that interest you - anything from movies to cricket, gadgets to startups.
SUBMIT ARTICLE