As brisk as it is breezy
Tuesday, January 9, 2018 • Tamil Comments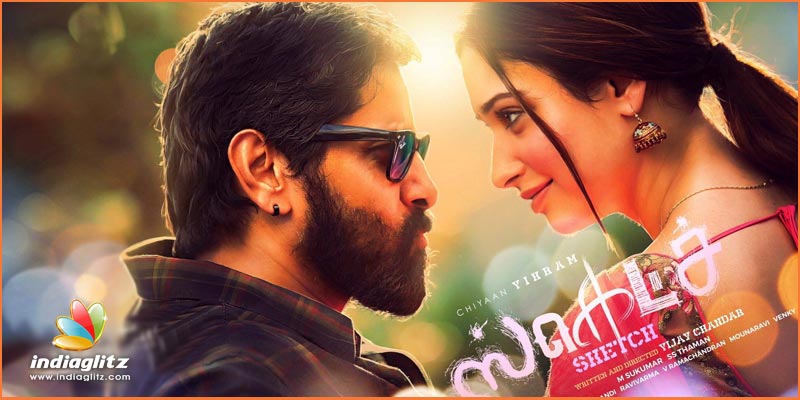 Album: Sketch
Composer: Thaman
No.of.Tracks: 5
Release: Tentative
Thaman has made a mark as an able musician in contemporary cinema with an impressive portfolio. 'Sketch' album tries to give it all what you expect from a commercial pot boiler. Be it the colloquial lyricism, or the unhurried breeziness some tracks do possess- 'Sketch' album doesn't fail to touch all these tiny details which will makes it amicable to the ears. With the film set for a festive Pongal release, here's our take on the album.
Atchi Putchi
Voices: Vijay Chander, Magizhini Manimaran
Lyricist: Vijay Chandar Music : Thaman
The 'Sketch' album's opening track is a percussion soaked dance numer with a fair share of cleverly written colloquial lyrics. As the song veers half way through, typical drum rhythms and 'trumpeting' zaps help retain the number's energetic flavour. The lyrics though heavily local manage to bring in a jab at the jallikattu issue as well. Atchi Putchi justifies itself as a dance number with some 'thara local' lines to tap your feet to.
Kannave Kannave
Voices: Vikram
Lyricist: Vijay Chandar Music : Thaman
With guitar rhythms giving a pleasant start, Vikram's vocals seamlessly blend in to the song's fabric. There is no sign of deliberation as the song dissolves into its layers. A rap like portion might play a little hindrance to the smoothness, but is only negligible. The feel good number also has a strong advantage in the form of well written and meaningful lines, despite a 'local' touch here and there. Kannave Kannave will be a soothing addition to your romance playlist.
Cheeni Chillaalee
Voices: Swetha Mohan, Yazin Nizar Music : Thaman
Cheeni Chillaalee takes its time to set the mood for a breezy follow up and we aren't complaining either. The wait is a tad lengthy, but impressive on the ears with its low key melodious rendering. One need to grow into Yazin Nizar's vocals to understand the tonal language of the song : his punctuated strains and lyrical praise for the girl works out on a deeper level. Swetha Mohan's mellifluous voice and the semi classical touch at the later portions of the song are somethings to look out for in this breezy track.
Dhaadikaara
Voices: Thaman, Andrea Jeremiah, Sudha Ragunathan
Lyricist: Vivek Music : Thaman
Dhaadikaara starts off with a mild EDM drag lassoed with Thaman's vocals beginning to set the pace for a strong foundation. There is no hastening of transitions in the number that might have played against the song's casual tempo (which is its strength). Andrea and Sudha seem to carry off Vivek's sensual, romance spewing lines to their best. Wait for the interlude as a surprising grand piano piece sways the song again into its place. This track is a melodious tease touting affection for a rugged, bearded Thaadikara.
Vaanam Thoorammale
Voices: Deepak, Subramaniam, Shashaa Tirupati, Roshini
Lyricist: Kabilan Music : Thaman
A laborious beginning might not be what a song like this needs. However, this pace is evident throughout the number and acts as the skeletal structure for the melody. Is the background accompaniment hindering the fluidity of the vocals? The song doesn't fall or rise anywhere beyond its short limitations. This might help the song earn a spot in your quiet, lazy evening playlist.
Pick of the album: Kannave Kannave
Verdict: Thaman's music has the potential to grow on you.