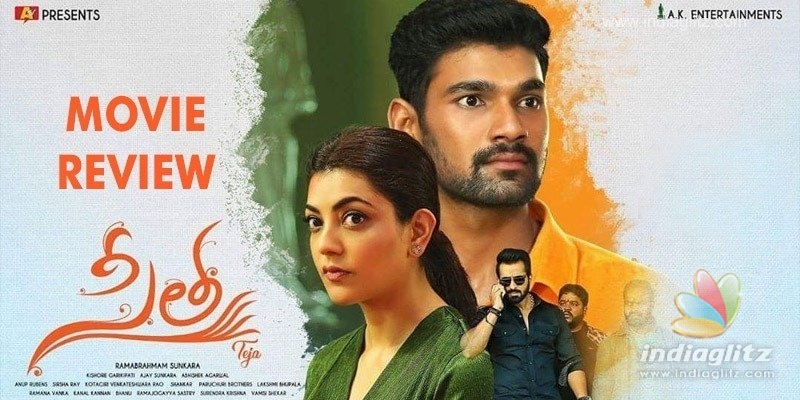 'Sita', starring Bellamkonda Sreenivas and Kajal Aggarwal in the lead, hit the screens this Friday.  Here is our review of the comedy-drama.
Story:
Sita (Kajal Aggarwal) is a young, ambitious, self-centered and even heartless businesswoman.  She enters into a weird deal with local MLA Basavaraju (Sonu Sood) when she wants a slum to be cleared by force.
She hopes to gamble with Basavaraju successfully but lands in a soup when the latter decides to become ruthless in pursuing her.  She badly needs crores of rupees in a couple of days, without which her reputation will go down the drain if the police arrest her.  
It's when Sita comes to know of her 'bava' Raghuram (Bellamkonda Sreenivas), who lives a pleasant life in an ashram in Bhutan.  Raghuram owns Rs 5,000 Cr, which was bequeathed to him by Sita's father, much to her chagrin.  
The rest of the film is about what kind of equations the Sita-Raghuram duo share, why the hero loves her so much, what kind of machinations the villain plays to defeat Sita, and whether Sita proves to be a woman with a heart.  
Analysis:
If you thought 'Sita' is an original story, you are wrong.  The comedy-drama is an adaption of the 1988 American film 'Rain Man'.  
To be fair to 'Sita', the film gets its premise right.  It's fascinating to have a heroine who is consumed by greed and who tries to manipulate a saint-like hero who doesn't even know how to shout at others.  The contrast is well-established.
The film depends too much on this contrast and it becomes unsettling after a point.  
That apart, 'Sita' cooks up a lot of inconsistencies as well.  The hero is introduced as a Swathi Muthyam-kinda Mr. Innocent.  Having been brought up in an ashram by monks, he can't harm even a fly.  When it comes to having faith, he is like that child who carries an umbrella to the 'homam' ritual for rains.  However, in some scenes, he comes across as someone feigning innocence.  He is a superman in one scene, and a clueless one in another.  There is no reason why he should have been shown as someone with supercomputer-like intelligence; he masters the entire trove of Indian laws in just half an hour.  He could have been shown as having learned Law while at the ashram, right?  When you show such elements in the movie, the audience doesn't know whether to see the proceedings as a comedy or a fantasy.
Kajal Aggarwal's character gets too more of the same.  Notice that the equations between the Sita-Raghuram duo don't change till the climax.  So, the second half has the same tone as the first half as far as the hero-heroine duo are concerned.  This is a gamble.  Naturally, monotony sets in.
Take Sonu Sood's character.  His clash with Sita is an exercise in outdated story-telling.  He makes her sign an agreement that she would be all his for a month.  Come on!  He keeps on making his lecherous streak clear throughout the film.  It becomes monotonous and in-your-face after a point.  Probably, the writing department should have shown the root cause of the conflict between Sita and the villain somewhere after 45 minutes or even one hour.  
Tanikella Bharani's character (of the villain's unforgiving and abusive follower) is a throwback to the 1990s-era cinema. Even so, his scenes with Sonu Sood hold water.  The toxic masculinity of the villain is old-fashioned, again.
The writing goes for a toss in some crucial scenes.  It's hard to believe that a businesswoman who knows what she wants doesn't know that she has to ensure the stable health of the person she needs the most (read the court scene where Raghuram needs tablets for a health emergency; it's not convincing because it shows Sita as a blundering character).  
Abhimanyu Singh as a high-handed and cheap cop is jaded.  Teja pulls out his favourite elements here and there.  For example, the unity among underdogs in the face of police assault.  
Kajal Aggarwal makes the cut.  She gets a pub song before the hero's introduction, she pulls off the role with aplomb.  Bellamkonda shows a new side to him by avoiding the temptation of gravity-defying action (at least to an extent).  Sonu Sood is at his usual best.  Bithiri Sathi's comedy works, but not that of Mahesh Achanta, and Abhinav Gomathy.  Tanikella, Mannara Chopra, Bhagyaraj and others fit the bill.  Payal Rajput (in 'Bulreddy' song) doesn't get justice.  
Music director Anup Rubens and cinematographer Sirsha Ray do an okayish job.  Dialogue writer Lakshmi Bhupal makes an impact.  
Verdict:
'Sita' comes with a fascinating premise.  The story-telling is fairly decent in the first half, but the film goes for a toss later.  It manufactures oldish elements, so much so, the distinction of the premise gets diluted.
Rating: 2.25 / 5.0
Showcase your talent to millions!!
Write about topics that interest you - anything from movies to cricket, gadgets to startups.
SUBMIT ARTICLE
More
Telugu Movie Reviews
Peddha Kapu 1
Skanda
Chandramukhi 2
Sapta Sagaralu Dhaati
Changure Bangaru Raja
Mark Antony