A full fledge energetic album from Harris
IndiaGlitz [Monday, November 28, 2016 • தமிழ்] Comments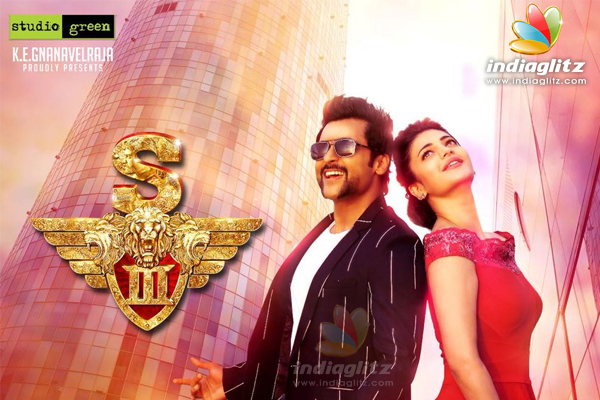 The Singam franchise is taking a makeover in terms of music, Harris has joined the club with Hari, Suriya, Anushka and what else can we expect from this versatile music director? A bunch of energetic songs indeed, do read on

O Sone Sone :
Singers : Javed Ali, Priya Subramaniyan, M. C. Vickey
Lyricist : Pa. Vijay, M. C. Vickey
This is that introduction song which has a tune that immediately hooks your attention thanks to Javed Ali's freshness in the vocal along with mild telugu verses rendered by Priya makes it an interesting hear. With Vickey's easy go rap portions, the song takes a different outlook by adding enough color to it. Adding strings and enough bass elements through the tune adds vibe to the first song of the album.
Mudhal Murai :
Singers : Harish Raghavendra, Swetha Mohan, Ramya NSK, Karthik
Lyricist : Thamarai, Ramya NSK
A lovely melody with apt use of table and saxophone, has some best of talents like Karthik, and the evergreen Harish Raghavendra and Thamarai giving out some soulful lyrics. Yet with all these the underlying tune is a sort of a thing that has been tested out various times, making this number a rather one time listen. Karthik's entry into the later part of the vocals is magical and would be interesting to see how this duet pans out.

Universal Cop:
Singers : Christopher Stanley, Dinesh Kanagaratnam, Krish
Lyricist : Viveka, Dinesh Kanagaratnam
Now this song is supposed to take Durasingham to a whole new level and Harris has taken up the extra mile on trumpets, sax and the bass altogether to ooze an energetic tune for the dashing cop. The rap portions and energetic flow might work, although the tune is again reminiscent of the composer's various other tracks like Ayan and might do more justice in the visuals.

He's my Hero:
Singers : Maalavika Manoj
Lyricist : Hari, Maalavika Manoj
A short techno jazz track that screams Harris's signature effect all over. The "Wanna" keeps going on recursively till it does not cease to go out of your head. For a short track there is a lot of orchestration and is more like an English Jazz with minimal Tamil verses in it, probably getting the international touch.

Wi Wi Wi:
Singers : Karthik, Christopher Stanley, Nikhita Gandhi
Lyricist : Hari, Harris Jayaraj
Nikitha steals the show with Wi Wi song, the tune goes on high energy and falls into the dance category by all means. Mixing enough fusion and techno bass, the song presents a perfect layout for Karthik and Nikita to reveal their vocal tricks freely. The song yet again is inspired heavily by Harris's previous flicks still tries to innovate by the freshness of the vocalists.

Mission to Sydney:
Singers : Lady Kash
Lyricist : Hari, Lady Kash
Harris's has always been bullish on techno and no wonder his reliance on Guitar paved him off so many times. This track is tailor made for the tug of war between the hero and the villain as Lady Kush rocks the track forward gives the feel of a building BGM.
S3 Theme:
Singers : M. C. Vickey
Lyricist : Hari
After retaining the signature music for two franchises, Harris shifts gears for a different tune blended with enough EDM and a mild kuthu to keep the cop's nativity too. A full fledge energized track for the Universal cop indeed.
Verdict : 2.75/5
Fast and energetic, album of S3 has all the ingredients for a commercial blockbuster album. Harris does it well for the franchise which looks to break free.