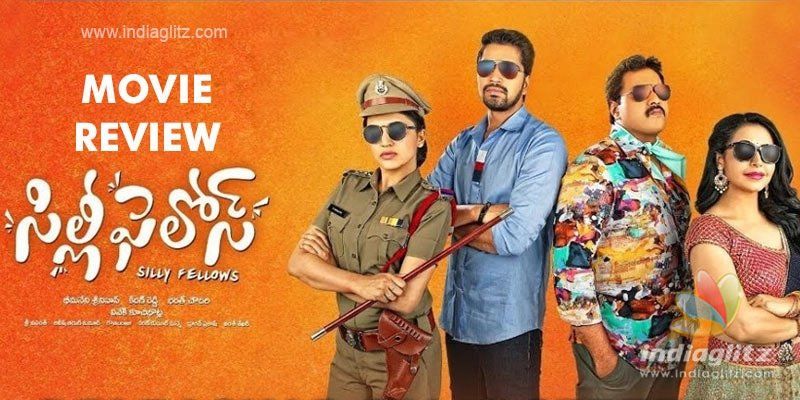 'Silly Fellows', the remake version of 'Velainu Vandhutta Vellaikaaran', stars Allari Naresh and Sunil in lead roles.  Here is our review of the same.
Story:
Veera Babu (Allari Naresh) is a loyal assistant to the local MLA Jacket Janakiram (Jayaprakash Reddy), who is close to the senior minister of his party. The minister dies after revealing to Jacket the secret location where he has stored his ill-gotten wealth worth Rs. 500 Cr.  On the same day, Jacket meets with an accident and starts behaving like a ten year old after coming out of coma.
The minister's greedy brother-in-law (Posani Krishna Murali) chases him to know the place where the minister has stored his wealth.
On the other hand, Veera Babu wants the MLA's testimony to prove to his lover (played by Chitra Shukla) that he has not defrauded her of Rs. 10 lacs.  His friend Soori (Sunil) cannot marry the girl he loves without the help of the MLA, as he was accidentally hitched to a popular record dancer named Pushpa.
So, if the two heroes have to save themselves from their problems and win over their girls, they need the MLA.
How the problems of Veera Babu and his friend are solved with the help of the MLA and who gets the minister's wealth in the end forms the rest of the story.
Analysis:
Tamil film 'Velainu Vandhutta Vellaikaaran' was dubbed in Telugu as 'Prema Leela Pelli Gola' (2017) and the same has now been remade as 'Silly Fellows', which is a scene-for-scene copy.  Even many dialogues are the same, much less almost all the characters.
Sunil, as the embarrassed husband of a record dancer (who is made to seem like a slut), faces awkward situations and is contantly put into a jeopardy by his unsuspecting, otherwise good-natured friend. The portions come with some eerie situations and fairly good dialogues.
Although Jayaprakash Reddy's comic timing is inconsistent, the pre-climax episode where he harangues Posani by repeating the same story again and again is OK on paper.  But in the absence of proper treatment, the comedy involving these two able actors and others like Raghu Karamanchi falls flat in terms of execution.
The love track between Naresh and Chitra Shukla is limited to some stalking and eve-teasing, some molestation and such stuff.  There is no soul in it and just because it's a comedy, should romance be this vacuous?  The heroine gets to perform stunt sequences as she is a 'basti mein sawaal' queen who is otherwise full of make-up.  She looks fit as a young police officer.
The climax looks lame with too much of simplicity.  In the Tamil version, Motta Rajendran appears as the comic guru of aspiring ghosts in the pre-climax and climax sequences and manages to elicit a few guffaws.  Here, there is nothing of that sort and only the Posani-JP duo are banked upon.
The story doesn't pass the test of commonsense.  An MLA being affected by memory loss is cool stuff, but why is it that no effort is made to show why nobody in the town is aware about this mind-blowing development?  The script has too many convenient turn of events.  The comedy is almost entirely slapstick, and even a song comes with Tamil nativity.
Much as Allari Naresh and Sunil needed a hit, they are content with doing a copycat movie this time around.  Even after doing dull remakes (like 'Meda Meeda Abbayi', '2 Countries'), these actors haven't learned their lessons.  Their role in the second half is almost mechanical and ill-etched.  Poorna of 'Avunu' fame appears in a scene and disappears. Chitra and others bit the dust.
Sri Vasanth's music is a let down, the cinematographer and other technicians pull off inferior output.
Verdict:
A copycat remake, 'Silly Fellows' falls flat with its uneventful story, loud comedy and too much of reliance on oddball wit.
Rating: 2.5 / 5.0
Showcase your talent to millions!!
Write about topics that interest you - anything from movies to cricket, gadgets to startups.
SUBMIT ARTICLE