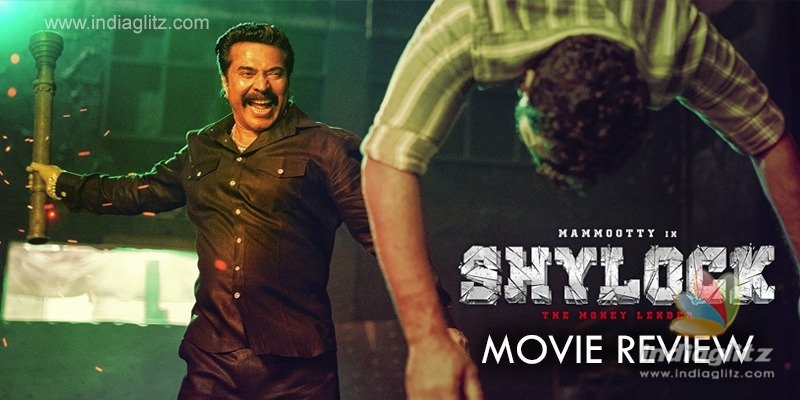 'Shylock', starring Mammootty in the lead role, is currently streaming on Aha.  Here we review the direct OTT release.  
Story:
Boss (Mammootty), a moneylender, is a movie financier with shades of grey.  He is at loggerheads with film producer Prathapa Varma (Kalabhavan Shajohn) and what follows is a journey into his past and what he seeks to achieve by troubling Varma.  
Thrown into the mix are the Commissioner of Police Felix John (Siddique), an old man (played by Rajkiran), a loving housewife (played by yesteryear actress Meena), and a few other not-so-significant characters.  
Analysis:
Somewhere in the movie, a sidekick says this line with all the possible dullness in the world: 'Punch lu veyalante personality undali'.  Implicitly or otherwise, director Ajai Vasudev seeks to elevate Mammootty's heroism with this moment.  It seems the writing department wrote this line and gave it to the director, who came to the premature conclusion that he had a thorough script.  'Shylock' (the title itself is curious and unnecessarily obtuse) is a fanboy tribute to the Malayalam superstar and the fact that most Telugu audiences don't see him as a massy star is the film's biggest undoing.  It should have been reason enough not to dub it in the first place.  
The Malayalam version was about paying a tribute or two to the Rajinikanth-isms pulled off by Mammootty.  The Telugu version retains the Kabali-esque flavour of hero elevation shots, besides falling back on Pawan Kalyan's craze ('Nakkonchem thikka undhi, kaani daaniko lekkundi', says the male lead).  As a youngster, Mammootty's character wanted to become a film star.  But he couldn't and became a vengeful film financier instead.  That explains why he draws punch lines from mass entertainers.
Somewhere in the movie, a character referentially says, "This movie started out as a comedy, became a thriller, and it's finally a revenge drama".  The line only goes to show the kind of delusions the writers/director had about 'Shylock', for there is neither comedy nor thrills in the movie.  Mollywood movies come with a low humour quotient in general but 'Shylock' is comprehensively unfunny.  As for thrills, any semblance of suspense is undone by lame execution and a terribly overlong flashback.
When he is not smiling with a grin, Mammootty indulges in slow-motion shots, which tend to bore anyone who is not his die-hard fan.  The conversations among his rivals are endless. Too many things are verbalized and the characters routinely blurt out whole histories walking, talking, sitting, and sipping whiskey.  
When they are not playing dishum-dishum in laughably low-budget and static action scenes, the characters keep speaking on China-made phones.  They speak and speak and speak, thanks to Jio's low call rates.  
Savage villains are so unprepared that, even when they face an existential crisis, they are hardly six in number.  No goons and no fighters, probably because junior artists had gone on a holiday.  
But for the male lead, who brings some charm to his character, no performance is really impactful.  Music director Gopi Sunder dishes out a heavily affected score. Renadive's cinematography fits the bill.  
Verdict:
Much as Mammootty says, "This is a game that is going to be a massive hit of the year" in the movie, 'Shylock' is anything but.  Revenge minus decent action scenes, comedy minus laughs, thrills minus intelligence and emotional heft, this one is easily forgettable.
Rating: 2 / 5.0
Showcase your talent to millions!!
Write about topics that interest you - anything from movies to cricket, gadgets to startups.
SUBMIT ARTICLE
More
Telugu Movie Reviews
Thank You Brother
Shukra
99 Songs
Dheyyam
11th Hour
Vakeel Saab