Thaman changes tack
Tuesday, October 13, 2015 • Telugu Comments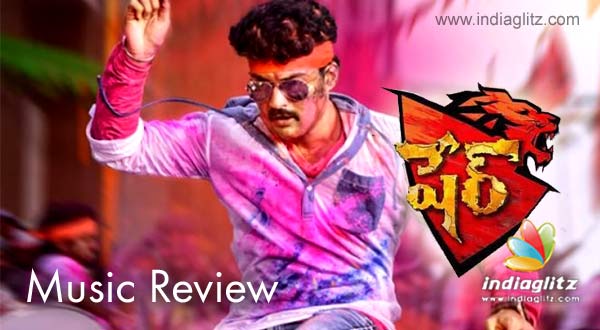 Thaman's album are looked forward to for RR work. Of late, he has trodden the beaten track, but this album sees him change tack to give the right tracks.
Sri Mani, Kandikonda and Varikuppula Yadagiri write five songs between them. Deepak, Malavika, MM Manasi, Simha, Anudeep Dev, Sanjana Kalmanje, Suchita Sureshan, Sameera Bharadwaj, and Sanjana Kalmanje are the singers.
Hare Rama
Artist: Deepak
Lyricist: Sri Mani
This Deepak rendered song holds up Rama and Krishna as heroes and exhorts men to not bow before pseudo-might. Sri Mani delivers the lyrics in fluid and everyday language, complete with English usages like 'Why for tension'. Thaman gives a calm instrumentation, calm by his style and standards. This one is definitely apt for a title of this genre and a hero from the Nandamuri clan, a family remembered for giving the world the only great on-screen Lord Rama and Krishna.
Surangani
Artists: Deepak, Malavika
Lyricist: Sri Mani
Here Sri Mani throws up a Hindi sentence or two. The lyrics are fit for a trendy song of the kind we saw in Gopichand's Jil. Thaman here prefers a Hollywoodish beat and it will be a treat, most likely, to listen to this RR-enriched song in the theatre. Deepak and Malavika have the right kind of voice to perk up this number with a more than normal dose of the fashion.
Chal Chalona
Artists: Suchita Sureshan, Sameera Bharadwaj, Sanjana Kalmanje
Lyricist: Sri Mani
Sung by three singers with their distinct vocals, this one qualifies to be another trendy number, the instrumentation being much on the lines of the previous song. Thaman once again maintains a calmness here, and the beats are catchy. Sri Mani uses everyday language but in this song, it borders on the low-brow, in the sense that there is no sense of imaginativeness, much less poetry.
Naina Naina
Artists: Anudeep Dev, Sanjana Kalmanje
Lyricist: Kandikonda
Penned by Kandikonda, the song comes with some stock imaginations typical of film songs. Besides referring to vennela, Manmathudu and more, it refers to one festival. Anudeep Dev and Sanjana Kalmanje have the right vocals to make this sprightly song a far more romantic one. Thaman's music passes muster.
Na pere pinky
Artists: MM Manasi, Simha
Lyricist: Varikuppula Yadagiri
This item song has all the grandeur required to make it a song with a mass appeal. MM Manasi is the one to be listened to, she takes this energetic number to another level with her massy voice. Simha complements her to an extent. Thaman gets a front bencher number right in a long time. Varikuppula Yadagiri's pen brings out imaginative lyrics
Verdict: 'Sher' has the numbers that suit the ferocity of the title. Romantic, trendy and massy - everything is there that you ask for. .
Rating: 3.25/5