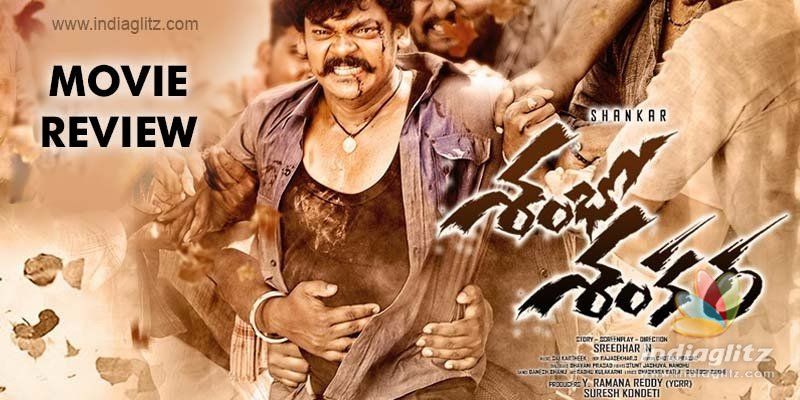 'Shambo Shankara', starring Shakalaka Shankar, hit the screens this Friday.  Directed by N Sreedhar, the movie is an action-rom-com.  Here is our review.
Story:
Shankar (Shakalaka Shankar) is an aspiring police officer who runs into brawls on a regular basis with his village's feudal-minded president (Ajay Ghosh as the main villain) and a Sub-Inspector, the president's lapdog.  The idealistic Shankar's dreams are broken when his rivals conspire against him to prevent him from becoming a cop.
As if this is not enough, a catastrophe strikes Shankar in the form of a tragic fate met by his pampered sister.  The enmity between him and the village president thickens after the hero does something stunning before the Interval.  
The second half is about how Shankar rises like a Phoenix from the ashes to challenge the authority of the exploitative villain, becoming the village's demigod in the process.
Analysis:
Only two things are consistent about 'Shambo Shankara'.  Either its hero worships Pawan Kalyan (who is visualized as Lord Shiva and offered new coinages like 'Om Namo Pawaneswara') without fail, or the villagers shower infinite love, blessings and/or Zindabads upon our hero, who attains an iconic status after he questions the bloody president for stealing stocks from the Fair Price Shop.   
Shankar, who has shed the moniker 'Shakalaka' because he is no longer a funny guy (or so he thinks), is the film's R Narayana Murthy, Sai Kumar, Power Star and Sampoornesh Babu rolled into one.  Somebody asks him why he wants to become a cop and he tells a line which reads as if it's straight out of a Jana Sena press note.  His sister arrives at his doorsteps unannounced and he tries his best to emote those Narayana Murthy-esque emotions (to sarcastically quote Naresh from 'Sammohanam', he underplays it).  It's a festival today, the bro declaims the day his 'Chelli' arrives.  He thankfully doesn't break into a song at this.  But he did dance like a calamitous Telugu cinema hero in his intro moment, emoting as if he is angry at all those Tollywood directors who have failed to see his potential all these years.  
When you have a mass hero as big and earth-shattering as Shakalaka Shankar (you know what we mean), you have to have a strong villain.  But Ajay Ghosh's character is reduced to a joke not too late in the movie.  He loses a family member to Shankar's fury but you have to use magnifying glasses to locate angst and wrath in this otherwise arrogant and powerful character.  While this influential villain doesn't know how to get a murderer face trial, the hero becomes an overnight hero, solving problems by delivering long monologues in front of government officials.
Scene after scene, Shankar is over-indulged in the name of showcasing his goodness, kindness, Shankar-ness and Pawan-ness.  Do you get the drift?  
The romantic track is such a heavy turn-off.  If the hero doesn't flirt, his girlfriend (Karunya) behaves as if she has been cheated.  There are duets between the two and just one song is appealing.
The side characters don't make the cut.  Even the likes of Nagineedu are wasted.  The action sequences are loud and a throwback to the days when the audience thought fights have to be bland.  
Sai Kartheek's music, Rajasekhar's cinematography and Chota K Prasad's editing are ordinary.  
Verdict:
'Shambo Shankara' is what happens when a comedian takes pride in being an affected actor, and thinks that a formula-driven story of the variety seen in the 1990s is what the audience have been sorely missing.
Rating: 1 / 5.0
Showcase your talent to millions!!
Write about topics that interest you - anything from movies to cricket, gadgets to startups.
SUBMIT ARTICLE