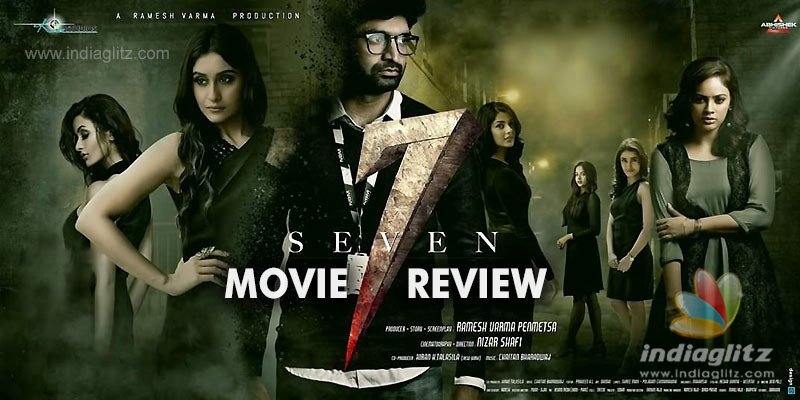 'Seven', starring Havish as the hero, hit the screens this Thursday.  The romantic thriller is directed by Nizar Shafi.  Here is our review of the latest box-office release.
Story:
The film begins with the murder of two characters by an unseen character.  It takes a leap and we see a distraught woman named Ramya (Nandita Swetha) approaching a cop (played by Rehman) regarding her missing husband Karthik (Havish).  A few scenes later, the cop shocks Ramya by narrating the story of Jenni (Anisha Ambrose), whose husband too has gone missing.  The missing guy in this story, too, is Karthik.
The cop goes hunting for Karthik, whom he strongly believes is a fraudulent philanderer cheating innocent women.  But, much to his shock, he stumbles upon some clues that might be pointing at the innocence of Karthik.
Who is Karthik and why is he eluding Ramya and Jenni?  Is there more than what meets the eye?  Answers to these are found in the second half, where Saraswati (Regina Cassandra) and a few more characters are introduced.
Analysis:
Much of the first half is a combination of romance and crime thriller.  The romantic scenes sustain interest in the plot that is about to unfold.  The colleagues (played by Vidyullekha Raman, Dhanraj, Venu and others) at the office, however, could have added humour quotient.  
Rehman's investigative endeavours are fairly engaging but they could have been better.  The cop should have been razor-sharp, arousing curiosity in the viewer.  
The second half does come with its share of spine-chilling moments.  Having said that, it doesn't invest much in the character named Krishnamurthy.  It's as if we are supposed to derive all entertainment from the murders and murders alone.
When you are showing a series of murders involving an unlikely character, there has to be a sense of pathos in it.  The murders can't be perfunctory, the emotional character can't be shown to be carrying them out like a cold-blooded, professional killer.  You have to weave a certain world around her.   What is more, this character should have been introduced right in the beginning. That would have ensured that the audience would keep invested in it right since the first half.  The character seems to be out of its mind even when she is supposed to be joyful.  
It's all good to show a few characters deciding to go to any extent to show gratitude towards their saviour.  But how slice-of-life is it to show not one or two but more doing something extreme merely out of a sense of gratitude?  They should have been shown to be emotionally invested in the life of the avenging character for better effect.  
Karthik behaves as if he is more irritated than saddened by the happenings in his life.  Just consider the scene where he is in a conversation with a journalist (comedian Sathya's character punctures the intensity in the proceedings) after being on the run.  
As performances go, Regina Cassandra shines through a rather lazily-written character.  Rehman fits the bill and Havish passes muster.  Nandita Swetha is outcompeted by Anisha Ambrose.  Pujitha Ponnada doesn't get much space, so also Tridha Choudhary and Aditi Arya.  
Chaitan Bharadwaj's BGM works fine.  The songs are just about OK.  Nizar Shafi's cinematography is adequate.
Verdict:
'Seven' is engaging to an extent and the climax is an experiment.  There should have been more of profound writing.  It is occasionally nail-biting, but the proceedings should have come with higher emotional quotient.  The technical departments do an adequate job.
Rating: 2.75 / 5.0
Showcase your talent to millions!!
Write about topics that interest you - anything from movies to cricket, gadgets to startups.
SUBMIT ARTICLE
More
Telugu Movie Reviews
Calling Sahasra
Atharva
Animal
Kota Bommali P.S
Aadikeshava
Sound Party