Yuvan goes all out hip on his latest album
Tuesday, February 28, 2017 • Tamil Comments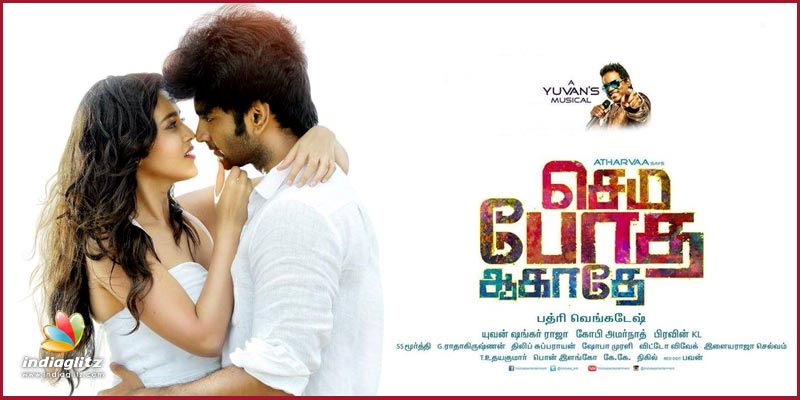 Badri Venkatesh has wielded the megaphone for 'Semma Botha Aagathey' featuring Atharvaa in the lead role. The music for the film has been scored by Yuvan Shankar Raja who is much loved by fans for his youthful and distinct compositions.
The album has five tracks out of which one is a theme score. Interestingly, Yuvan has rendered his voice for two of the tracks namely 'Semma Botha Aagathey' and 'Ithayathai Oru Nodi' which is sure to get fans excited.
Composer: Yuvan Shankar Raja
Semma Botha Aagathey - Listen Here
Voice: Yuvan Shankar Raja
Lyrics: G.Rokesh, Badri Venkatesh
Semma Botha Aagathey opens with an electric guitar build up that gives way to Yuvan's electrifying vocals. While the guitar loop serves as a silent background throughout the track, Yuvan takes centre stage with his piercing voice. The highlight of the song comes in the form of an interlude laced with feminine voice strains and techno loops. Yuvan has shown no hurry in taking the song forward, and that has given it a 'smooth' texture amidst striking elements. The song is potentially addictive and gets good upon multiple hearings.
Voice: Ranjith, Anita
Lyrics: G.Rokesh
Itemkaaran turns out to be an usual affair with filmy formula that might actually serve a convincing purpose as only a dance number. Though the vocals are the joie-de-vivre of the track and gives the song its much obvious 'energy', it turns laborious and trying towards the later parts. Rokesh's lines do lend the song it's local flavour which might a good fit on the stage rather than your playlist.
Idhayathai Oru Nodi - Listen Here
Voice: Yuvan Shankar Raja
Lyrics: Niranjan Bharathi
As the percussion-soaked prelude teases you into the vocals, we are reminded why we love Yuvan so much. Yuvan's trademark vocal strains sways you into submission easily, only wish that it could've been a little longer as an string interlude intercepts the watery flow . We aren't complaining though as the song regains its sublime pattern a few beats later. Niranjan Bharathi's lyrics are one to praise for as it complements Yuvan's soulful rendition with poetic ingenuity. Idhayathai Oru Nodi is eclectic, finely calibrated that will find spot in your romance playlist right away.
Voice: Ramya Nambeesan
Lyrics: Badri Venkatesh
Gaali Pannura is sensual and seductive right off the bat with hums, electronic voice strains and the ensuing vocals of Ramya Nambeesan which is enticing as much as it is . Badri Venkatesh's lines do complement the nature of the track without getting dirtied in lewd waters. Though the shortest track, Gaali Pannura doesn't come off as overbearing to hear but also doesn't live up to the expectations that fans might expect from Yuvan.
Composer: Yuvan Shankar Raja
Yuvan sometimes referred to as the 'Godfather of BGM' in the Tamil contemporary music proves his mettle again with the Survival Theme. Yuvan has displayed exceptional merit in the assemblage of string patterns with some throbbing percussion. The short theme turns slick and clean in its later part, going through what sounds as organ strides coming to an easy closure. The theme is commendable as you will grow on it despite its short length.
Verdict: 'Semma Botha Aagathey' A few highs here and there, but not intoxicating enough