Music Review
IndiaGlitz [Tuesday, August 11, 2015 • தமிழ்] Comments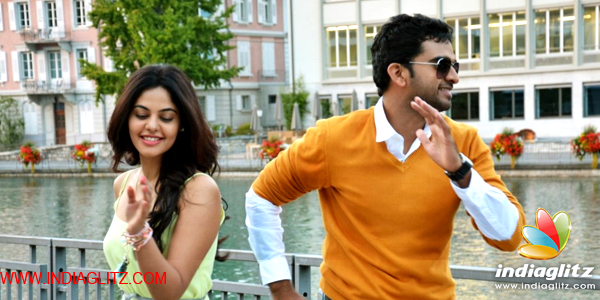 For an actor who has made his unrelenting mark in thrillers, this is his first step in mainstream comedy. Ashok Selvan's next is on its way to make it to the big screen. While Sathyasiva and his team is busy working on the finer details of the film, Thaman has rolled out the tunes of the album, 'Savaale Samaali'. How intense is the challenge? Here, we find out.
1. Ethanai Kavignen Listen here
Singer : Karthik
The opening track of this album is a refreshing number in Karthik's voice. True to its lyrics and the lively mood set by the singer, this song describes the eternity of love, but handling it on a different shank.Simple lyrics and straightforward rendition boosts the appeal of this song. Smart use of guitar in combination with keys and beats gives jazzy feeling to this peppy song. Signature tunes are lilting and pleasing too.
2. Savaale Samaali Listen here
Singer : Palakkad Sriram
Title track of the album is a motivational number, constantly on the rise. This number is full of energy, in the boldly clear rendition by Sriram. Synonymous with adjectives such as pride and majesty, trumpets are used to elevate the mood of the song to a higher level. The orchestra used in the trailing signature are a symphony in line with the attitude of the song. With all the necessary elements in place, this song sets the right theme to face challenges.
3. Penne Penne Listen here
Singer : SPB Charan
This track is a melody of surprises. The entire song lilts throughout, from the echoes where it begins in Charan's soft voice. All instruments employed are used in gentle measure, so that the song flows like cool breeze. This song brings a surprise in the aspect that it is unconventional; with every break in the song, we might anticipate the pause to gather momentum in its course and reshape the song into a heavier number at the end of it, but it doesn't. This is a steady melody from start to finish.
4. Nallavana Kettavana Listen here
Singers: LR Easwari, Anthony Dasan
Enough with the female bashing, here's some repartee. 'Nallavana Kettavana' is could be attributed to be a folk song, in the sense that it is sung in two lovely novelty, and also for its gana elements. And the song is a fitting reply to the years of criticism that women have been subjected to, especially by drunk monks on screen. However this contentment does not live a long life, when it is truncated by usual set of bantering in the second half. Quite a funny dialogous exchange, when taken in a light heart, but with an anticlimax for feminist feelings, is what this song is all about.
5. Yaaro Yaaro Listen here
Singer : MM Manasi
The last track of the album is a complimentary number to 'Penne Penne'. Rendered in the penetrating high tones of Manasi's voice, this is the female version of worshipping and being awed by her love interest, in her new thrilling experience. From the echos, to the notes, to the tune, this song is an exact technical replica of its male counterpart. So those of you who earlier wanted a different break in the mesmerising tune, here's your cake!
Aside from his usual thumping josh, this album is a breezy stud to Thaman's crown. With a few melodies, and some high energy portions, this album scores sweet and high, and is one that is here to stay.
Rating: 2.75/5 - Breezy