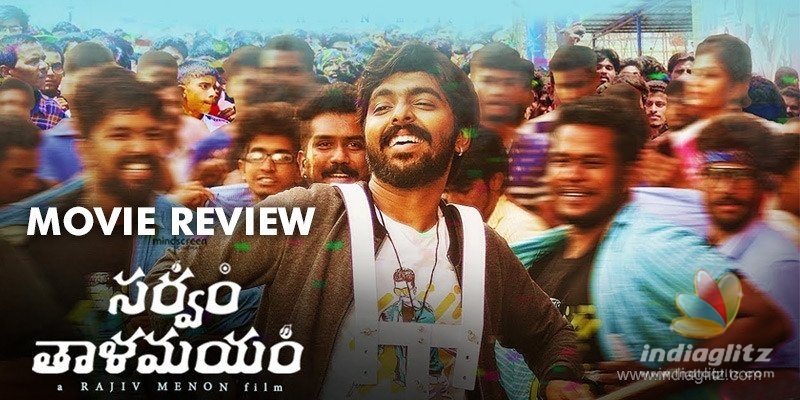 'Sarvam Thaala Mayam', starring GV Prakash Kumar in the lead, hit the screens this Friday.  Here is our review of the musical drama.
Story:
Peter Johnson (GV Prakash Kumar) is a die-hard Vijay fan whose top priority is spending time on putting up banners for his idol and playing the drums on release dates.  In a street brawl involving the fans of a rival star, Peter gets his head broken and he falls for the nurse Sara (Aparna Balamurali) who stitches his wound.  
His father Johnson (Kumaravel) is a mridangam maker and when he asks his son to deliver an instrument to a leading exponent named Ramashastri (Nedumudi Venu), the youngster is smitten by the rhythm and aspires to learn music from the great man himself.  
In his journey to attain perfection in music, Peter faces obstacles from unexpected quarters.  Can he make it finally?  Or will his dreams end up being shattered by circumstances and social hierarchies?  Answers to these are found in the second half.
Analysis:
One thought that 'STM' would be a cross between a Pa. Ranjith movie and a K Viswanath drama.  The thing is, it definitely is not.  The film deals with the story of a gifted youngster who makes it to the top without having to go through much social grind.  At least, there is no much drama.
Peter comes from a poor background.  He lives a meaningless life, cheering for a film star who doesn't even know that this Peter exists.  But when he chances upon a Carnatic music session, his thoughts suddenly become rich.  Not unrealistic.  But the problem is, things become smooth for him from this point and he finds himself directly in front of a Padma Vibhushan.   
The dude does face tribulations later but they are too conveniently-written, ready to subside at the first opportunity.   His sudden devotion to music too seems rather contrived.  Everything is so sketchy that one fails to understand what makes his Padma Vibhushan guru dump a trusted lieutenant (Vineeth as Mani) for Peter.  Yes, idealistic people who abide by a value-system do that, but when it comes to a movie setting, there has to be more.
The last leg of the film is reduced to a routine trajectory.  The competition between music exponents is not-so-creatively written.  It reminds of the template that some films like Raghava Lawerence-Prabhu Deva's 'Style' have tried.  
The romance track is another low-point.  Our hero needs inspiration (after love-making) and it readily comes from the heroine.  He readily goes on an all-India tour and captures the sounds of the street.  His friends are ever-ready to help him.  His parents take rest at home, letting their son go to Kerala.  Everything is so convenient.
The villainy of Vineeth, the countrywide journey of the hero and the reality show are cinematic and are out of sync.  Nedumudi Venu and GVP's characters too are inconsistent and due to that, the conflicts between the two does not develop organically.  There is a Mollywood-style overdose throughout the screenplay.  
The hero gets his dialogue delivery and mannerisms right.  Nedumudi Venu looks the part of a proud musical genius, letting his guard down from time to time.  Aparna Balamurali with her girl next door plays the mandatory love interest. Vineeth brings his vast experience to Mani, the jealous assistant of Ramashastri, who later on turns into a full-time villain.  Kumaravel and others are good.  
AR Rahman fills the background with different beats of skin instruments used minimally to great effect.  He has also let silence speak whenever necessary.  Ravi Yadav's cinematography is picture perfect and Antony's editing is cut to the rhythm of various drum beats.  
Verdict:
'Sarvam Thaala Mayam' is a sketchy film with its share of unrealistic tracks.  Good performances are a small mercy.  Technical departments are fine.
Rating: 2.5 / 5.0
Showcase your talent to millions!!
Write about topics that interest you - anything from movies to cricket, gadgets to startups.
SUBMIT ARTICLE
More
తెలుగు Movie Reviews
Kabzaa
Phalana Abbayi Phalana Ammayi
CSI Sanatan
Anger Tales
Kranthi
Organic Mama Hybrid Alludu