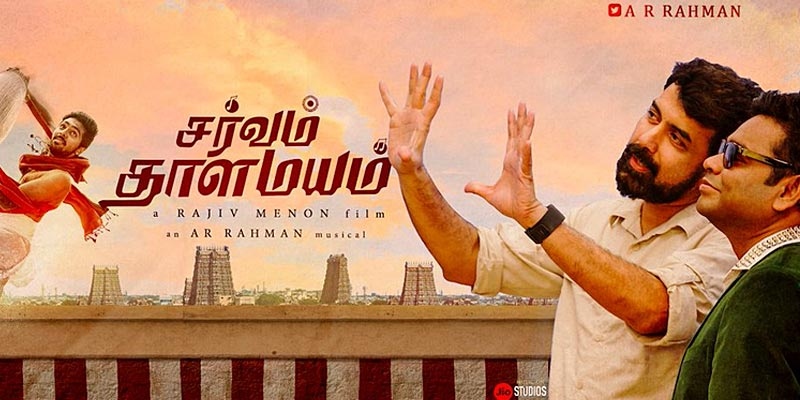 Director Rajiv Menon and A.R. Rahman combining for a musical after eighteen years is enough to prompt a view for 'Sarvam Thaala Mayam'. Does the subject that stresses on the fact that music is beyond the confines of caste or economical background strike the right chord with all sections of the audiences remains to be seen.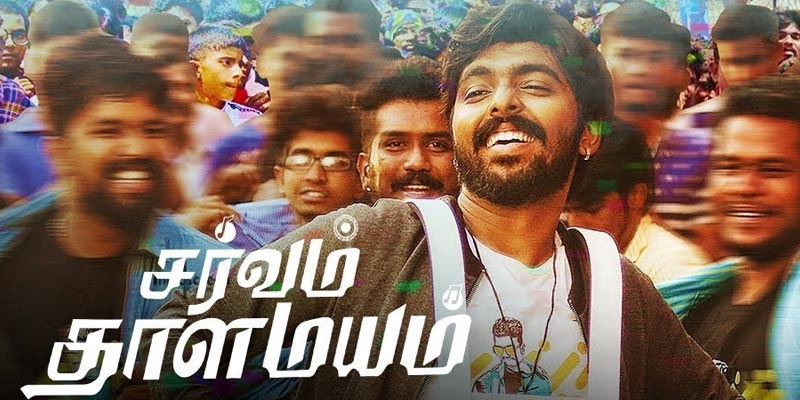 Peter Johnson (GVP)  is an ardent Thalapathy Vijay fan whose top priority is his time spent on putting up banners for his idol and playing the drums on release dates.  In a fan club related fight Peter gets his head broken and he falls for the nurse Sara (Aparna Balamurali) who stitches his wound.  His father Johnson (Kumaravel) is a mridangam maker and when he asks his son to deliver an instrument to a leading exponent Vembu Iyer (Nedumudi Venu) the youngster is smitten by the rhythm and aspires to learn music from the great man and become like him.  Can Peter break the barriers of his caste and economic background and be accepted by the upper caste genius and can he realize his dreams is what the rest of the screenplay is all about.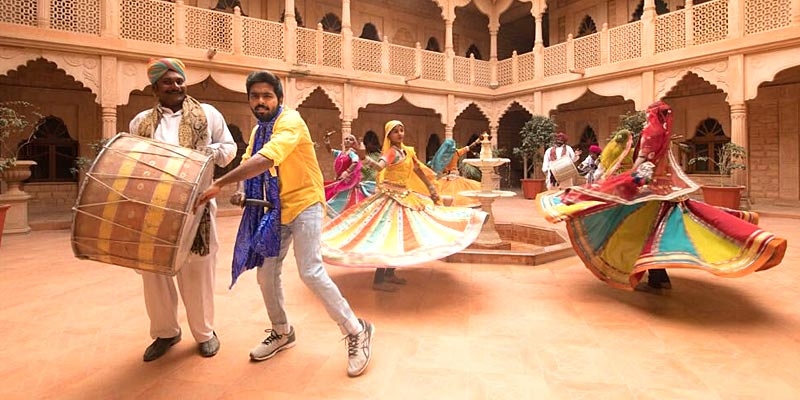 G.V. Prakash after his acclaimed performance in Bala's 'Naachiyaar' gets one more character with scope to score big and credit to him that he gives it his best shot.  His dialogue delivery and mannerisms bring to life a normal lower class Chennai guy but inconsistencies in his characterization is what mars the effort.   For Nedumudi Venu one of the finest actors in Indian cinema, Vembu Iyer is just another walk in the park and its commendable the way he carries the proud musical genius letting his guard down from time to time and provide some humor too.  Aparna Balamurali with her girl next door plays the mandatory love interest giving no room to complain. Vineeth brings his vast experience to Mani the jealous assistant of Vembu Iyer who later on turns into a full time villain.  Kumaravel as GVPs father gives a flawless performance scoring in the scene in which he sells his son's instrument not knowing how passionate he is about it.  Divayadarshini impresses as the television anchor Anjana who ruthlessly changes colors as the situation demands.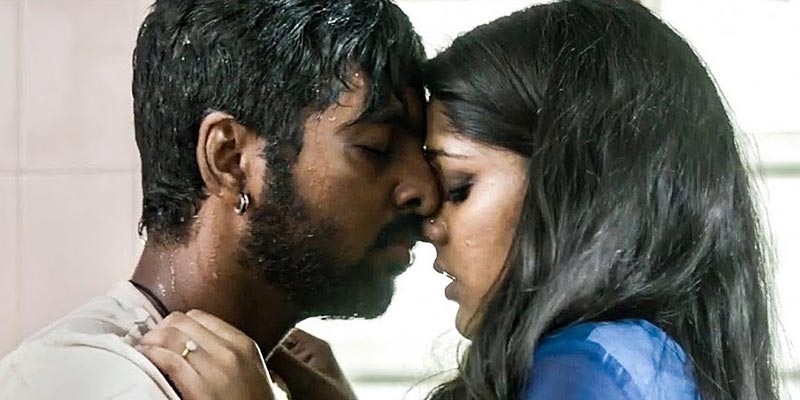 A.R. Rahman is the true hero of 'Sarvam Thaala Mayam' as he has filled the background with different beats of skin instruments used minimally to great effect.  He has also let silence speak whenever necessary.   The percussion in the climax of various rhythms from different parts of the country is itself worth the ticket price.  The director sets out to tell the noble message that Carnatic music should not be confined to the upper caste and become more inclusive of talented people from other castes too.  A nice directorial touch is when the Nedumudi Venu character presents his holy rudraksha to GVP signaling his biggest gift to the boy which he says verbally in the climax.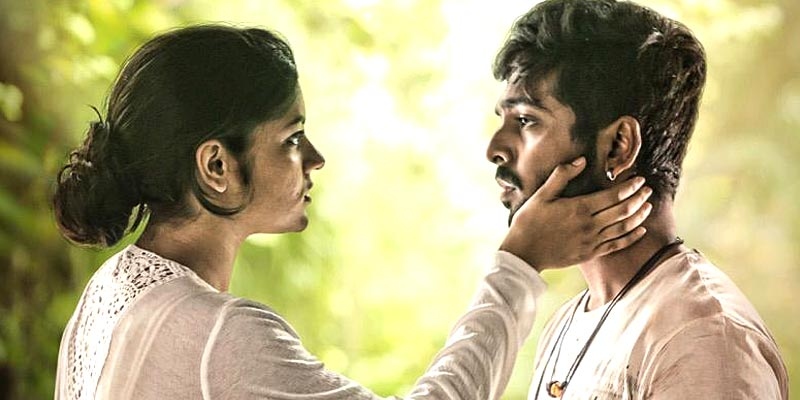 On the downside 'Sarvam Thaala Mayam' falters by its contradicting way of story telling for a few scenes such as Nedumudi Venu's teaching style and Kumaravel's workshop are realistic while the love angle, the villainy of DD and Vineeth, the countrywide journey of the hero and the reality show are cinematic and are out of sync.  Nedumudi Venu and GVP's characters too are inconsistent and due to that, the conflicts between the two does not develop organically.  Apart form the premarital sex scene between GVP and Aparna few other scenes unfold naturally which prevent the audience involvement beyond a point.  There is a Malayalam flavor overdose throughout the screenplay and considering that the two main characters Vembu and Mani speak that accent at least the heroine could have been presented in a different color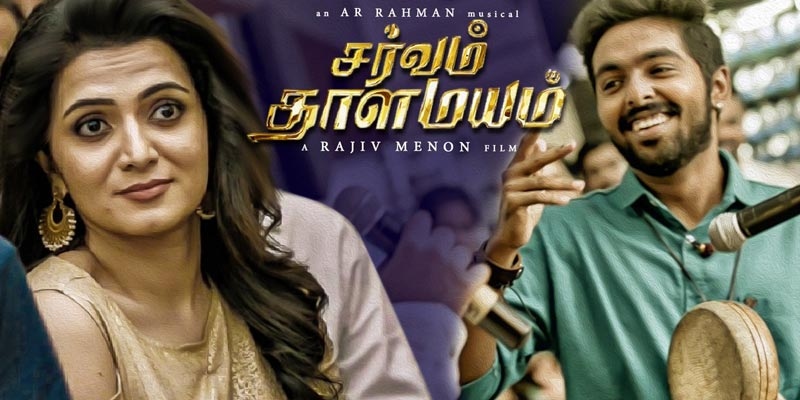 Ravi Yadav's cinematography is picture perfect and Antony's editing is cut to the rhythm of various drum beats.  Director Rajiv Menon's core theme and message are praiseworthy but the screenplay does not convincingly convey them.  Contradicting his own emphasis on inclusivity he has delivered a film that would mostly appeal to a niche.
Verdict : Go for this A.R. Rahman rhythmic rendition backed by some solid acting performances from the cast.
Rating: 2.5 / 5.0
Showcase your talent to millions!!
Write about topics that interest you - anything from movies to cricket, gadgets to startups.
SUBMIT ARTICLE
More
Tamil Movie Reviews
Chithha
Iraivan
Chandramukhi 2
Mark Antony
Jawan
Kushi