Fresh, funky and upbeat!
Wednesday, October 3, 2018 • Telugu Comments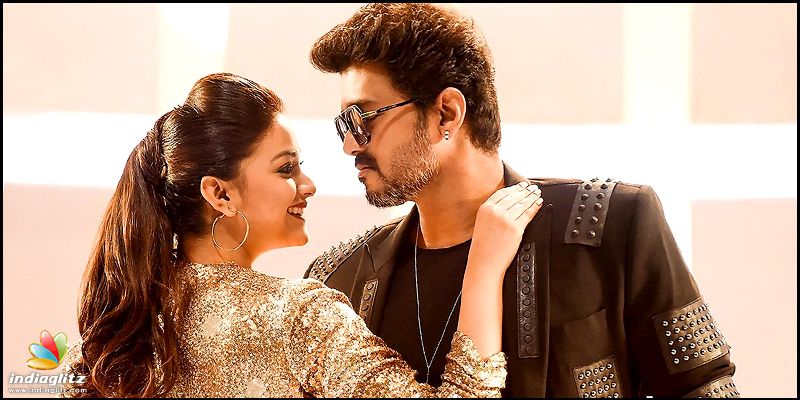 Album: Sarkar
Composer: AR Rahman 
Vijay's 'Sarkar' has created a rave among the fans. Simtaanagaran was the first single releases. Though it received heavy criticisms earlier, the song soon has grown on listeners. While most predicted a slow poison album from the composer, we were startled. Rahman has given us an 'electrified' album which plays so much with techno. Not to mention Vivek as a lyricist is also a hero of the album
Simtaangaran: Singers : Bamba Bakiya, Vipin Aneja, Aparna Narayanan Lyrics: Vivek
The 'Sarkar' fever is at its peak and the team after much fanfare have released the single 'Simtaangaran' scored by Isaipuyal A.R. Rahman and penned by Vivek.  The Mozart of Madras has gone for a perfect fusion of thara local with melody on an easy on the ears beat that is sure to hit the right chords among all sections of the listeners.
'Simtaangaran' begins with the local jargons such as "nickelu pickulu ma...oh thottanu thokalu ma...makkaru cookaru maa...tharala ukkaru maa..."giving one the impression that it will continue that way.  Inside of a minute the beat changes to a street molam for the lyrics "Palti Pakkura darla vudanum palthu".  Then again there is another melodious changeover for the female vocals "Mannava nee vaa vaa..."  Thereafter the delightful beat maintains its tempo till the very end with frequent changeovers in between. The song is loaded with the madras slang lyrics for the male voice with the contrasting chaste Tamil for the female side which makes it a very interesting listen for both the Isaipuyal and the Thalapathy fans.
The images in the video shows the colorful night setting punctuated with lights  for the 'Simtangaaran' song with Vijay, Keerthy Suresh and Yogi Babu performing.  It sure teases a fun number that is going to push the audiences to dance modes.
Oruviral Puratchi: Singers: AR Rahman, Srinidhi Venkatesh Lyrics: Vivek
Oruviral Puratchi begins with an easy swag and jumps into pure fire, in terms of composition and also the lyrics. Rahman's blunt and thuggish voice in this track renders Vivek's lines all the more powerful and poignant. For example consider this line: "Ezhmaiyai ozhikkavae seyada muyarchiye, ezhaiyai ozhippadhe ungalin valarchiyaa." Vivek startles us with simple, yet piercing lyrics. And not to mention how a string portion is infused so easily before the song catches onto its beat pattern. In short: Oruviral puratchi packs much verve and revolutionary ammunition in its lines. A trending song for sure.
OMG Ponnu: Singers: Sid Sriram and Jonita Gandhi Lyrics: Vivek
We have to admit that Vivek as a lyricist shows off a vast versatility in 'Sarkar' album. The transition is almost unbelievable from something like 'Simtaangaran' to this. What you'll learn of course is a lot of modern text short forms. The rhythmic background, electronic treatment of the song and rhyming words make this track catchy, instantly growing on you. This is not Rahman's slow poison. Definitely on your playlist.
Top Tucker: Singers: Mohit Chauhan Lyrics: Vivek
Vivek is again in his element shapeshifting to the track's need. And Mohit Chauhan wins with his easy exuberant voice. The way the track is arranged is itself something to behold of. The pace is fast and never wavers down in energy. And you have to give it how even short bursts of staccato strings are added to the track, almost negligible but giving the track texture. Rhythms have worked splendidly for Top Tucker. No surprises if it becomes your top tucker track for a long time.
CEO in the House: Singers: Nakul Abhyankar, Blaaze Lyrics: Vivek
Seems like Rahman has gone all techno on 'Sarkar' album. Not that we're complaining- CEO in the House epitomizes power, money and all that you'd find in a modern rap. Rahman has brought in Blaaze to do the rap portions and Nakul to do the lead. We love how the concoction of local, modern and techno has come out in the album. CEO in the House is fitting for Vijay's appeal and no doubt it's going to rule our morning playlists.
Pick of the Album: Simtaangaran
Verdict: 'Sarkar' though rich in techno and electronic treatment, finds a winning combo with its amazing lyrics.
Rating: 3