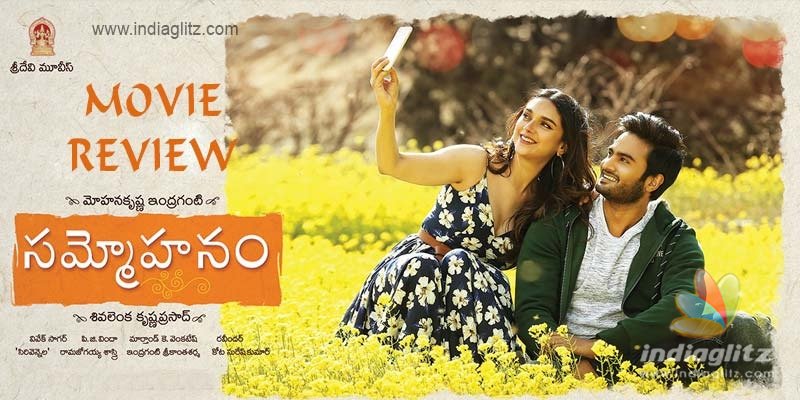 'Sammohanam', starring Sudheer Babu and Aditi Rao Hydari in the lead, hit the screens this Friday.  Here is our review.
Story:
Vijay (Sudheer Babu) is a children's book illustrator who eschews the "artificial" world of cinema.  Thanks to his father's (played by Naresh) passion for acting, he ends up meeting film actress Sameera Rathod (played by Aditi Rao Hydari) when their house is lent for shooting.  
When he starts coaching the Hindi-speaking Sameera in Telugu, a bond (predictably) develops between them.  Friendship blossoms.  
It's separation time when the unit has to pack up.  This is when Vijay realizes that he is in love with Sameera.  But when he goes to Manali to confess to her, Vijay discovers that Sameera never had any feelings for him.  
The rest of the story is about how he copes with the aftermath, what ails Sameera's personal life, and what follows when she takes a stunning decision out of helplessness.
Analysis:
The biggest strength of 'Sammohanam' lies in the fact that its characters are strongly-etched, they have a thinking process, they respect their world, and they are so expressive.  Thanks to these traits, you don't wait for any big moment in the story to arrive at least in the first half.  
You allow yourself to be romanced by seemingly little moments.  You laugh when Naresh or Sudheer Babu takes a dig at whatever is of inferior quality about Telugu cinema.  Even a Hindi-speaking heroine getting her Telugu horribly wrong is portrayed in such a way that the offender herself is seen laughing at own imperfection.  Such seemingly small moments go a long way in making a Sameera here, a Vijay there endearing characters.
Almost every character comes with a dream or a painful past or both.  If Vijay is an idealistic illustrator who wants to work only with an ideal publisher, his father is an aspiring actor who dared to take VRS in pursuit of his dream.  Pavithra Lokesh (as the hero's mother) is a dab hand when it comes to making sweets, and she strongly believes that market should come searching for her "brand".
The scene where Vijay tells the star actress Sameera as to why he has no girlfriend is clap-worthy.  A long scene, it's not over until the last nuance has been delivered.  In a crucial scene, when Sameera utters the word 'Glamour', it says a lot of things at once.  
Vijay is devastated around the same time as his father's dream is broken.  The first 10-15 minutes of the second half pack in so much because of this tragic coincidence.  Vijay and his sister (watch out for Harshini) end up arguing in a sensitive moment.  The mother opens up about an unknown aspect of her past.  The son, who is now stronger, starts seeing a hero in his father.  
Everything said, 'Sammohanam' doesn't disappoint you only as long as you don't expect a noteworthy story.  If you can make peace with the fact that it has a 'Vepa kaya antha formula' (a phrase inspired by a line in the film), you will love it without reservations.  But since there is no unconditional love (a conclusion inspired, once again, by a line in the film), we are not ready to give it a clean chit.  
What ails Sameera's personal life is really outdated.  Here, a character is reduced to a caricature and you feel so empty!  Hari Teja (as the heroine's assistant) narrates too much in a scene, so much so, there is nothing much left to be said later.
The climax has more melodrama than niceties.  Mohankrishna Indraganti seems to be content with giving the film a bookish ending.  
Sudheer has delivered his career's best and most difficult performance.  He comes out with flying colours and his chemistry with every single character is alright.  Aditi dubs herself and her eyes enrich her act as ever.  Her chemistry with her language coach is natural even in those scenes where the proceedings are way too incredulous.  Naresh is lovable for the most part.  He parodies the outdated character artists of Telugu cinema and he is such a treat to watch.  Watch him say 'I actually underplayed the part' and it's truly a dig at Tollywood's overrated actors.  Pavithra Lokesh, Nandu (as the privileged hero of 'Kummestha), Harshini, Rahul Ramakrishna, Tanikella Bharani, Kadambari Kiran and others do a fine job.
Vivek Sagar's music is commendable.  The songs are situational and profound and they don't hinder the pace.  PG Vinda's cinematography is first class.  With his lens, he captures the actors and the simple locations beautifully.  Ravindra's art direction comes to the fore in the indoor scenes.  
Verdict:
'Sammohanam' comes with excellent characterizations, enjoyable conversations and performances, nuances, and situational humour.  Expect an ordinary storyline.
Rating: 3 / 5.0
Showcase your talent to millions!!
Write about topics that interest you - anything from movies to cricket, gadgets to startups.
SUBMIT ARTICLE
More
Telugu Movie Reviews
Peddha Kapu 1
Skanda
Chandramukhi 2
Sapta Sagaralu Dhaati
Changure Bangaru Raja
Mark Antony