Music Review
IndiaGlitz [Monday, September 28, 2015 • தமிழ்] Comments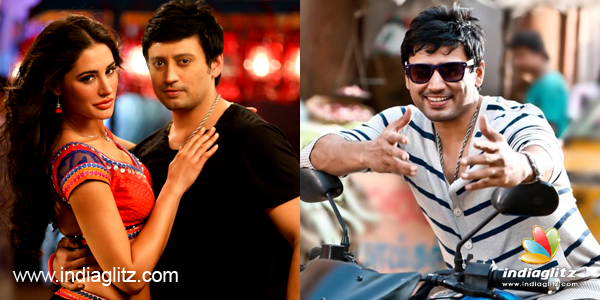 The movie marks the return of Prashanth on the big screen, the movie is action comedy flick which is produced by Thiyagarajan and has Thaman composing music.
Angry Bird Penne Listen here
Singers: Mohit Chauhan
Lyrics: Na Muthukumar
Mohit is a delight and the best part is every time! Like the title of the song the tunes too are very much catchy and youthful. Muthukumar known for penning some evergreen lyrics has taken romance in a lighthearted mindset and penned down with funny lines. The instrumentation has its presence with strings, bass and electronically enhanced pianistic finishes.
Desi Girl Listen here
Singers: Lakshmi Menon, STR
Lyrics: Madhan Karky
STR and Lakshmi Menon join together for the item song which will have Nargis making her debut in Kollywood. Thaman's signature tunes that remind of kalasala is here, one for the front benchers, the song oozes with glam and tempo, all that monotonous it can be, sure is to be meddling in your minds for some time.
Madhu Listen here
Singers: Anirudh Ravichander
Lyrics: Na Muthukumar
The number is enriched with Jazz, shuttles between Hindustani and slow bass all through the interludes, but that's not what steals the limelight, by all means Anirudh's easy go vocals and his approach to bring the song into the current dive is simply superb. The song is a complete package from Thaman and team, hats off.
Oh Madhu (Reprise) Listen here
Singers: Vijay Prakash
Lyrics: Na Muthukumar
Yet another winner in terms of vocals, orchestration and the means at which the number itself blends into the groove. That said, after a promising start it fails to establish its intention apart from Vijay's vocals. Supposed to be a reprise of Oh Madhu by Anirudh, however this version lacks the difference from the original and become a monotonous product.
Pudikkum Listen here
Singers: Shankar Mahadevan, Shreya Ghoshal
Lyrics: Kabilan
Shreya Goshal and Shankar Mahadevan, two of the stalwarts of musical industry come together for this experimented slow kuthu track. Both known synonymously for melody have been cast for a song which is enjoyable folk fare with touch basing the modern versions of Carnatic essence too. The Mandolin effect through the interludes is simply captivating and goes well into the hearts of the listeners.
Sayang Ku Listen here
Singers: MM Mansi, SS Thaman
Lyrics: Na Muthukumar
Another funky song from Thaman, it's a taken inspiration from Telugu Nautanki from Power film, which is also composed by Thaman. The song has been enhanced from its inspiration with electronically muffled tunes and rich bass through the rhythm, sure to make trends for the mass. The song resembles too many tunes and still tries to be unique in its own way.
Verdict : Good attempt from Thaman
Rating : 2.75/5