3D Film! 4D Sound! '2.0' setting new benchmarks in Tamil cinema!
Tuesday, July 4, 2017 • Tamil Comments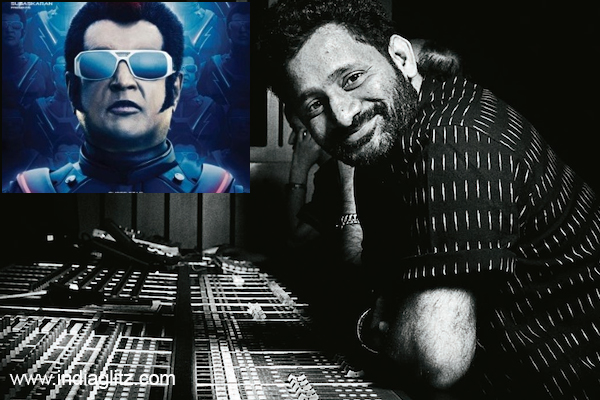 As we all know, Oscar winning Sound Engineer Resul Pook utty is working in the mega budget sci-fi flick '2.0' directed by Shankar with Superstar Rajinikanth. This humongous sequel to the 2010 blockbuster 'Enthiran' is being produced by the Lyca Productions banner under the Three Dimension (3D) format. According to Lyca's'2.0' has been shot wiith a 3D camera unlike many other 3D films which were shot in 2D and then converted to 3D format.
Now in his exclusive interview to IndiaGlitz, Resul Pookutty revealed that '2.0' has also explored the 4D format in Sound:
"In 'Enthiran' (2.0) ofcourse there is going to be a huge experiment in sound. Not only the sound you hear in the film but also we have experimented in the formats of sound. It's a 3D film. it's a 3D immersive sound and we are taking a fourth dimension (4D) of the sound. Because in a lot of sections in the film audience become part of the narrative of the film. That extension of sound is what we are trying. This is going to be a new format. We are actually trying to tweak the existing format so that it becomes easy for people to access and convert the theatres into that format. That's what we are trying to do with 'Enthiran 2' because the film demands it. Not because we wanted to do something new. When Shankar narrated the film to me, we had decided it at that point. Shankar narrated the script with this in his mind. I am trying to further it, I am trying to execute his vision of narrative in the film."
Asked whether this technology will be suitable for other Tamil films, he said "It depends on film to film. In 'Enthiran 2', we know how the film is pitched where the film is going to be and what is the nature of the film. It has to be a fun ride, it has to be a larger than life experience.So we designed sound accordingly. We also want to make audience feel it is believable. Like in 'Transformers', when they transform and fight with each other, we want the audience to feel that they are there. Which is not different from working on a realistic film. In a realistic film. you (the audience) are mentally already there. You have to enrich the reality. What is important in film making is it is Recreated Reality. Be it a film like Enthiran or a film like Slumdog or a film like Thithi, the audience has to believe. If they don't believe it they will disconnect. They will walk out of the film."
Actress Photos
Bhavani Sre
Bhavana
Divyabharathi
Yaashika Aanand