Dance like Remo
Wednesday, November 2, 2016 • Telugu Comments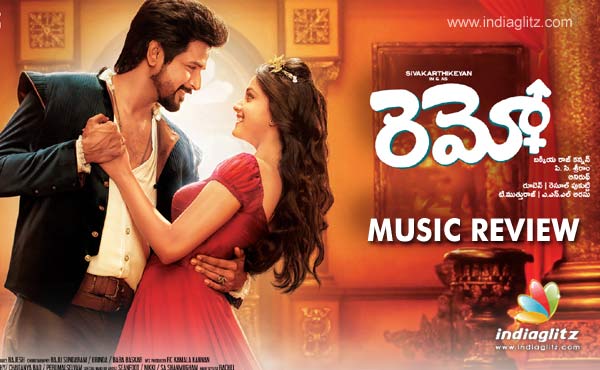 'Remo' is a single card for lyricist Sree Mani. Anirudh Ravichander music-directed album has vocals by himself, Ajesh Ashok, Srinidhi Venkatesh, Ranjith, Nakash Aziz and Inno Genga.
Remo Nee Styleki
Artiste: Anirudh
Lyricist: Sree Mani
It's clear as day that the protagonist undergoes a shockingly massive transformation during the course of the movie. As though this very transformation takes shape in musical notes, 'Remo Nee Styleki' is set at a pace in tune with compelling disbelief, with the sheer number of instruments thrown in to symbolize the confusion. Set on a systematic and deliberately cacophonous rhythm, sharpened with stimulating lyrics and occasional fusion, together with Anirudh's commanding voice, this elevates heroism (or, should we say, heroine-ism?) with stock ideas like 'Brahma will be shocked', 'you will win the Oscar', 'Andagatthegade', 'that traffic-stopping look', 'Dillu unnavade', etc.
Kollagotte
Artiste: Anirudh
Lyricist: Sree Mani
Seemingly straightforward, yet intricate in its own mettle, 'Kollagotte' opens on a breezy note, and graduates into a strong wind best suited for bass setting. The deep beats set to a foot-tapping rhythm. Intricacies of boyish charm are well expressed in this song. Although heavy, the beats sound just right on a lighter setting too; here, Anirudh has managed to trespass the pregnant distance between melody and heavy bass. Sree Mani gives a competent interpretation to Vignesh Shivan's original lyrics.
Katha Kaadhey
Artiste: Ajesh Ashok, Srinidhi Venkatesh
Lyricist: Sree Mani
As one would expect of a typical modern day melody, this one begins with strings too. Sree Mani's lyrics describe rapture in poetic terms, complemented by the classy vocals. Srinidhi's solid rendition is enjoyable; unlike the rhetoric of a drip-drip sugary choice for melodies, Srinidhi on board is what accentuates the edge this song delivers. Concluding in a crisp strum, and minimal beats throughout, this one makes for a good number.
Meesa Beauty
Artiste: Ranjith
Lyricist: Sree Mani
This song is a leg-puller, singing literally of the contradicting stark apparition in the story. 'Meesa Beauty' is set on a steady tempo, and progressively goes electrifying through the course of the song. Ranjith's sharp vocals give the song a special edge. A foot-tapping number, it's not without its share of overplayed boisterousness. Sree Mani pens a faithful remix song.
Love Selfie
Artiste: Nakash Aziz
Lyricist: Sree Mani
So intricate is this song that it is bound to take some time to register that every note on the rendition is very much in sync with the background music; however, the karaoke version could sound quite misleading, since the score and song follow different tempo. A love solo, this lightheartedly worded song is careful about inclusion of each key. Nakash has an unequalled depth to his voice, which brings out the soul of the emotion driven, despite all the sugary play of sarcasm, coated on the tune.
Come closer (Katha kaadhey Reprise)
Artiste: Inno Genga
Lyricist: Inno Genga
Inno Genga's fans would jive. For the faction that is unaware of Inno Genga, 'Come Closer' is the gate pass to be his fan. Floating down as a feather to the beautiful hat, this reprise is a jewel to the already precious album. With hardly a change or two to the 'Katha Kaadhey' tune, and in lovely lyrics, 'Come Closer' is a refreshing heart stealer!
Verdict: Some beats, a little melody, and a whole lot of fun, 'Remo' is soulful jukebox. Another badge on young man's shoulder, Anirudh's 'Remo' album is lively.
Rating: 3.25/5